Thomas returns to Yokosuka to lead 7th Fleet as tensions simmer in the Indo-Pacific
by
Alex Wilson
Stars and Stripes
July 8, 2021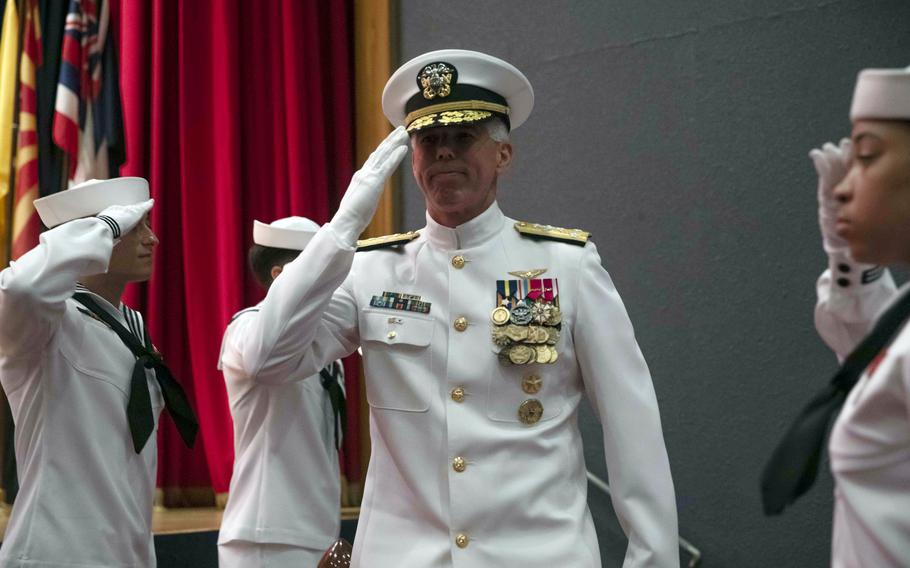 YOKOSUKA NAVAL BASE, Japan – A familiar face has taken the helm of 7th Fleet, a command he described as a "supremely credible and integrated naval force" that gives the United States and its allies an upper hand over its rivals in the Indo-Pacific region.
Vice Adm. Karl Thomas assumed command of 7th Fleet on Thursday during a ceremony at Yokosuka's Fleet Theater. He relieved Vice Adm. William Merz, who had led the nation's largest overseas fleet since September 2019.
Thomas most recently served as assistant deputy chief of naval operations for operations, plans and strategy at the Pentagon, but previously served as the commander of 7th Fleet's Task Force 70 and Carrier Strike Group 5.
"This is oddly, and pleasantly, very familiar," he said during the ceremony. "Less than two years ago, my family and I left Yokosuka and wondered if we'd ever serve our Navy in this spectacular country again – and I certainly hoped that we would,"
Merz noted the novel challenges that arose during the last half of his tenure at 7th Fleet, primarily those resulting from the coronavirus pandemic.
The pandemic's onset was "followed shortly by our dramatic shift from our port-to-port routine to a new, no-port-at-all routine," he said. "Through that, we learned some things about what it truly means to be a command ship."
Merz, Thomas and several guest speakers took a moment during the otherwise upbeat ceremony to reflect on the critical nature of 7th Fleet's mission in the Pacific.
Operating with up to 70 ships and submarines, 150 aircraft and approximately 20,000 sailors, the fleet routinely engages in bilateral and multilateral exercises with U.S. allies. It also conducts freedom-of-navigation patrols and other operations designed to uphold international law or keep the peace.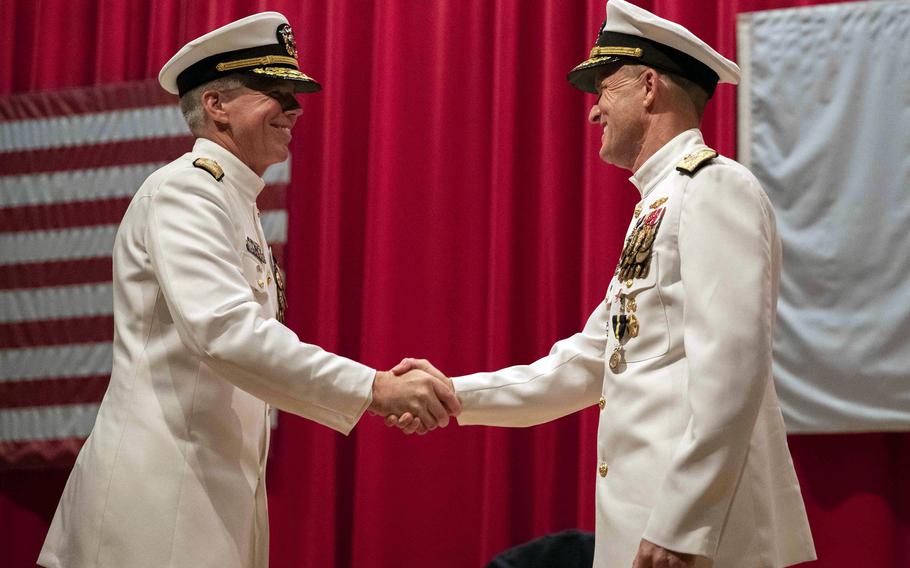 Another speaker, Vice Adm. Phillip Sawyer, deputy chief of naval operations for operations, plans and strategy, outlined the numerous forces at play in the region.
"7th Fleet operates [in] the world's most consequential waters – it poses a collection of security challenges not seen anywhere else: strategic competition with China, an increasingly assertive Russia, an unpredictable North Korea, coupled with regional weather impacts, violent extremists, and, most recently, the COVID-19 pandemic," he said.
Adm. Hiroshi Yamamura, chief of staff for the Japan Maritime Self-Defense Force, highlighted the importance of Japan's relationship with the U.S. and 7th Fleet.
"As the security environment becomes more severe on the Korean peninsula, in the East China Sea and the South China Sea, we believe that strengthening the Japan-U.S. alliance is even more important than ever before," he said. "Security issues important to both of our navies are increasing, such as the growing activity of Chinese Coast Guard ships around the Senkaku islands and the militarization of the reefs of the South China Sea."
Yamamura also said peace and stability in the Taiwan Strait is "very critical" to Japan, the U.S. and the region as whole.
The odds of U.S. warships encountering Chinese vessels are set to increase along with tension across the strait and the frequency of U.S. freedom-of-navigation patrols in the South China Sea, Bo Kong, co-director of the Institute for US-China Issues at the University of Oklahoma, told Stars and Stripes in an email this spring.
Likewise, Jeff Kingston, director of Asian Studies at Temple University Japan, in an email to Stars and Stripes on Wednesday, said Thomas "will face the ongoing escalation of tensions in the region related to a rising and more assertive China."
Kingston said rising tension surrounding Taiwan, the Senkaku Islands and China's expansion in the South China Sea would keep Thomas busy "and require a cool head."
Merz is being reassigned as deputy chief of naval operations for operations, plans and strategy at the Pentagon – replacing Sawyer, who plans to retire, according to 7th Fleet spokesman Lt. Mark Langford.