Future Luftwaffe pilots learn maintenance 101 at Ramstein
by
Karin Zeitvogel
Stars and Stripes
July 16, 2021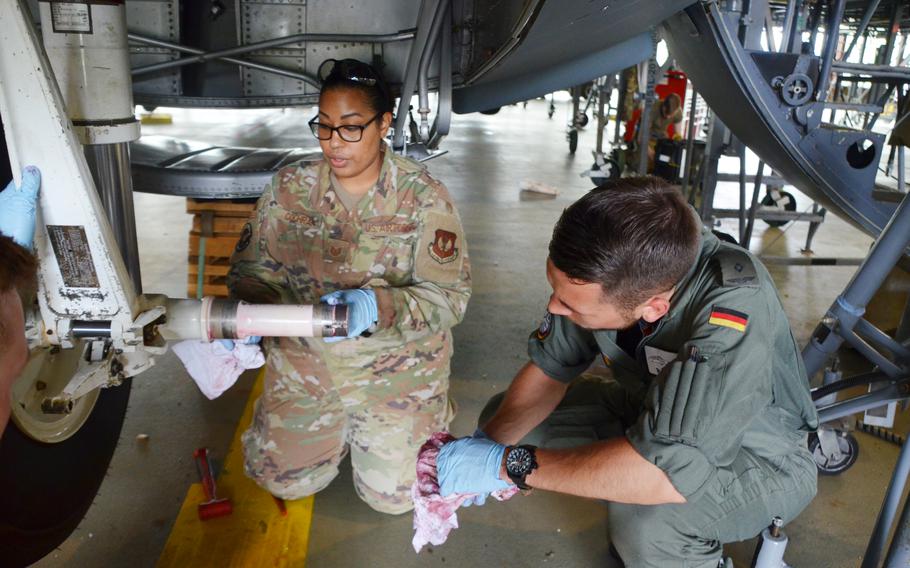 RAMSTEIN AIR BASE, Germany — Air Force Tech Sgt. Hazel Cochran threw the seven future Luftwaffe pilots into the deep end from the start of their two-week internship with maintainers at Ramstein Air Base.
"They've been getting dirty," she said Thursday as she guided two of the cadets from the University of the Armed Forces in Munich — Germany's equivalent of a service academy — through the steps required to remove the nose landing gear wheels of a C-130J Super Hercules.
"I also had them pulling out a toilet, taking off floor panels, and they just do it and knock it out," she said.
Bringing the seven cadets to the largest U.S. air base in Germany to train with the Aerospace Ground Equipment crew was a first for the Germans and Americans.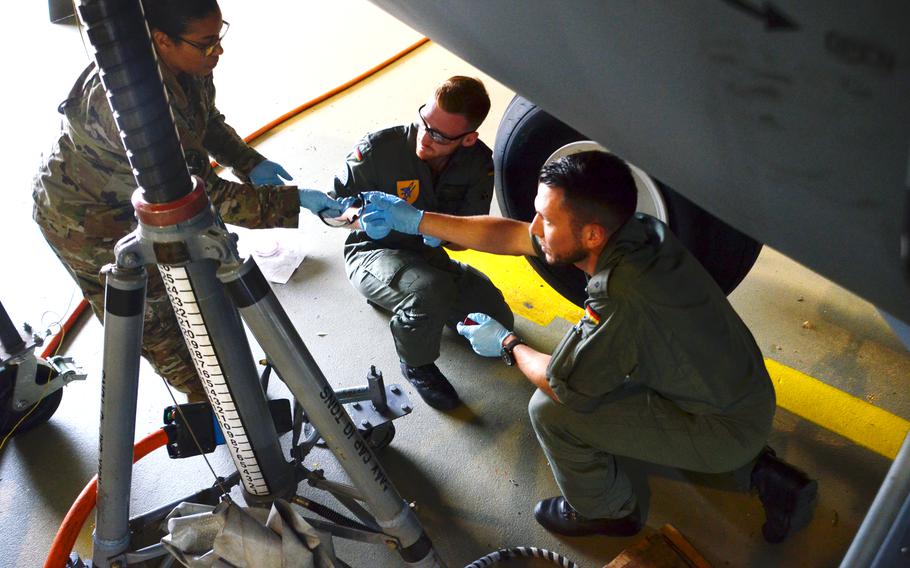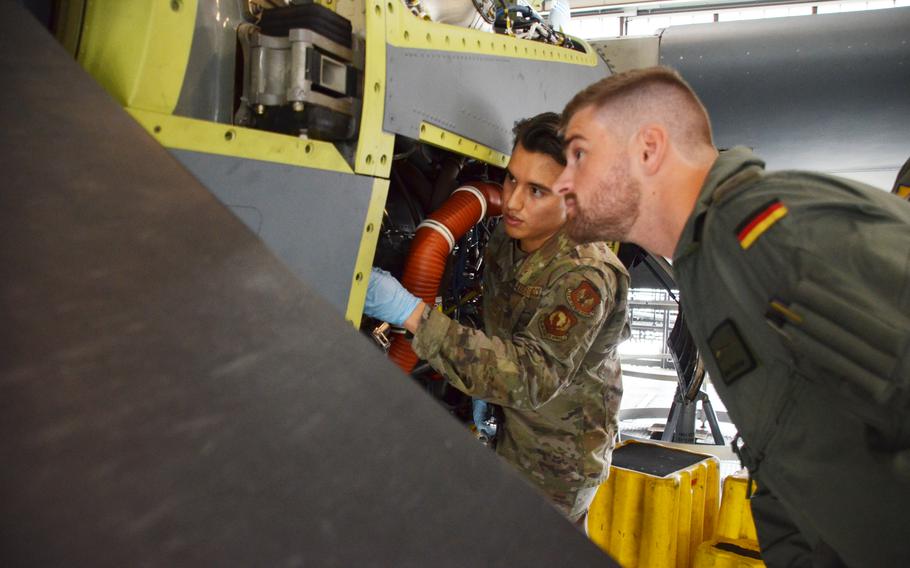 The main aim of the internship, which is a required part of the aeronautical engineering curriculum at the German academy, was to educate the future pilots on the essential work that maintainers do, said Senior Master Sgt. Dominik Gutierrez, the AGE flight chief.
"You don't just walk up to an aircraft and get in the seat. There's hours and hours of maintenance that goes in front of that," he said. "To have them actually do maintenance tasks, they get an idea of what it takes to generate an aircraft."
As Cochran worked with cadets Tim Herbst and Tom Palzer to remove the wheels of the C-130J, Airman 1st Class Samuel Alcala Perez walked Nicolas Polster and Nirushegan Veerasingam around the Super Hercules.
"We're making sure they know what they're looking at so it's safe to fly, basically," Alcala Perez said.
"Then we go inside and I show them what we do: running our engines, making sure they're running at optimal, making sure there are no fault codes, no automated signal that says there's something wrong with the engine, and this is how you look for it."
The program has also helped to strengthen vital U.S.-German relations, said general staff Col. Johannes Rudolf, commander of the Air Liaison Command, German Air Force to U.S. Air Forces Europe, who was instrumental in creating the internship.
"This is the perfect way for us to get closer, to understand each other, and for Germans to step into the American mentality of doing things," he said.
After presenting Gutierrez with a plaque to thank him and the AGE crew for working with the young Germans, Rudolf — himself a former fighter pilot who trained at Sheppard Air Force Base in Wichita Falls, Texas — urged the cadets to carry what they had learned in the Ramstein maintenance hangar "into the future."
"I saw how hard you worked, what you achieved and learned," he told them in German.
"Take that with you into the future, when you go to America and do your pilot training at Sheppard. You know now that you can rely on what maintainers do — that when you get into an aircraft that everything is in the best working order."
As for the wheels of the C-130J that Herbst and Palzer removed, both have to be replaced, Cochran said before she praised the trainees for their hard work.
"They've been eager, enthusiastic and laughed off the banter and culture of the maintenance world," she said. "They've been a big help – and I've thrown them right in there on some of the hardest jobs that we do."