F-35 fighter costs are out of control, GAO says
by
John Vandiver
Stars and Stripes
July 8, 2021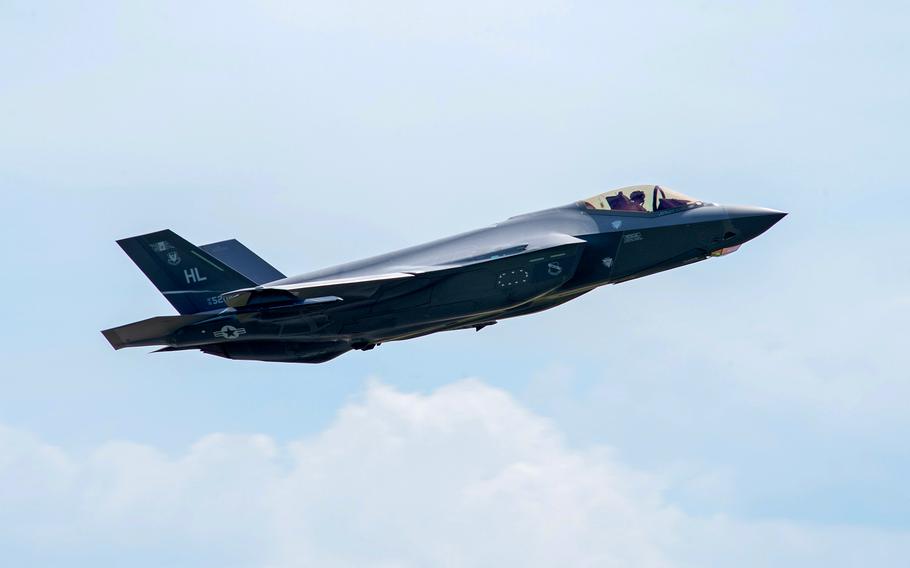 The failure to control F-35 aircraft cost overruns should force the Pentagon to scale back its fleet of advanced warplanes unless it can find new savings, a government watchdog agency report said.
The development of the advanced F-35 fighter, the most costly weapon system in Defense Department history, has faced steadily rising costs for years. And while the military has tried to reduce expenses, those efforts "have produced limited results," the Government Accountability Office report released Wednesday said.
"DOD's inability to arrest the increases in F-35 sustainment costs and make progress towards the services' established affordability constraints is due in part to the department's not having a clear, strategic approach across the F-35 program," the GAO said.
About 400 F-35s are already in service, making the aircraft a growing portion of the Pentagon's tactical fleet.
The Pentagon plans to procure nearly 2,500 F-35s with an estimated life cycle cost exceeding $1.7 trillion, the GAO said. About $1.3 trillion of those costs are related to operating and sustaining the aircraft. The projection reflects an increase of more than $150 billion over 2012 estimates, the GAO said.
It is also billions more than the services can afford, making current plans unsustainable, the GAO said.
"We recommended, among other things, that Congress consider making future F-35 acquisitions contingent on progress reducing sustainment costs," it said.
The GAO also recommended that Congress require the Pentagon to report annually on progress in meeting cost constraints and develop an affordable plan to sustain the future F-35 fleet.
The Air Force faces the greatest challenge in cutting costs. It is purchasing about 70% of the F-35s and must slash what it spends on each plane by 47%, or the readiness of its squadrons could be "negatively impacted," the GAO said.
Even if the Air Force acquired all of its spare F-35 parts for free over the next few decades, it would still fall considerably short of that cost-cutting goal, the report said.
The F-35 program has faced problems and delays from the beginning. Many of the aircraft remain unable to carry out a full range of missions, the report said.
Between 2019 and 2020, the U.S. F-35 fleet's average annual mission capable rate — the percentage of time during which the aircraft can fly and perform one of its tasked missions — improved from 59% to 69%. Its full mission capable rate improved from 32% to 39%.
"F-35 mission capable rates ... have recently improved, but still fall short of warfighter requirements," the GAO said. 
The Defense Department partially concurred with the GAO recommendations in a written response included with the report. The Pentagon is updating an affordability strategy document that would span the expected life cycle of the F-35 and review cost-cutting constraints.