Veteran suicide rate decreases for 2 consecutive years, VA report states
By
Stars and Stripes
September 19, 2022
---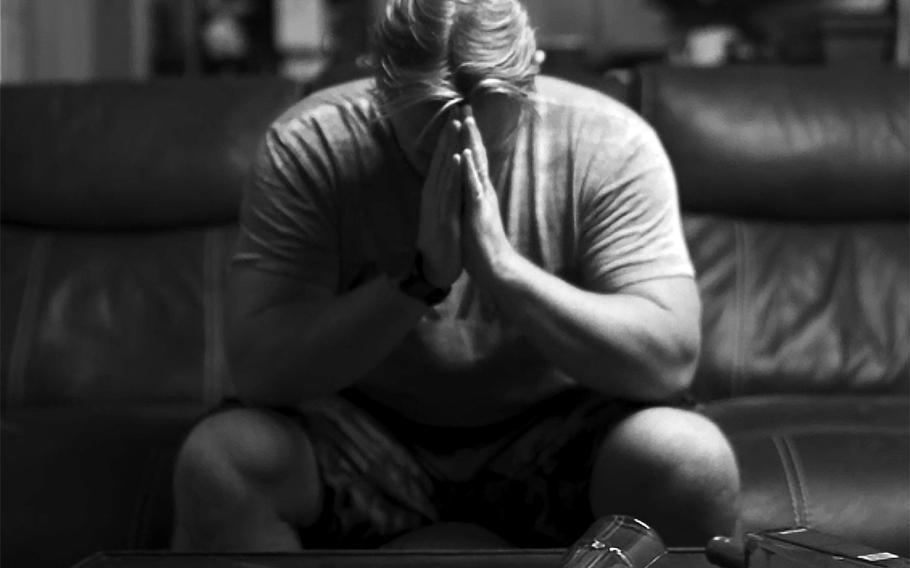 WASHINGTON — The veteran suicide rate decreased two years in a row, marking the fewest veteran suicides in a year since 2006, according to data released Monday by the Department of Veterans Affairs.
The VA's National Veteran Suicide Prevention Annual Report, which compiles its data on a two-year lag, revealed there were 6,146 veteran suicide deaths in 2020, 343 fewer than in 2019. The average number of veteran suicides in a year also had a small decrease, from 17.2 in 2019 to 16.8 in 2020.
"This year's report shows real progress, but there is still so much work to be done," VA Secretary Denis McDonough said in a prepared statement. "One veteran suicide is one too many, and VA will continue to work with our federal, state, local and private partners to tackle this problem and save veterans' lives."
The report breaks down the method of suicide, as well as the gender, ages and ethnicities of veterans who died in 2020. The VA said from 2019 to 2020, suicide rates fell across all racial groups. For female veterans, the suicide rate also decreased, 20.3% lower than in 2019.
However, a study called Operation Deep Dive, which was released Saturday, reported a 37% higher rate of veteran suicides than what the VA has reported previously.
The study was conducted by America's Warrior Partnership, a suicide prevention group that contracted with the University of Alabama and partnered with Duke University to gather state-provided death data. The group also coordinated with the Defense Department to corroborate military affiliation. Researchers for the study, which was funded by the Bristol Myers Squibb Foundation, worked to get the specificity of each decedent's demographics, military experience and death details.
Jim Lorraine, an Air Force veteran and president of America's Warrior Partnership, said the VA's methodology is dated. His group's study examined suicides and "self-injury mortality," or deaths classified as accidental or undetermined, in people ranging in age from 18 to 64 from 2014 to 2018. The group used service records from the Defense Department and death records from eight states.
Matthew Miller, national director of suicide prevention at VA's Office of Mental Health and Suicide Prevention, said he cannot compare the VA's report with the study from America's Warrior Partnership because they might not be analyzing the same information and could be using a different approach.
"We have not seen the specifics of Operation Deep Dive methodology, or their data, so it's difficult to comment at a highly granular level," he said.
The VA attains suicide numbers reported by county authorities where the death occurred.
VA Press Secretary Terrence Hayes said the agency takes every step possible to make certain its veteran suicide data is accurate.
"Our methodology for creating this report is well-established and consistent, based on verified data from the [Centers for Disease Control and Prevention] and [Defense Department], and meets the quality and standards of a peer-reviewed publication. In the interest of full transparency, we release yearly reports detailing how we come to the conclusions in the annual suicide prevention report," he said.
Despite the decrease in the suicide rate, the rate of veteran suicides using firearms increased, according to the VA report. Firearms were used in 71% in veteran suicides in 2020, up 1.8% from 2019.
Since the yearly report lags by two years, the new report also compared trends of veteran suicide and the coronavirus pandemic for the first time. The pandemic began in 2020.
The report found that suicide was the 13th-leading cause of death for veterans. The coronavirus was the third-leading cause. Heart disease and cancer were the top of the list at Nos. 1 and 2, respectively.
"Within the first year of COVID … we did not see an impact in the direction that a lot of people expected or were concerned about," Miller said.
However, it doesn't mean the virus did not make an impact on a veteran's mental health and that impact cannot be measured, he said.
"What you can say is that there was not an increase in veteran suicide, there was a decrease within the first year of COVID," Miller said.
He also said the agency's collaboration with the community and other federal agencies made a difference in the decrease.
Tamara Campbell, interim executive director at VA's Office of Mental Health and Suicide Prevention, said people are talking about mental health more freely.
"Our top leaders, including our president, our VA secretary, our undersecretary, they understand mental health and the importance of helping to support this office to get the word out," she said. "And public understanding of it just continues to increase."
The VA's next steps to continue combating veteran suicide align with its National Strategy for Preventing Veteran Suicide plan, which was implemented in 2019, and the White House's Reducing Military and Veteran Suicide strategy.
Earlier this year, the VA announced two initiatives designed to combat veteran suicide: The Staff Sergeant Parker Gordon Fox Suicide Prevention Grant Program and Mission Daybreak.
The grant program is designed to help meet the needs of veterans and their families through outreach, suicide prevention services, and the VA and its community resources. The VA announced it will fund more than $52 million to 80 community-based organizations in 43 states, the District of Columbia, and American Samoa.
The program is named after Army veteran Parker Gordon Fox. Fox joined the Army in 2014 and was a sniper instructor at the Army Infantry School at Fort Benning, Ga. Fox died by suicide on July 21, 2020. He was 25.
The Mission Daybreak challenge called on eligible participants to develop innovative methods to help prevent suicides that meet the various needs of veterans. They will receive funding and resources that include data, research, mentorship, educational webinars and partnership opportunities. The VA announced it will award $250,000 to 30 finalists and $100,000 to 10 recipients. Winners will be announced in November.
"Suicide is one of the most serious public health issues facing our veterans today, and VA cannot do this work alone," said Shereef Elnahal, VA's undersecretary for health "With the Staff Sergeant Fox grants and Mission Daybreak, VA seeks to engage not only organizations traditionally focused on suicide prevention, but also to bring in new groups and individuals who may have fresh ideas on how we address this issue."
The National Veteran Suicide Prevention Annual Report, which is released every September during National Suicide Prevention Month, is typically used by veteran services organizations and lawmakers to understand the scope of the suicide crisis plaguing the veteran community. The report is often used to gauge which legislative efforts should take priority and provide critical oversight of the VA.
---
---
---
---