Texas city honors WWII sailor recently reclassified as 'buried at sea'
By
The Monitor
August 1, 2022
---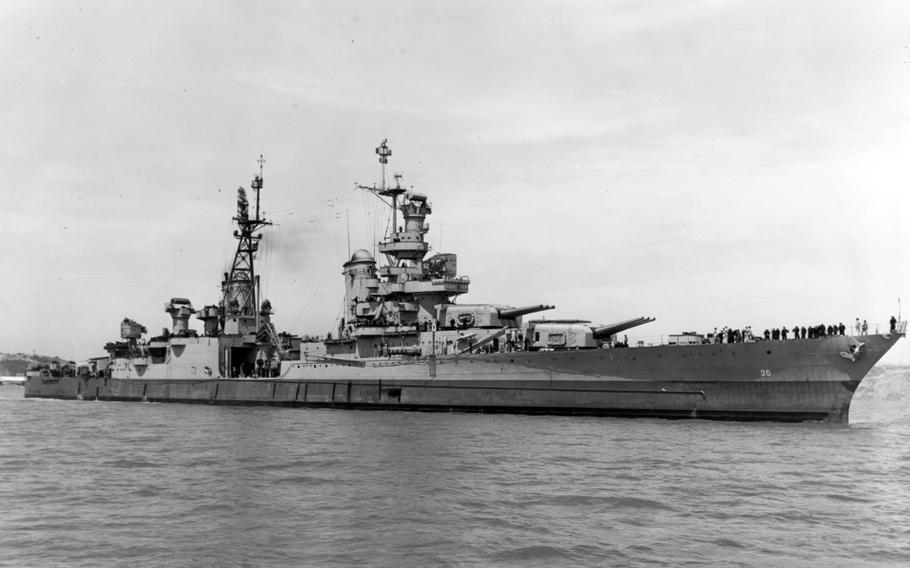 EDINBURG, Texas (Tribune News Service) — Dozens of people held American flags outside the Edinburg City Hall on Saturday morning.
Just before 11 a.m., a procession led by Edinburg High School JROTC Honor Guard, members of the city council and a slew of veterans slowly began to make their way down West McIntyre Street toward North Closner Boulevard.
Near the end of the procession was an empty vintage hearse from Memorial Funeral Home, and behind the hearse were limousines carrying relatives of U.S. Navy Petty Officer José Antonio Saenz.
"I wanted to honor a veteran who deserves to be honored," Alvaro "Recon" Esquivel, an Army veteran who served during Vietnam, said. "I'm also a member of America's Last Patrol. Our motto is 'Never Forget,' so we always try to be there for veterans, supporting their families. That's our mission, to help veterans in any way that we can."
The procession stopped at the corner of McIntyre and Closner. There the group gathered around a traffic signal control box and presented a memorial wreath courtesy of American Legion Post 408.
In a quick ceremony, a black cloth was removed from the box revealing a portrait of Saenz. The ceremony concluded with a 21-gun salute by the Catholic War Veterans Honor Guard.
"I think it's really an honor," Esquivel said. "All those that were there that didn't make it, they should be honored. They gave everything. They sacrificed everything. I'm glad that I'm here, but a lot of us — a lot of them didn't make it. They deserve all the honors that we can give them."
The ceremony was the city of Edinburg's way of honoring Saenz, who died 77 years ago during World War II while serving on the USS Indianapolis, a Portland-class heavy cruiser. He was 20-years-old at the time of his death.
In May of this year, Saenz was declared buried at sea.
"We wanted to honor his service to our country, paying the ultimate sacrifice," Mayor Ramiro Garza said after the ceremony. "We wanted to have this ceremony to bring the family together and let them know that they're not alone. We're here for them. We're the hometown of heroes for a reason. This is part of who we are as a community."
The program began earlier inside the city hall with some remarks from local dignitaries and the unveiling of Saenz's portrait, which will be displayed at the Dustin Michael Sekula Memorial Library.
"We thought it was only appropriate to have this ceremony as a remembrance due to his reclassification," Garza said. "The way the family sees it is he's being brought home. We wanted to have this service to honor him so that we can enjoy the freedoms that we have in this country."
Saenz was among 13 sailors whose status was changed from "unaccounted for" to "buried at sea," in May. Two Japanese torpedoes struck the USS Indianapolis on July 30, 1945, as it traveled from Guam to the Philippines, sinking the ship in roughly 15 minutes.
An estimated 300 sailors were trapped inside the ship when it sank. Approximately 800 sailors were able to escape the sinking ship, but they were left to endure the open ocean for four days. Hundreds of sailors died of injuries, dehydration and shark attacks before being rescued. There were only 316 survivors.
For Joel Saenz, his uncle's reclassification offered some closure to his family after 77 years of uncertainty. He said that he's grateful to the city and the various veterans organizations that helped honor his late uncle Saturday, but he still has more work to do before he and his family can finally put an end to this chapter of their history.
"I didn't expect this to be as big as it was," Joel said Saturday after the ceremony. "It's amazing. Honestly, I really, really doubt that anybody here even knew who my uncle was. 77 years later, they declared him buried at sea. The presence of all these people being here is amazing. I'm not finished yet. I still have a little bit more to do with my uncle."
Joel said that he hopes to acquire a memorial plaque from the U.S. Navy, which he intends to place at the gravesite of his grandparents.
"At least in name and in spirit, he will be there with his family," he added. "That will be closure."
(c)2022 The Monitor (McAllen, Texas)
Visit at www.themonitor.com
Distributed by Tribune Content Agency, LLC.
---
---
---
---