Veterans who are not American citizens will have their US military service considered before being deported
By
Stars and Stripes
June 9, 2022
---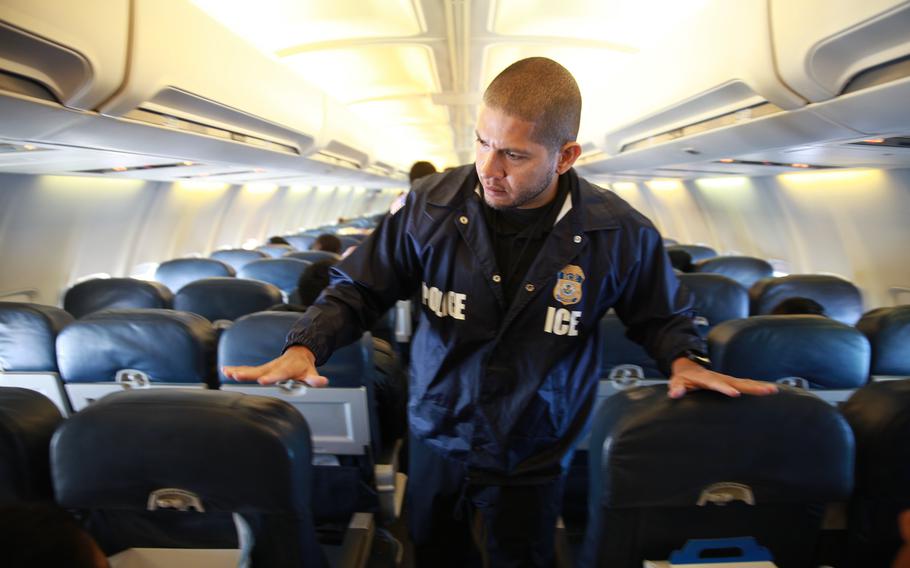 WASHINGTON — Veterans who are not American citizens and are detained by law enforcement officials will now have their U.S. military service considered before they are deported, according to a new directive from U.S. Immigration and Customs Enforcement agency.
"ICE values the incredible contributions of noncitizens who have served in the U.S. military," ICE Acting Director Tae D. Johnson said. "Through this directive, ICE will consider U.S. military service by a noncitizen or their immediate family members when determining whether to take civil immigration enforcement decisions against a noncitizen."
ICE and U.S. Border Patrol officials must now ask a noncitizen whether they have served in the U.S. military, including the National Guard and Reserve, or whether they have immediate family members who have served before deciding whether they should detain, deport or release that person.
ICE officials are required to consider a veteran's employment history, health, community service, deployments to war zones, military decorations, and years in service. However, a 2019 report by the Government Accountability Office found ICE didn't follow those policies. Department of Homeland Security agents told the GAO that they were unaware of the policies and didn't distinguish between veterans and nonveterans. Thus, ICE did not track how many veterans were deported or whether their military service was considered before being deported. ICE is a federal law enforcement agency within the Department of Homeland Security.
ICE officials said the new directive would establish the practice as an official agency policy and improve its training, tracking and reporting requirements. ICE also will be required to develop and carry out a data system to keep track of noncitizen service members and veterans while respecting their civil liberties and privacy interests.
"We are pleased that ICE has formalized its policy to consider military service prior to taking civil immigration enforcement actions, and that the policy applies to immediate family members as well," said Mario Marquez, director of national security division of The American Legion. "However, the lack of consideration given to veterans in the past has contributed to the unnecessary deportation of many immigrant veterans."
The policy is part of a joint initiative by the departments of Homeland Security, Veterans Affairs and Defense launched last July. The Immigrant Military Members and Veterans Initiative supports noncitizen U.S. service members, veterans and their immediate family members.
For the VA's part, the agency works with Homeland Security and others to identify deported veterans and assist them with the benefits that they might be eligible to receive.
One of the initiative's primary focuses is recognizing a noncitizen's military service and tracking the outcomes of all military-associated cases, according to Debra Rogers, director of the Immigrant Military Members and Veterans Initiative. Rogers was set to testify in May before a House subcommittee hearing on immigration and citizenship, but the hearing was postponed.
Rogers also said Homeland Security began reviewing its policies regarding individuals associated with the military last August.
Last year, the VA and Homeland Security organized vaccination clinics at San Ysidro, Calif., and the Bridge of the Americas Port of Entry in El Paso, Texas, to vaccinate deported veterans, their families and caregivers.
In February, the VA, Defense Department and Homeland Security launched two online resources through the Immigrant Military Members and Veterans Initiative. One is a one-stop resource center that consolidates resources and forms from Homeland Security, the VA, Defense Department, and other agencies for noncitizen service members or veterans and their families.
The other resource is a portal on Homeland Security's website that allows deported veterans to contact the agency for help with their questions or issues regarding their return to the U.S. or VA benefits.
Marquez said The American Legion is working with Congress to codify policies and programs such as the joint initiative to provide long-term support to immigrant veterans and their families.
"The American Legion applauds the joint initiative to support noncitizen service members, veterans, and their families since ready access to information about resources and their hard-earned benefits is critical," Marquez said. "We have been in touch with VA and look forward to seeing this new initiative reach all veterans in need of such assistance."
---
---
---
---