Family of Pennsylvania native killed in 1993 battle of Mogadishu awaiting word on award upgrade
by
Jeff Himler
Tribune-Review, Greensburg, Pa.
January 1, 2022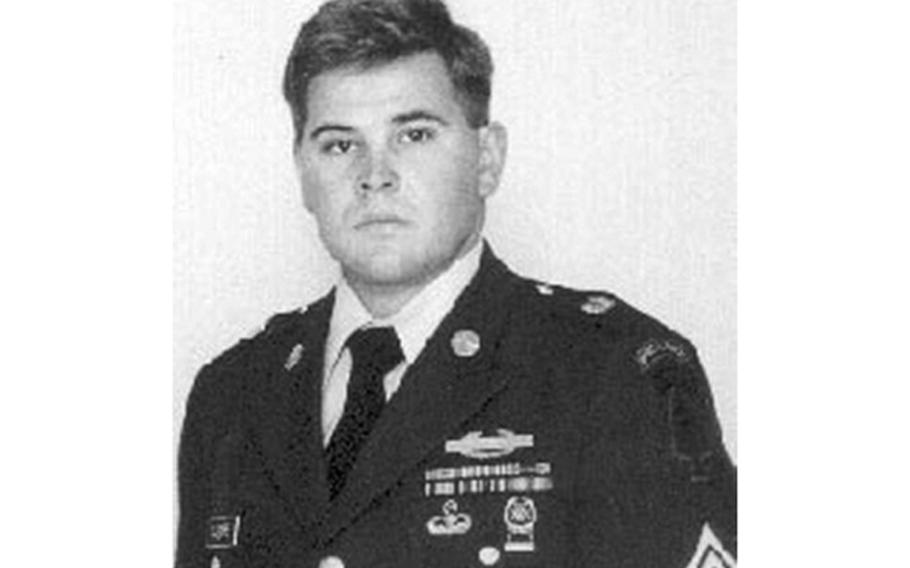 (Tribune News Service) — A Pennsylvania native who was killed in action 28 year ago while serving in Somalia, is in line to posthumously receive the Army's second highest decoration.
Sgt. First Class Earl Fillmore Jr. was 28 on Oct. 3, 1993, when he was fatally wounded in the battle of Mogadishu while fighting his way to rescue the crew of a downed UH-60 Black Hawk helicopter. The engagement was dramatized in the 2001 Ridley Scott film "Black Hawk Down."
Fillmore was awarded the Silver Star posthumously for distinguished gallantry. Now, he could receive the Distinguished Service Cross in recognition of extraordinary heroism. The defense policy bill passed by Congress and signed by President Joe Biden in December waives a time requirement for four participants in the Mogadishu engagement to have their service awards upgraded.
The bill also paved the way for the Medal of Honor — the nation's highest award for valor — to be bestowed to five potential recipients, three from the Korean War and two who fought in the Vietnam War.
Sharon Schmucker of Derry, Pennsylvania , one of Fillmore's six sisters, is anxiously awaiting word confirming that her brother's latest award is on its way.
"I'm just waiting for that phone call or email," she said. "It's about keeping Earl's memory alive and knowing he is still with us."
"He's our family hero," said Fillmore's niece, Angie Burd, who recently retired as an Army master sergeant. "I think it's amazing what he and the other soldiers did during the battle of Mogadishu and how they had so much internal fortitude to put their lives on the line for a peacekeeping mission.
"I think they deserve everything the military can honor them with, even though it's so far after the fact."
Burd said Fillmore was a mentor as well as her uncle.
"There was only 10 years' difference between us," she said. "When I was growing up, he would buddy around with me and take me places. He taught me how to shoot a gun, and he always looked after me.
"He was the epitome of a soldier. That was always what he wanted to do ever since he was little. He loved his job in the military, he loved to serve. That made me feel less nervous about doing it myself."
As a member of A Company of the 1st Battalion, 7th Special Forces Group, Fillmore, at age 24 became the youngest soldier to be accepted into the elite Delta Force.
In addition to the Army, Fillmore has received numerous honors from the Derry community and from Derry Area School District, where he graduated in 1983. A linebacker with the Derry Area Trojans, Fillmore is remembered with an annual award presented to the team's best defensive player.
Fillmore's high school coaches joined his family on a trip to New Cumberland in 2011, when a medical facility there was named in his honor — the SFC Earl Fillmore U.S. Army Health Clinic.
"We went down there with so many people," said Schmucker. "We were all so very proud."
Fillmore completed basic training as a combat medic at Fort Sam Houston, Texas, and graduated as a Special Forces Medical Sergeant in 1985.
Family members credit an Army veteran who had befriended Fillmore when both were completing medical training in Texas with pushing for the clinic naming.
"I think that's a great honor," said Burd.
In addition to Fillmore's final resting place at Fort Bragg, N.C., the clinic is a place where younger generations of the extended family can go to appreciate the soldier's service and sacrifice.
"They can go there and say, 'This was my uncle and this is what he did' and be very proud," said Schmucker.
The Army in 2021 presented Silver Star upgrades to 58 veterans of the "Black Hawk Down" engagement after a comprehensive review, the Army Times reported. Two others received upgrades to the Distinguished Flying Cross.
In addition to Fillmore, the others from the mission in line to receive an expedited Distinguished Service Cross are:
— Master Sgt. John G. Macejunas, a Delta Force NCO.
— Retired Col. Robert Mabry, a Delta Force medic who later served as command surgeon for Joint Special Operations Command.
— Retired Command Sgt. Maj. William F. Thetford, who later served as the senior enlisted leader for U.S. Central Command.
___
(c)2022 Tribune-Review (Greensburg, Pa.)
Visit Tribune-Review (Greensburg, Pa.) at www.triblive.com
Distributed by Tribune Content Agency, LLC.
---
---
---
---