1923-2021
Bob Dole: Senator, soldier, veterans' advocate; 'an individual of extraordinary will'
by
Nikki Wentling and Claudia Grisales
Stars and Stripes
December 5, 2021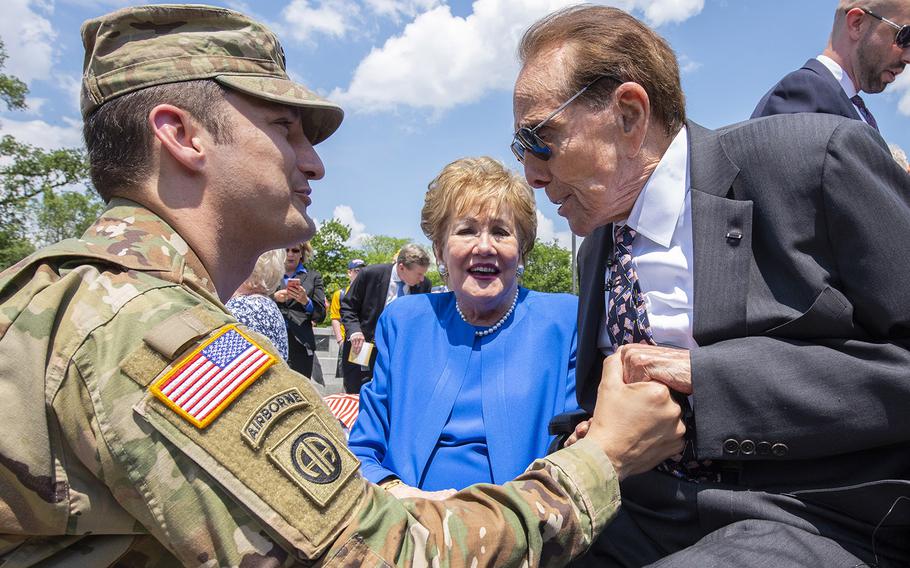 Robert Joseph Dole sat in his wheelchair in the center of a circle of reporters and onlookers, staring toward the flag-draped casket of his World War II comrade, old political rival and friend, former President George H.W. Bush.
While the cameras clicked, Dole — his body worn by age and war wounds — was lifted from his wheelchair by an aide. The old soldier stood more than 10 seconds, then raised his left hand in a farewell salute.  
"I never went there with the intention of saluting. I intended to stand up and bow and sit down," Dole told Stars and Stripes in a March 2019 interview. "But when I got up, it must've been my subconscious. My left arm just started going up." 
The military and its traditions, including saluting a fallen comrade, were important to Dole, who died Sunday at 98.
"It is with heavy hearts we announce that Senator Robert Joseph Dole died early this morning in his sleep," according to a statement from the Elizabeth Dole Foundation. "At his death, at age 98, he had served the United States of America faithfully for 79 years."
Dole's life, which included service as Senate Majority Leader, unsuccessful presidential candidate and champion of veterans' rights, was nearly cut short by severe wounds suffered in April 1945 during fighting in the final weeks of World War II.
His crippled right arm was a lifelong reminder of the price he and his generation paid for the defense of the United States.
Throughout his long public career, he championed veterans' issues and was a driving force behind construction of the World War II Memorial, where he spent his final years greeting fellow veterans.
"The World War II generation knew how to put country first," said Sheila Bair, a Dole staffer from 1981-88 and former chairwoman of the Federal Deposit Insurance Corporation. "Dole understood that. One of the reasons he was such an effective leader is because he had put his life on the line. … He had a deep respect for the military."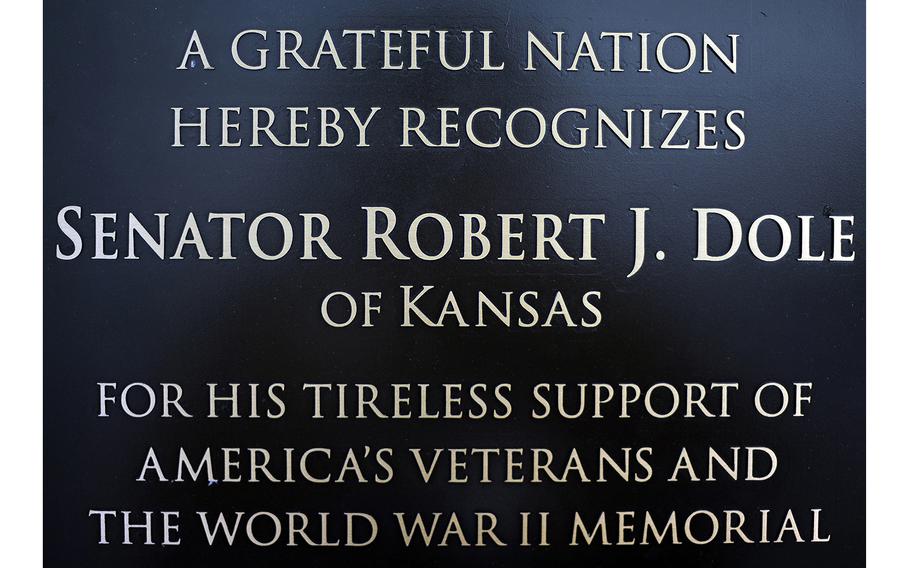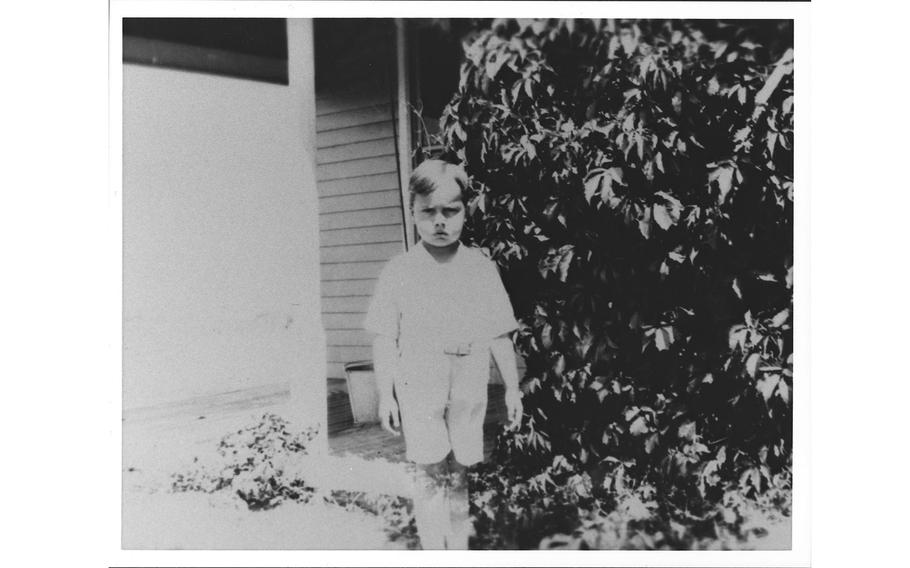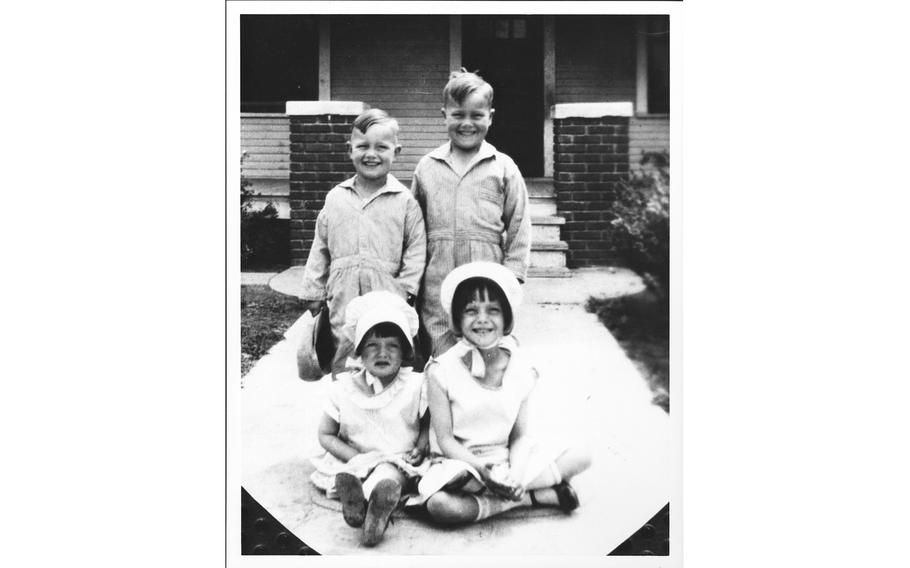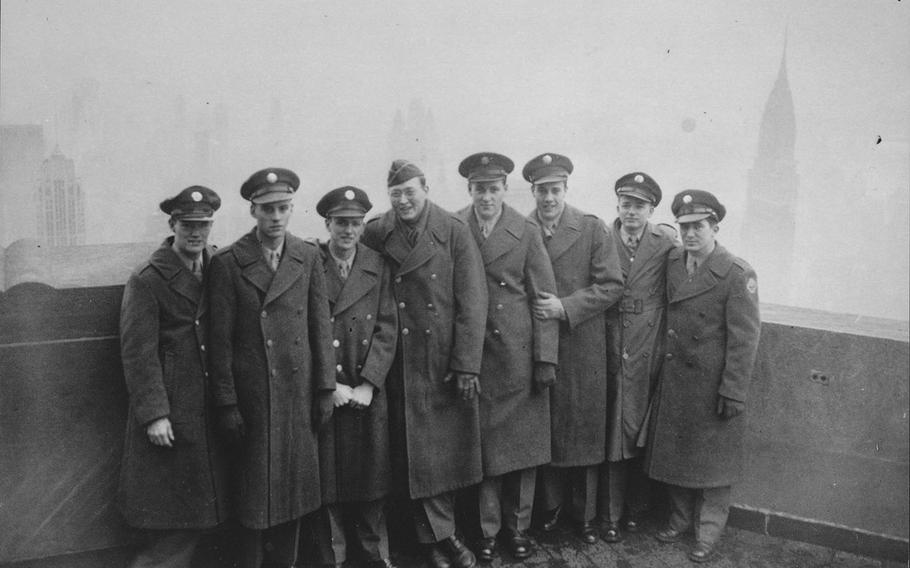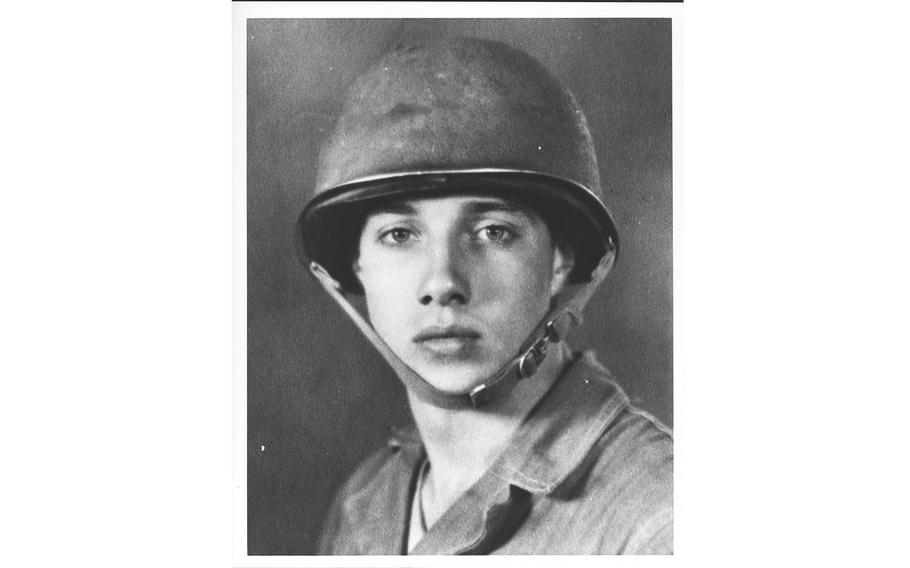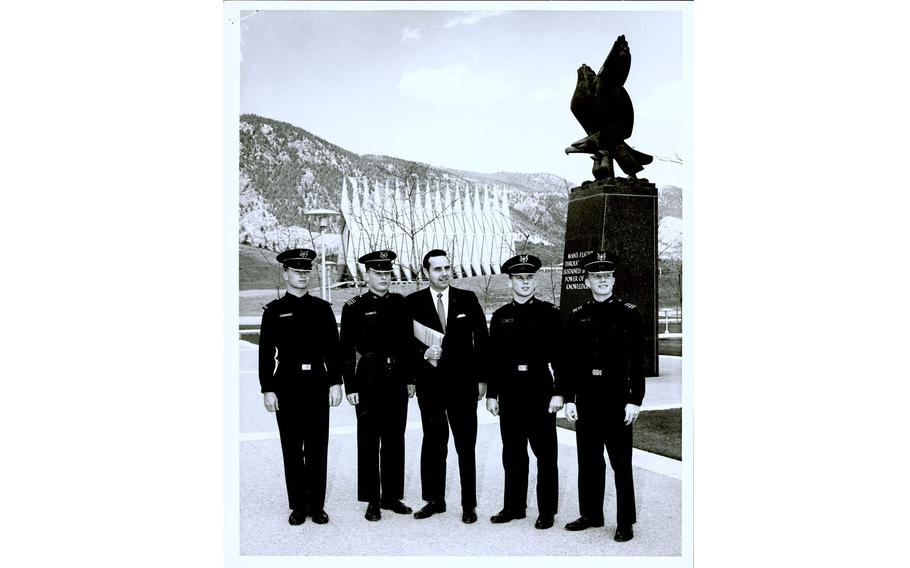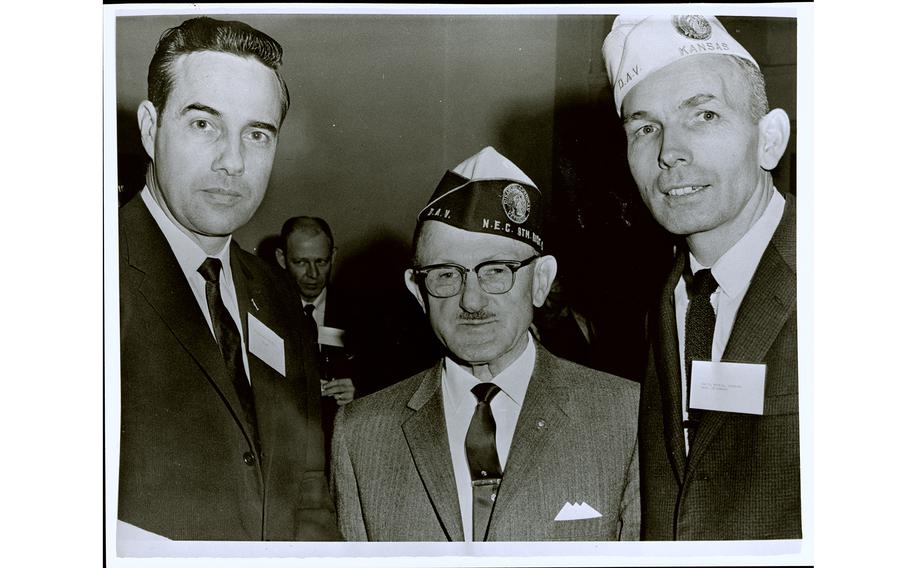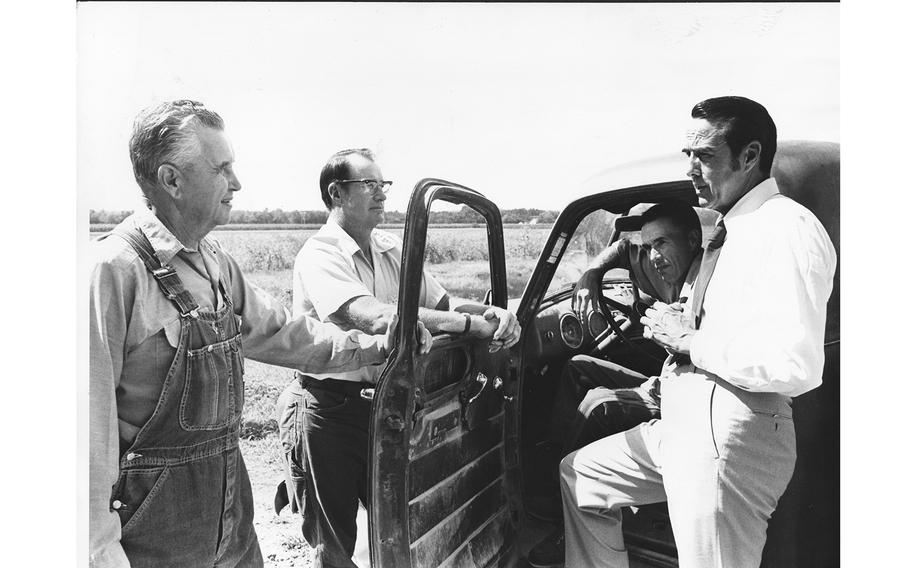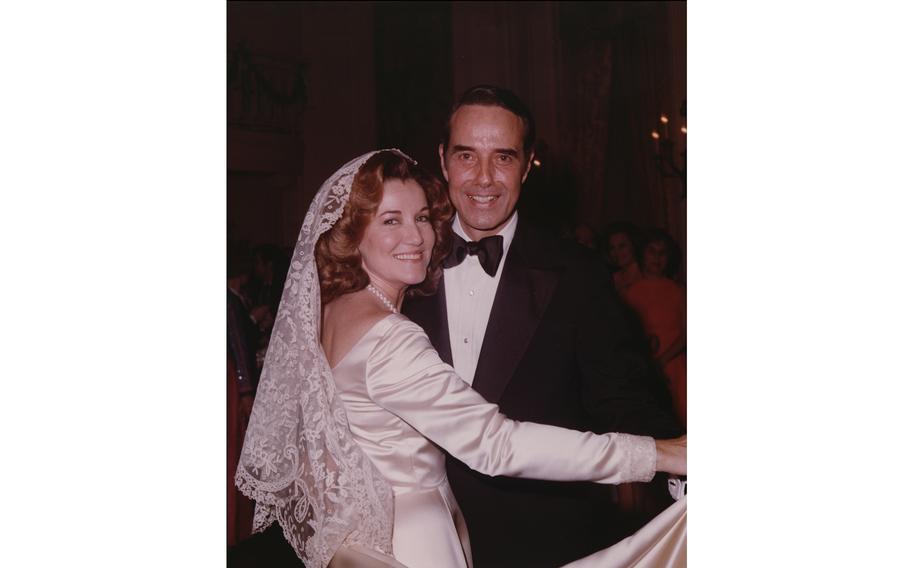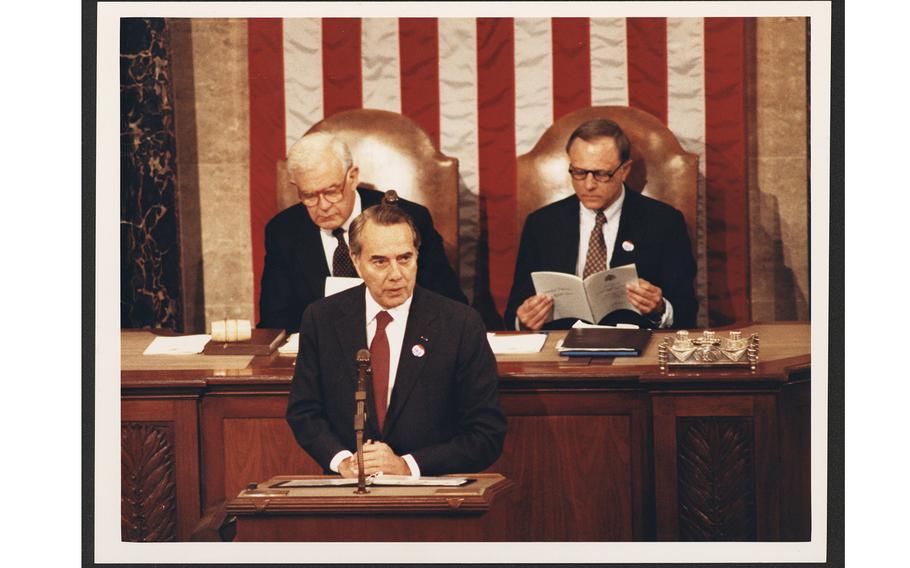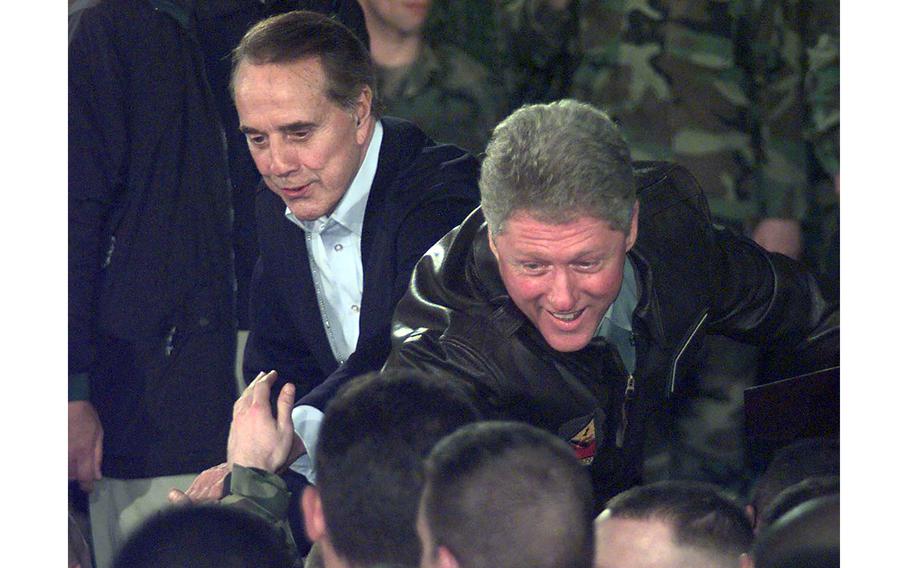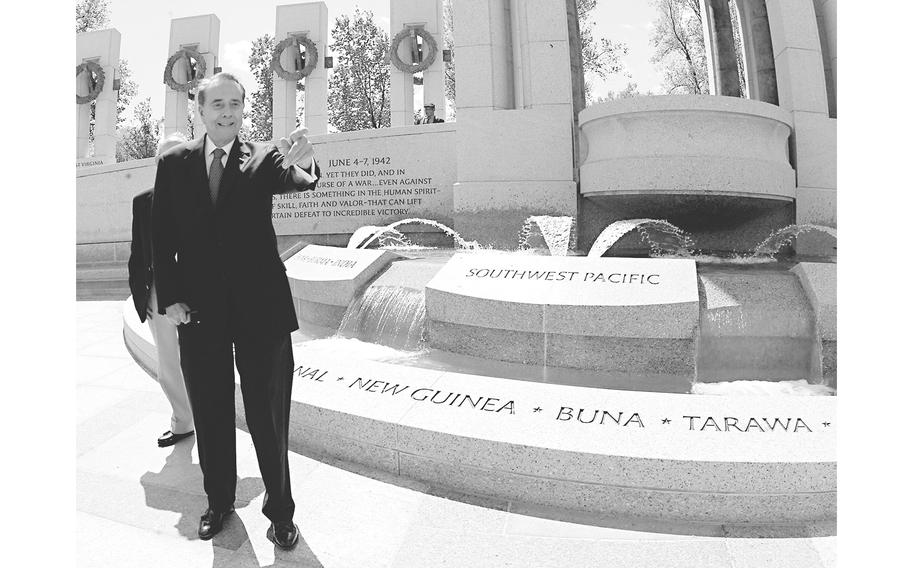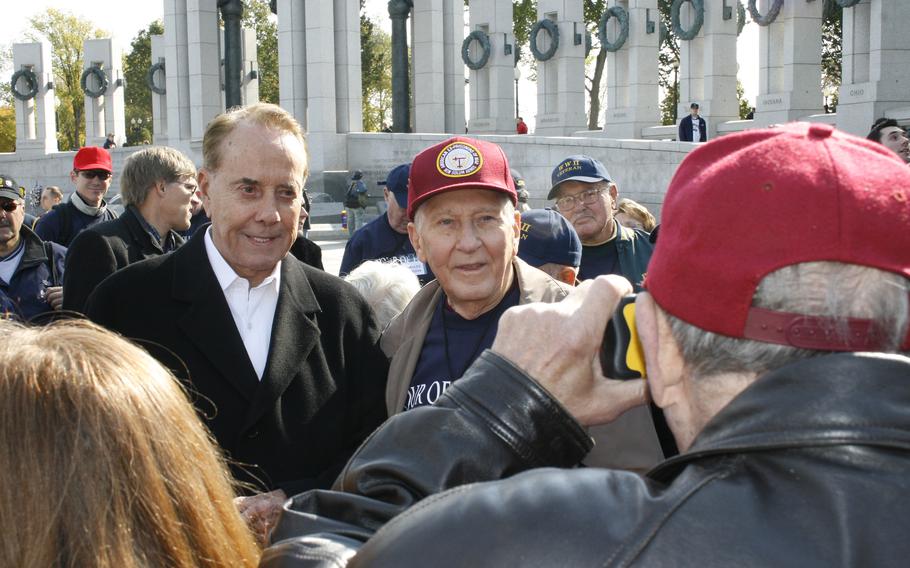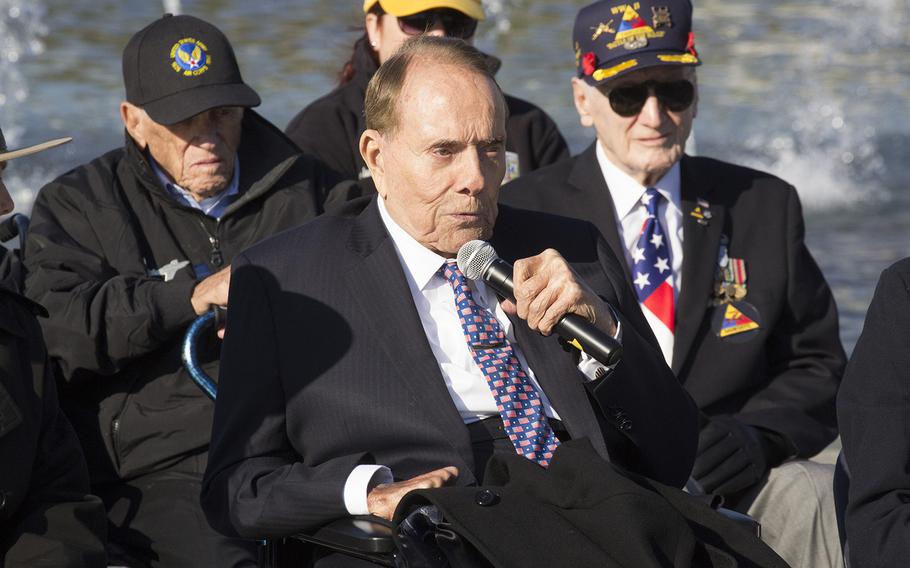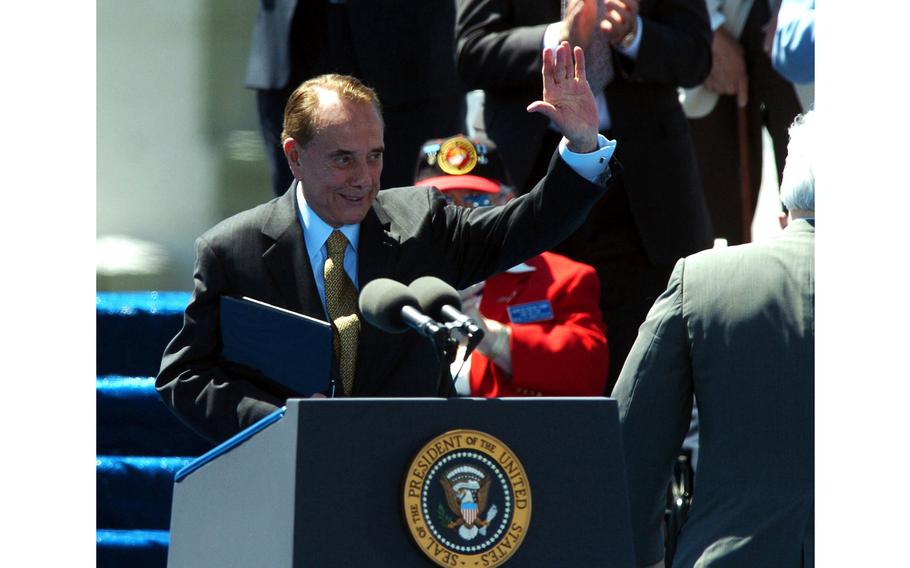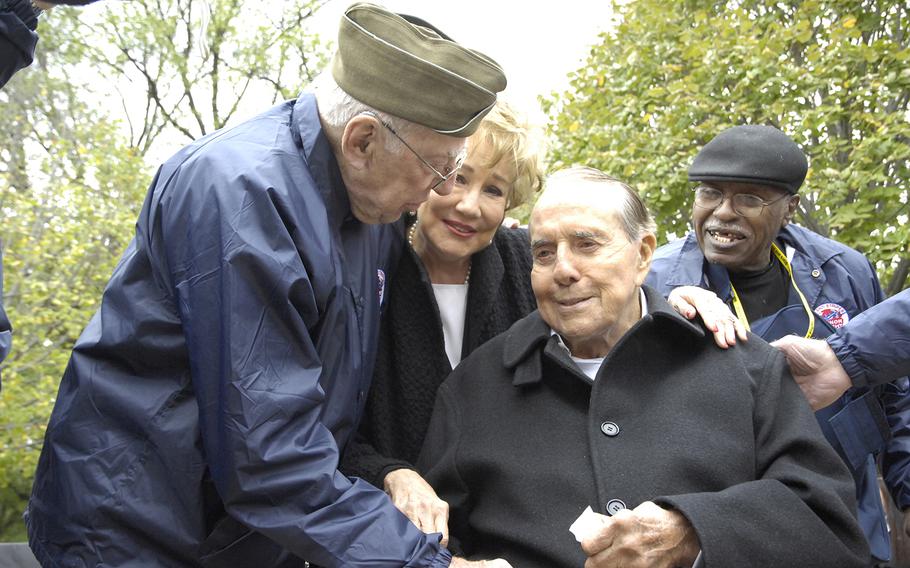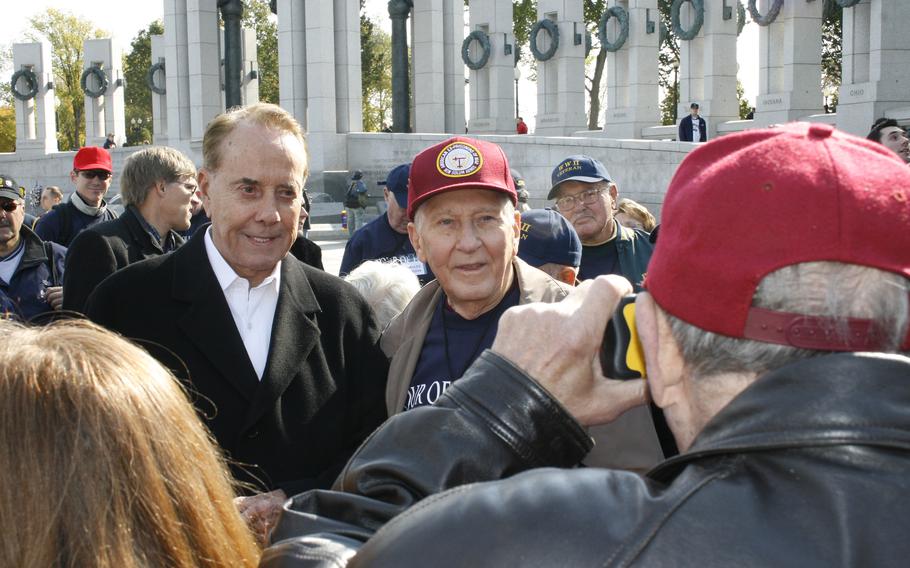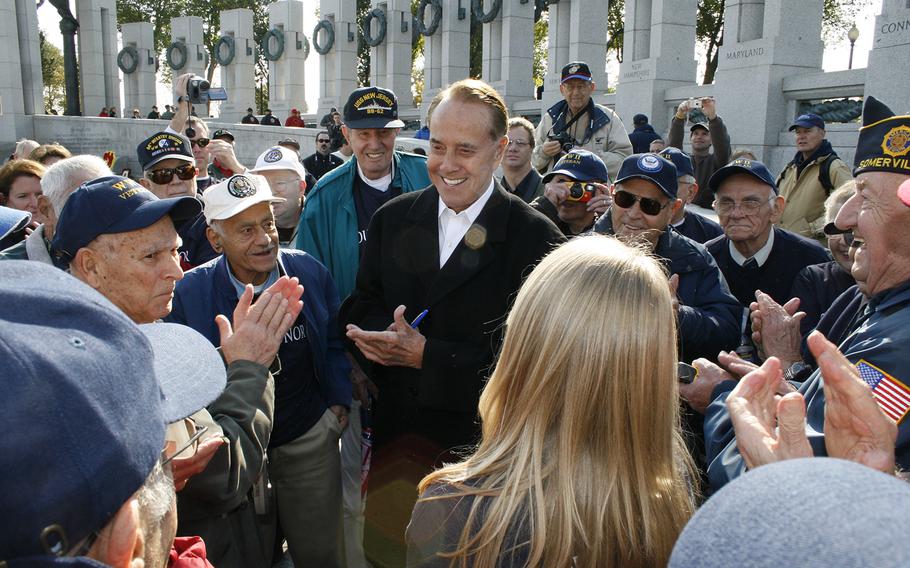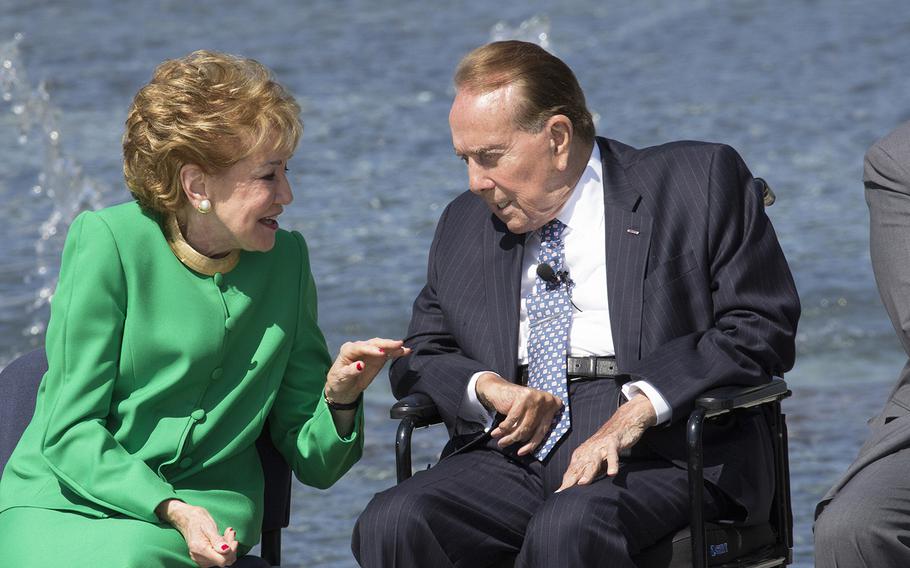 Lifelong war wounds
Like so many of his generation, Dole struggled through a childhood scarred by the Great Depression, only to face service in history's most destructive war.
He dropped out of the University of Kansas — "my grades were in the toilet," he said — and enlisted in the Army in 1942, serving as a platoon leader with the 10th Mountain Division. In April 1945, about a month before Germany surrendered, he was severely wounded in the fighting southwest of Bologna, Italy.
"There are differing accounts, but there was some sort of explosion – a machine gun, or a mortar that was thrown – and his body was riddled with shrapnel," said Audrey Coleman, associate director and director of museums and archives at the Dole Institute of Politics in Lawrence, Kan. "He was left for dead, essentially."
A medic pumped Dole with morphine to ease the pain. Using Dole's blood, the medic drew the letter "M" on Dole's forehead as a warning not to give him more of the narcotic, or else it might kill him, Coleman said.
Dole would spend the next four years in rehabilitation, but he would never fully recover. The New York Times reported Dole was left without feeling down his right arm, all the way to his hand. His left arm was functional, but some of the fingers were numb.
 "It took years to get up and be able to walk around by myself," Dole said in March 2019. "It was like with a lot of GIs – it was a tough time. But I'm still here at 95 feeling pretty good." 
Commemorating WWII
After 36 years in Congress, Dole used his political acumen to champion a cause for veterans – a World War II memorial on the National Mall.
In 1997, one year after his final failed presidential bid, he took over as the national chairman of the fundraising campaign for the National World War II Memorial. With help, he raised more than $190 million from more than 600,000 individual contributors.
The memorial was completed in 2004, and Dole spoke at its dedication.
"We have raised this memorial to commemorate the service and sacrifice of an entire generation," Dole said at the time. "What we dedicate today is not a memorial to war, rather it's a tribute to the physical and moral courage that makes heroes out of farm and city boys and that inspires Americans in every generation to lay down their lives for people they will never meet, for ideals that make life itself worth living." 
As long as he was physically able, Dole would venture out to the site every spring and summer to greet Honor Flight participants – veterans from all eras who travel to Washington from across the country to visit the war memorials.
He did so for about a decade and met thousands of veterans that way.
Dole could be spotted frequently at the memorial on weekend mornings, posing for photos with veterans and anyone else who asked. He viewed his presence there as a continuation of his public service, he said.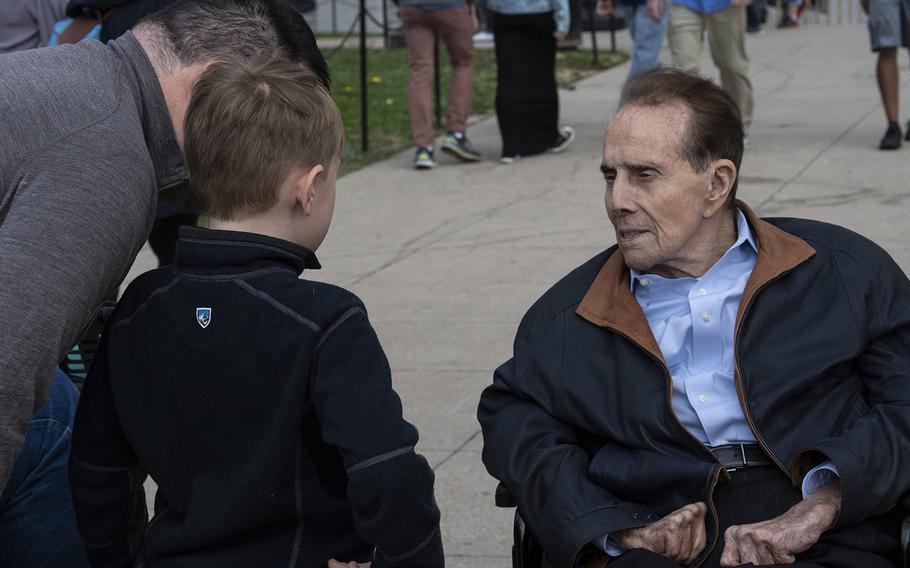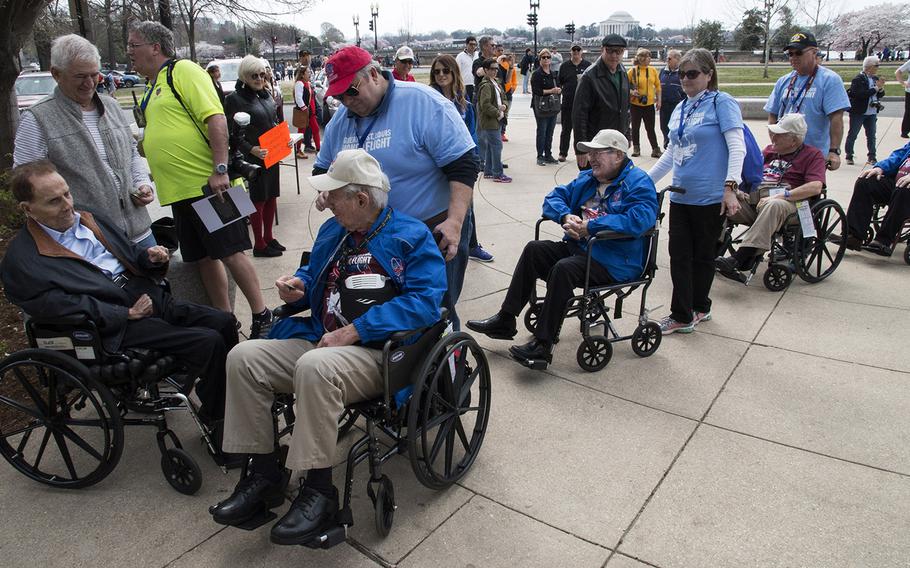 A time of compromise
His injuries and subsequent battle to overcome them earned Dole the reputation as a fighter. However, he was also known for his willingness to compromise.
"He's an individual of extraordinary will," said Bill Lacy, a former Dole campaign worker who today directs the Dole Institute of Politics. "I never underestimated the guy. Once I got to know him, you get to understand what strong willpower, what commitment and focus is. He's just an extraordinary individual."
Dole represented Kansas in the House from 1961 to 1969, followed by a 27-year tenure as a senator. He held the role of Republican leader of the Senate during his final 11 years in that chamber before he launched his second and final presidential run in 1996.
During the mid-1970s, about three-fourths of lawmakers on Capitol Hill had some sort of military experience – far higher than the nearly 20 percent today. Coleman described it as a "crucial point of cohesion" in Congress. At times, Dole said, it felt as if he were still in the Army.
"They worked together, and they had sacrificed personally for the American ideal," Coleman said. "It's a culture of Congress that just isn't present now."
When asked whether he thought the country took a lesson from those seconds he spent in the Capitol rotunda saluting Bush, an old commander in chief, Dole said simply: "I hope so."
"We were political enemies, but we were also friends," he said. "We grew up. That's the way it was."
Dole's greatest source of pride from his time in Congress was his fight to save Social Security, he said. In 1983, as Social Security's finances began to deteriorate, Dole and then-Sen. Patrick Moynihan, D-N.Y., forged a bipartisan compromise that ultimately kept it viable.
"I think his legacy is exactly what we're not seeing today – but hopefully will soon – and that's a willingness to be pragmatic in an effort to get things done in Washington," said former presidential campaign manager Tom Synhorst. "Mr. Dole would be happy with 80 percent of the loaf, or sometimes even 30 percent if it meant moving good policy forward."
In early 2019, Dole reflected on that achievement for Social Security with a sense of chagrin.
"We did a lot of bipartisan stuff in those days, and now they can't pronounce the word," Dole said. "It's America's loss."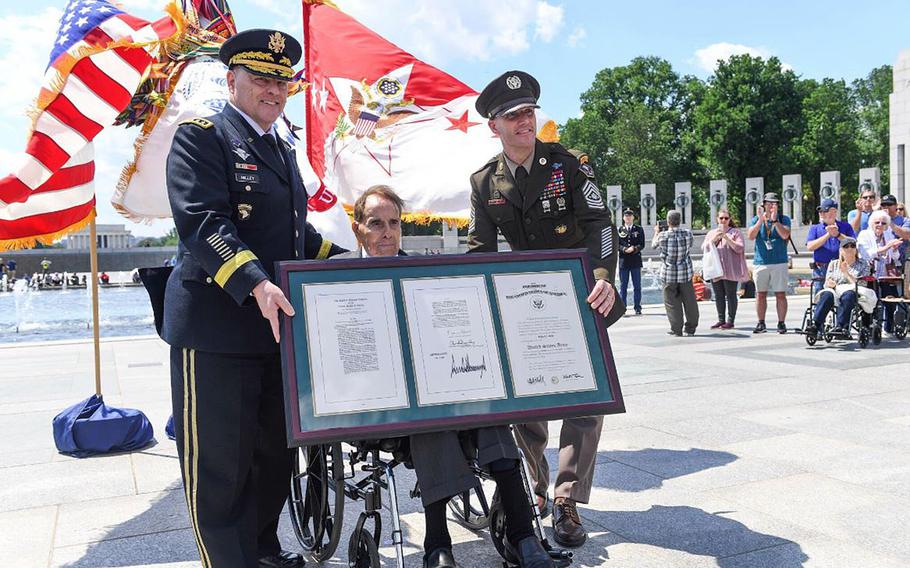 'A good life'
In his near-century of life, there wasn't much Dole didn't see.
He shared a room with his three siblings and worked odd jobs during the Great Depression. He saw the rise and fall of the Nazi fascist movement and later fought communism from the halls of Congress.
Dole saw the rise of political giants Presidents Franklin D. Roosevelt and John F. Kennedy, and he witnessed Martin Luther King Jr. and other civil rights leaders change the face of the nation.  
In his own life, he suffered through tremendous poverty and achieved wild political success as a lawmaker from Kansas. He survived tough political failures, including two failed presidential bids. He fought for reforms for farmers, the poor, hungry children, the military and wounded warriors.
Claudia Grisales is a former Stars and Stripes reporter.
---
---
---
---