The unclaimed soldier: Thousands of veterans, especially from the Vietnam era, die alone every year
by
Mary Jordan and Kevin Sullivan
The Washington Post
November 11, 2021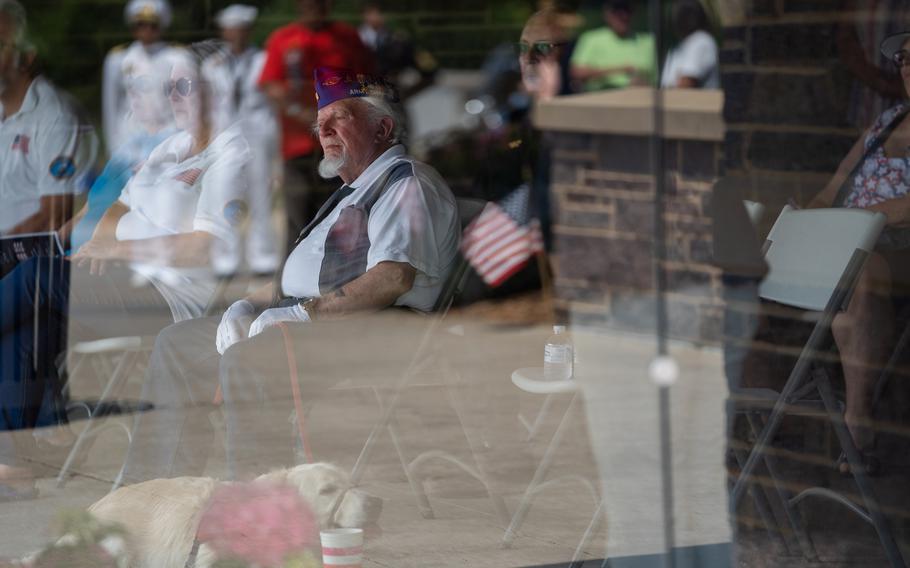 DES MOINES — Everyone on the third floor of South View Manor was accounted for except James Dean Ryan in Room #301. A police officer, checking on a worrying smell, opened his door and found Ryan face down on his living room floor, another Vietnam veteran who died alone.
Ryan's son and other relatives were notified, but many wanted nothing to do with him, alive or dead. No one stepped forward to bury him after his death last November. So the 66-year-old with talents for disco dancing and repairing furniture became yet another of America's unclaimed dead.
There is no requirement for local governments — who are responsible for unclaimed bodies — to report them to any national authority, so there is no official count. But tens of thousands of lives in the United States end this way each year, according to a Washington Post investigation that included more than 100 interviews over six months with medical examiners and local officials from Maine to California.
A striking number — thousands every year — served in the military, especially during the Vietnam War, according to funeral directors who directly handle their bodies.
"Vietnam vets got the rawest deal of anyone," said Jim Mowrer, an Iraq War veteran who never met Ryan but volunteered to carry his urn at his Iowa funeral in June. "We have a lot of making up to do to Vietnam vets."
While those who served in uniform after the Sept. 11, 2001, terrorist attacks are publicly thanked for their service, soldiers in the 1960s and 1970s were often jeered. Back then, the United States was fighting a long war against North Vietnam, a communist nation supported by the Soviet Union and China, that many felt was unwinnable. It caused massive civilian casualties in Southeast Asia and street protests around the United States.
"One of the most painful chapters in our history was Vietnam — most particularly, how we treated our troops," President Barack Obama told Vietnam veterans in 2012, on the 50th anniversary of the start of the war. "You were often blamed for a war you didn't start. ... You came home and sometimes were denigrated, when you should have been celebrated. It was a national shame."
More than 8 million people served in uniform during Vietnam and those who are alive are typically in their 60s and 70s. The U.S. Department of Veterans Affairs estimates that 530 Vietnam veterans die every day.
The overwhelming number are buried by family and friends. But a growing army of strangers are volunteering to wave flags and say prayers for the thousands who have no one.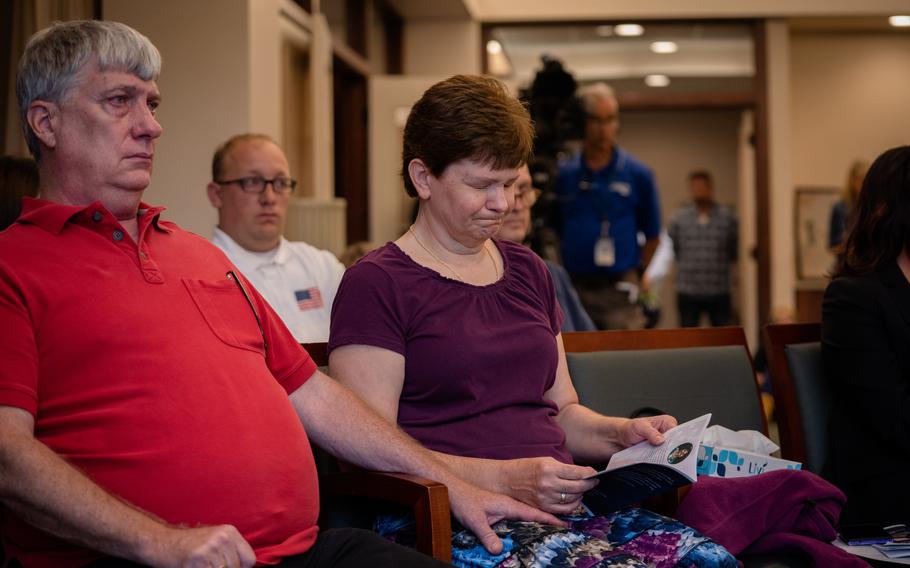 "They're estranged from their family. They die alone. They commit suicide," said Linda Smith of the Missing in America Project, which helps arrange funerals for unclaimed veterans. "They don't have anyone to mourn them — that's what we do. The number is huge. It's really sad."
Last year, 1,752 unclaimed veterans were buried in the 150 veterans' cemeteries run by the federal government, according to the VA. An unknown number of others were buried in state-run cemeteries, like the Iowa Veterans Cemetery where Ryan was interred. Still more were buried in the thousands of private cemeteries all over the country.
— — —
Ryan was 20 and recently married when he joined the Army in 1974. His father had served during the Korean War, his grandfather fought in World War II and Ryan felt it was his turn.
So the Iowa high school dropout with plans of opening a furniture-repair shop became an expert marksman with an M-16.
The transition was rough.
He rarely spoke about what happened after he enlisted, but according to his ex-wife Linda Janes, "It did a job on him."
He went to Fort Bragg, N.C., where his training included jumping out of planes and parachuting into mock Vietnamese villages built on the Army base. He was never sent to Southeast Asia, nor were most of those who served during Vietnam.
But Ryan was deeply disturbed by his training in survival behind enemy lines, according to relatives. At the time, there were widely publicized accounts of the torture endured by American prisoners of war, including John McCain, a Naval officer who became a U.S. senator from Arizona. Two friends of Ryan's were killed.
According to Ryan's military records, he was honorably discharged, but only after being granted unexplained "excess leave."
"He had a nervous breakdown," said Janes, Ryan's second wife, who married him two years after he left the Army.
One month after he returned home, his first wife, Pamela, divorced him. He seemed changed, according to those who knew him at the time, and could become violent and angry. A judge signed a decree giving Pamela custody of their 2-year-old daughter and Ryan "his shotgun, tools and toolbox."
A remarkable 38 percent of service members sent to Vietnam were divorced within six months of returning home, according to a study cited by VA.
Ryan let his military crew cut grow out until his thick brown hair reached his shoulders. He took jobs plastering walls and welding pipes and he met Janes, a local girl who loved how he danced to the Bee Gees, Abba and Diana Ross. "I always wanted a guy who was a good dancer — and he was a heck of a dancer."
She also saw his pain. In apparent flashbacks to his Army training exercises, she said, "at times, he cried to me about how they would drop him down and [he would] see kids strapped with dynamite."
She said when she or Ryan dealt with the VA, which runs a massive system of hospitals and outpatient facilities, it was so frustrating, they often just gave up.
Lori Wetlaufer, Ryan's stepsister, said he told her at least twice over the years how upset he was at not being able to get an appointment with a VA doctor. The last time she ran into him was at a gas station a year before he died, looking gaunt, and buying beer and cigarettes.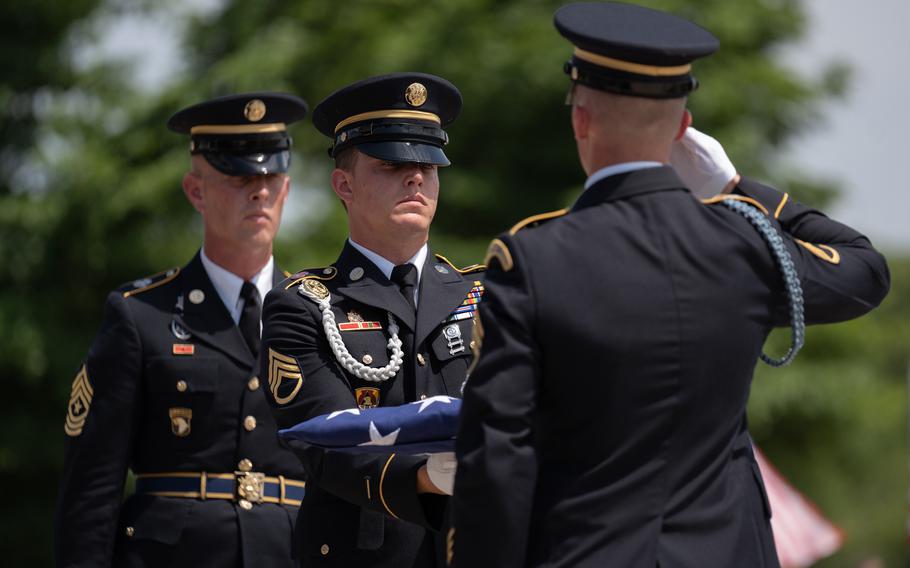 Janes said the military knew Ryan had a mental breakdown, but "there was no follow-up." She is sure Ryan suffered from post-traumatic stress disorder. He left the Army in 1975 and PTSD was only officially recognized as a psychiatric disorder in 1980.
Now, there is a far greater public understanding of how witnessing terrifying events can trigger depression, anxiety and substance abuse. But Vietnam veterans did not have the same mental health services that are available now.
Janes said she and Ryan were on their own, commiserating with other veterans and their families. She recalled a friend whose husband, a Vietnam veteran, would jump out of bed in the middle of the night and hide in a corner.
Ryan could not stop drinking — whiskey, beer, just about anything. Some people who knew him called him "J.D." and others "Jim," but everyone agreed he could be an angry drunk.
Wetlaufer said Ryan had a sweet side but often turned abrasive and "pushed a lot of people away."
Jerry Dacre, a neighbor who lives in Ryan's apartment building, said not long ago Ryan was stabbed by a man he had let sleep in his apartment. His kind side helped that homeless man, and his angry side then fought with him over money. "When he was sober, he was a good old boy. But when he drank, the demons came out," Dacre said.
Janes said Ryan was at times physically abusive and once pointed a gun at her. She said her son never had the father other kids in the neighborhood had. Janes said Ryan would often apologize and be on good behavior, only to slide back into anger, and go back to drinking liquor and smoking marijuana. After nine years of marriage, she divorced him in 1986.
"He went downhill after that," she said. "His life was so screwed up, and he just burned bridges all the way around."
The Vietnam Veterans of America and its 700 local chapters often help with funerals for the unclaimed. Increasingly, other nonprofit groups are stepping in to help, many of which use social media to invite the public to serve as proxy family.
"I think the root of this problem is PTSD. It causes enormous personal problems," said John Rowan, the national president of the VVA. "We see a lot of these folks who are single or divorced, and they are estranged from their families."
Rowan attended his first funeral for an unclaimed veteran in New York in 2008. That year, amid a national recession that made affording funerals harder for many, local officials began seeing a spike in bodies languishing in morgues. The numbers have continued to rise since.
Rowan said police found John A. White, a former U.S. Army sergeant who had been awarded a chest full of medals in Vietnam, dead in his hotel room near the Empire State Building. He had very little in his room except his dress uniform hanging in the closet.
"He had nobody in his life," said Rowan. "We gave him a final salute."
Other Vietnam veterans made sure White was buried in his uniform and formed an honor guard for the soldier awarded the Distinguished Flying Cross and Bronze Star Medal.
After Des Moines police discovered Ryan's body on Nov. 12, the medical examiner found records that he had been treated at a local VA hospital. They called Lanae Strovers at Hamilton's Funeral Home because they knew she had a special interest in burying veterans.
Strovers had lost a friend who suffered from PTSD. She called the VA hospital to warn them that he desperately needed help. His mental health appointments kept getting canceled, and she pleaded with them to let him see a doctor. Three weeks later, she said, he died of an intentional drug overdose.
As Strovers began searching for Ryan's relatives, she saw names of family members listed in his father's obituary. She messaged a stepbrother she found on Facebook. He didn't reply but forwarded the message to his sister, Lori.
She was a lot younger than Ryan and though her mother and his father married later in their lives, she never really spent time with him. Wetlaufer called Ryan's son, but he replied, "No, thank you." He wanted nothing to do with the man who had mistreated his mother and abandoned him.
His parents were dead, no other family members felt close to him and many were angry with him. Wetlaufer told Strovers that having the government bury him was probably the best solution. Aware that money is often a factor when a family declines to bury their relative, the funeral director explained that there were veterans' benefits available to reduce the costs, including a free space in the state military cemetery.
In the end, seven months after he died, he was buried with other unclaimed veterans in a military send-off.
The United States has prioritized veterans' burials since the Civil War, when the public was outraged at bodies left on battlefields and buried in unmarked graves. Some states prohibit a veteran from being buried in a public cemetery for the poor and abandoned.
The federal government spends half a billion dollars a year to bury veterans, from maintaining its cemeteries to the $27 million for U.S. burial flags presented to families.
Mowrer, the Iraq vet, said he would like more focus on veterans while they are alive. The military excels at training young soldiers and burying dead ones, but Janes said, it "backs away from a lot of things in between."
It's the job of the VA to provide health care and benefits. Its budget is nearly 10 times larger than the Justice Department, which includes the FBI.
Congress is considering the Biden administration's proposed $270 billion budget for Veterans Affairs for next year, a significant increase to help fund more mental health services, including for substance abuse and suicide prevention.
Last week, President Biden announced new efforts to improve access to mental health care for veterans, noting that an average of 17 veterans a day die by suicide. "We have only one truly sacred obligation as Americans — to prepare and properly equip our women and men in uniform when we send them into harm's way, and to care for them and their families when they return," Biden said.
The VA's bureaucracy, more than its resources, has long been the target of veterans' complaints. Janes said the paperwork required was defeating; a missing ID number or lost document meant no benefit. Several funeral directors interviewed about unclaimed veterans say they stopped applying for federal burial benefits years ago because the process is too cumbersome.
States and counties also offer veteran burial benefits, a rare budget item with bipartisan support. Polk County, Iowa, which includes Des Moines, reimburses funeral homes up to $2,000 to handle unclaimed veterans, compared to $750 for unclaimed civilians.
Funerals typically cost more than $7,500, and funeral homes like Strovers' often donate services for unclaimed veterans. So do a growing army of volunteers.
Every year, the Missing in America Project arranges for services, chaplains, music, flowers and handcrafted urns for hundreds of unclaimed veterans, up from 30 to 40 a year when it launched nationally in 2007.
— — —
On June 18, Ryan and several other unclaimed veterans who ranged in age from 52 to 92 were honored at Hamilton's Funeral Home, where volunteers prayed, recited poems and sang "America the Beautiful."
Then the urns were loaded into a black hearse that was accompanied to the cemetery by 60 motorcycles, five police cruisers and a mile-long procession of cars and trucks. As they arrived, children waved American flags.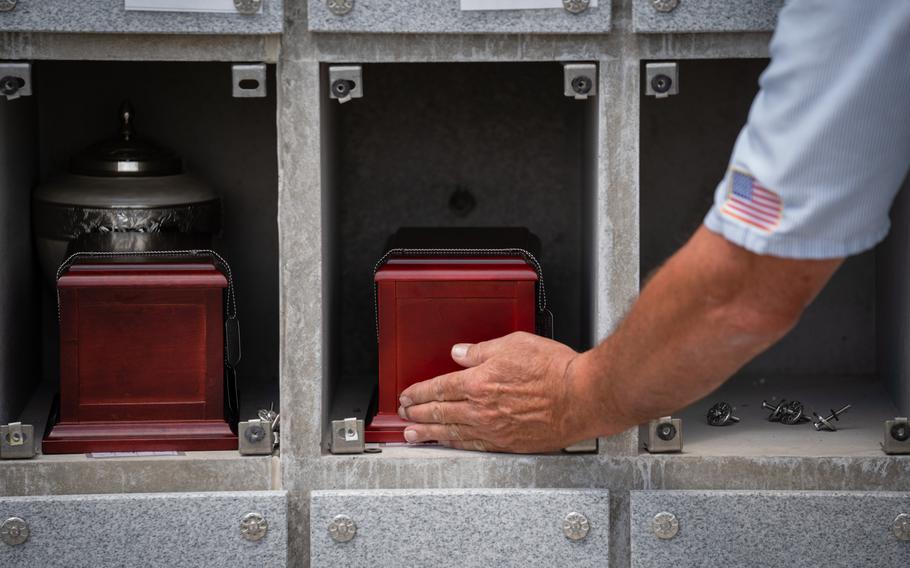 "These are heartwarming, but also gut-wrenching," said Terry Mitchel. "There is a reason we wear dark glasses."
Mitchel rode the lead Harley-Davidson for the Patriot Guard Riders, a group formed in 2005 to protect veterans' families from extremists from the Westboro Baptist Church that were disrupting military funerals. Patriot Guard Riders also form funeral honor guards for veterans, including many unclaimed.
At the Iowa gravesite, four kilted bagpipers played mournful tunes and a country artist sang the national anthem. Two hundred people came to pay their respects to veterans that almost all of them had never met.
Two uniformed soldiers folded Ryan's burial flag in a precise 13-step ritual.
Strovers picked a volunteer to receive the flag, a state representative, when she got no reply from the family.
Mowrer wore white gloves to carry Ryan's cremains in an urn made of polished cherry wood. He placed it in a niche in Wall 7, where a plaque lists Ryan's name and reads, "You are not forgotten."
Usually at unclaimed services, no one who knew the deceased shows up. But Wetlaufer and her husband did. Afterward, she praised the lovely service but said she did feel a pang of sadness when his name was called out as Ryan James instead of James Ryan. It was a reminder that strangers had arranged J.D.'s funeral.
Janes thought about attending. She had heard about it from a friend who saw the public notice of the burial of unclaimed veterans on Facebook.
"I feel bad that nobody wanted to get his body," she said. But she can still feel the pain he caused her before she left him 35 years ago. "If I went, I knew I would cry. I decided that he wasn't going to make me cry anymore."
The Washington Post's Alice Crites contributed to this report.
---
---
---