'Unforgotten veterans' honored in ceremony at Santa Fe National Cemetery
by
Robert Nott
The Santa Fe New Mexican
September 24, 2021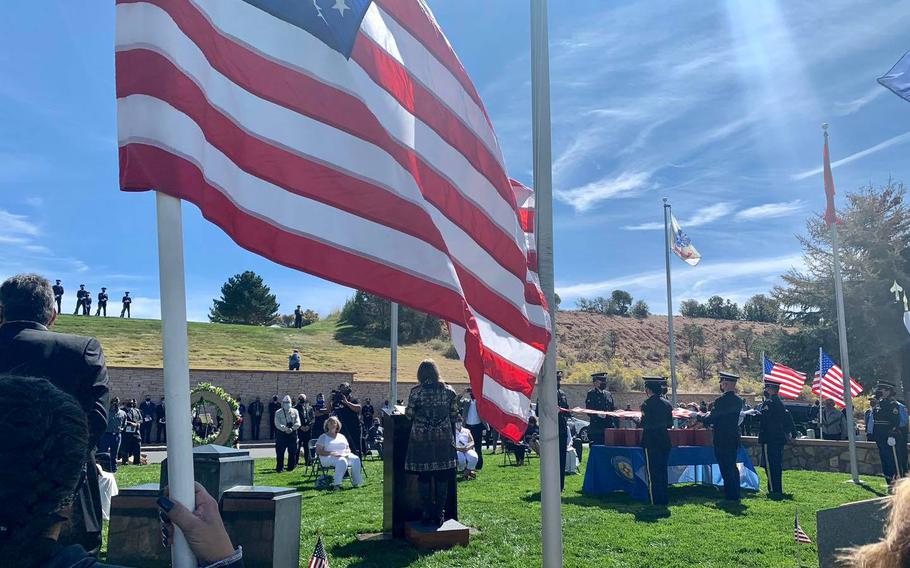 SANTA FE, N.M. (Tribune News Service) — Twenty-two forgotten veterans who served their country and died without having any family members claim their remains were laid to rest Thursday.
"The sad fact of the matter is that we don't know much about these men beyond their name and rank," Gov. Michelle Lujan Grisham said during the burial ceremony at Santa Fe National Cemetery.
"No friends or family came forward to claim their remains, and so we are left without the details of their existences," she said. "But we do know that each answered the call to serve the United States of America and each served honorably."
She said the 22 veterans, all men, did not lead perfect lives and likely "lived hard lives after their service."
The state Department of Veterans Services has hosted an annual Forgotten Heroes Memorial Ceremony honoring unclaimed veterans since 2009. All of the men buried Thursday died between 2018 and 2020 except for one, who died in 2001.
Similar military burial ceremonies take place across the country. Some attract more attention than others. In 2019 in Texas, thousands of people showed up to attend U.S. Air Force veteran Joseph Walker's military funeral after officials feared no one would attend because no family members claimed his remains.
Thursday's ceremony, held on a hill overlooking rows of graves of veterans and their spouses, included a prayer; a rendition of the national anthem by Albuquerque teen Marisol Herrera; and brief speeches by Lujan Grisham, cemetery director Victor L. Vasquez and Sonya Smith, secretary of the state Department of Veterans Services.
Officials review the military records of the interred veterans to ensure they meet the criteria for a military burial, which military veterans with honorable discharges may receive for free as part of their benefits.
The wind blew steadily, setting the flags surrounding the memorial service fluttering in the wind.
As if on cue, when two bagpipe players began performing a rendition of "Amazing Grace," those winds died down to almost nothing.
Some in the assembly of about 150 shed tears and consoled one another. Others bowed their heads. Salutes were plentiful, indicating a strong presence of veterans.
Among those in attendance was Rep. Harry Garcia, a Grants Democrat and a U.S. Marine Corps veteran who served in the Vietnam War. He said before Thursday's commemoration that too many U.S. soldiers were left behind and forgotten in that conflict.
"We can't afford to lose track of what becomes of our veterans," he said. "We cannot forget them. Anybody who put on a uniform needs to be remembered."
Herrera, who said she is considering serving in the military once she graduates high school, said after the ceremony she felt it was important to be there to pay tribute to the veterans.
"These people do not have a family," she said of the 22 veterans. "For me to stand [in] for them means a lot."
Maj. Gen. Ken Nava, New Mexico's adjutant general, read off the 22 men's names in roll call style at the end of the ceremony. Nava said afterward such public events prove the veterans are not forgotten.
"They're unforgotten veterans," he said.
They 22 veterans were:
Stephen Anthony Atwood, U.S. Army
Michael Owen Crossley, U.S. Marine Corps.
Lester Wayne Faulk, U.S. Navy
Bruce Allan Halterman, U.S. Army
Michael Ray Harriman, U.S. Army
Dean Ross Harris, U.S. Marine Corps.
John Willliam Harrison, U.S. Army
Rocky Hunter, U.S. Navy
James Andrew Jaworski, U.S. Navy
Frederick Addison Jones, U.S Army
Kerry Rodney Lee, U.S. Army
James Edward Marshall, U.S. Marine Corps.
Timothy Carlos Murray, U.S. Marine Corps.
Frederick Calhoun Pickens, U.S. Navy
Tony Leon Roberson, U.S. Marine Corps.
Wayne Charles Roundeau, U.S. Army
Randolph Allen Saxvold, U.S. Army
George Lawrence Schmith, U.S. Army
Felix John Stanion, U.S. Marine Cops.
Sheldon Donald Tauber, U.S. Army
John Tyler, U.S. Army
Thomas E. Bell, U.S. Navy
(c)2021 The Santa Fe New Mexican (Santa Fe, N.M.)
Visit The Santa Fe New Mexican (Santa Fe, N.M.) at www.santafenewmexican.com
Distributed by Tribune Content Agency, LLC.