Republican senators question VA about the effects of vaccine mandate on veteran services
by
Nikki Wentling
Stars and Stripes
October 28, 2021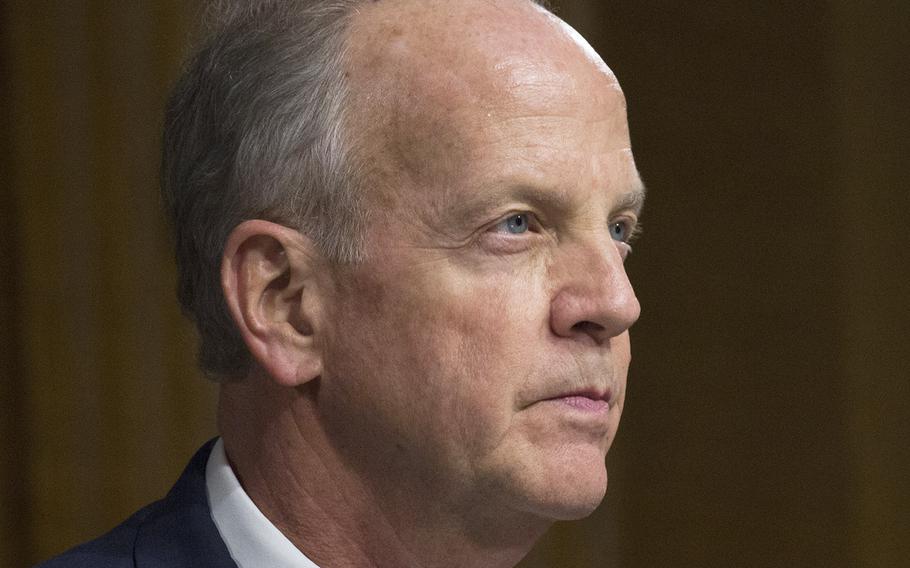 WASHINGTON — Republican members of the Senate Veterans' Affairs Committee are seeking answers from the Department of Veterans Affairs about what might happen if a large portion of the agency's workforce refuses to receive coronavirus vaccines.
VA Secretary Denis McDonough issued a mandate during the summer requiring employees to receive a coronavirus vaccine or face termination. The agency started the disciplinary process last week for some workers who haven't complied.
In a letter to McDonough on Wednesday, the nine senators expressed concern that VA services would be affected.
"Congress must assess the impact this policy is having on the ability for veterans to receive care and benefits from VA," they wrote.
Most VA health care employees had until Oct. 8 to comply with the mandate, and the rest of the workforce has until Nov. 22 to provide proof of vaccination.
Congress has not yet received information from the VA about vaccination rates among its employees, the senators wrote.
McDonough told reporters last week that about 70% of employees have shared their vaccination status with the VA, but the department didn't provide data about how many employees had been vaccinated. McDonough said he would provide updates on those numbers as they became available.
The senators asked in their letter that McDonough share information about how many employees are not in compliance with the mandate and how many have received exemptions, as well as the number of workers going through the disciplinary process.
The senators also asked whether the agency has done an assessment about the effects of mass-terminations on VA services.
During a news conference last week, McDonough said VA officials are trying to determine the locations and job duties of employees who might refuse vaccines. The agency could use its authority to move other VA employees to regions where hospitals and clinics could become short-staffed.
"We're looking really hard at it," he said. "We're trying to get a sense as best we can where people might be and what the nature of employment might be so we're in a position to do that."
The letter Wednesday was led by Sen. Jerry Moran of Kansas, the top Republican on the committee. During a hearing Wednesday on an unrelated topic, Moran asked a VA official about the vaccination data.
Ronald Burke, deputy undersecretary for policy and oversight with the Veterans Benefits Administration, said only that it was "certainly not something I'm prepared to comment on today."
"As we're talking about your ability to deliver services, your workforce is important," Moran said. "And I think it's important for us to have the necessary resources to meet the needs of veterans. It would be useful for me and the committee to have an understanding of what the VA's intentions are if it's unable to keep the workforce in place."
Moran and the other senators asked the VA provide the information by Nov. 5.