Marine veteran, nonprofit team for 13-mile ride initiative to honor service members killed in Kabul
by
Mary Grace Keller
The Frederick News-Post
September 16, 2021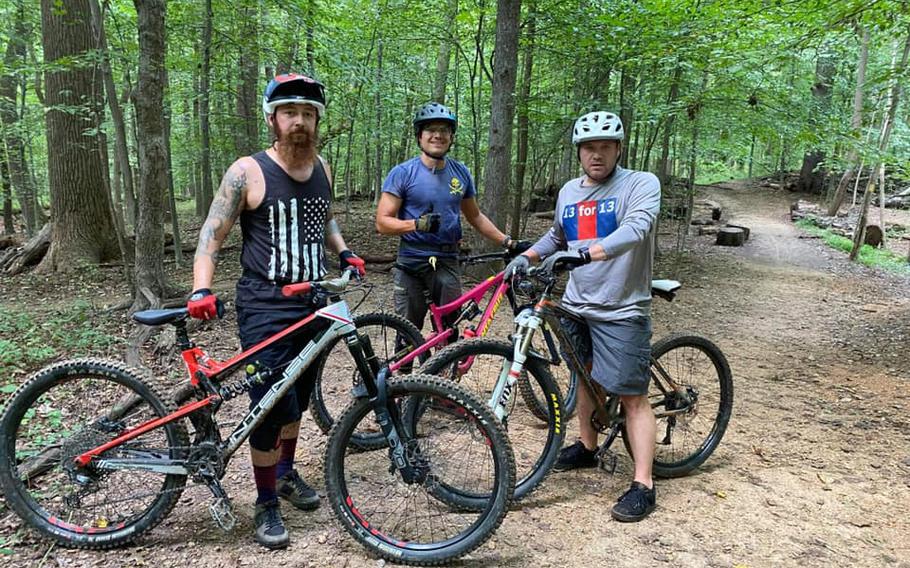 FREDERICK, Md. (Tribune News Service) — One day in late August, Frederick County Sheriff's Office Detective and retired U.S. Marine Josh Stears went for a mountain bike ride in the park.
He usually hits the trails around Clarksburg three days a week to get a good workout. He keeps track of the mileage on his phone.
After this particular ride, Stears loaded his gear into his car and checked his phone to see how many miles he traveled. The screen read 13, and a bell went off in his head.
A day or so before, 13 U.S. military service members were killed in an attack in Kabul, Afghanistan — a place Stears once served with the 3rd Battalion, 8th Marines to protect the U.S. Embassy. He was there for about six months in 2002, spending six hours a day on a rooftop at a marksman post and six more hours waiting at the ready in full gear should they be needed.
Watching the U.S. pull out of Afghanistan from afar, and seeing the 13 service members killed, Stears felt angry and confused. Those deaths and Stears' coincidental 13-mile ride sparked his decision to partner with local nonprofit Platoon 22 to start the 13 For 13 Ride Challenge to pedal for patriots. Since Sept. 11, Stears has been biking 13 miles a day to raise funds for Platoon 22, which seeks to prevent veteran suicide.
Each day of the ride is dedicated to one of the 13 killed in Afghanistan, and community members are encouraged to come along or bike on their own.
"I wanted to do something positive surrounding this tragedy to honor the Marines and other service members killed in the attack," Stears told the News-Post, and Platoon 22 seemed like a fitting cause.
The organization is named for the 22 veterans on average that die by suicide each day.
Niki Falzone, director of operations and veteran services for Platoon 22, said she was touched when Stears reached out to her with the idea.
"Josh was able to take a heart wrenching tragedy and bring a positive outlook with #pedalforpatriots," she wrote in an email. "We immediately got to work with flyers and information so that we could share with the community."
Falzone commended Stears for rallying the mountain biking community and encouraging other groups to get involved. LifeCYCLE Studio in Frederick hosted a special class Monday in support and raised nearly $500, according to Falzone.
"Anytime that we can get involved with the veteran, active duty, or first responder community, it aligns with our goals," Falzone wrote. "There is a lot of mixed emotion and moral injury felt among those communities mentioned in light of the Afghanistan withdrawal that ultimately cost these brave men and women their lives."
With those fallen heroes in mind, Stears on Tuesday set up to ride at Little Bennett Regional Park. He was joined by his friend Chris Duley, of Frederick, and two strangers who saw his post on Facebook.
"Sounded like a good reason to ride," said Ryan Jones of Keedysville. "I just think we can do a better job supporting our veterans when they return home."
Jefferson resident Matt Kauffman, a friend of Jones', agreed, saying he wanted to ride for a good cause.
As the four men became acquainted, they talked about their mountain biking gear and trails. The sun beat down on the gravel parking lot by the Pine Grove Trail as other mountain bikers gathered nearby for an evening ride. When the clock reached 5:30 p.m., the 13 For 13 riders climbed on their bikes and set out on a narrow dirt trail leading into the woods.
They rode in honor of U.S. Marine Lance Cpl. Rylee McCollum. He was 20 years old when he was killed and hailed from Jackson, Wyo. McCollum was serving his first deployment when the attack happened, The New York Times reported. He was married and had a child on the way.
"I wanted to do something to show that we do value their ultimate sacrifice," Stears said. "What they do does matter."
(c)2021 The Frederick News-Post (Frederick, Md.)
Visit The Frederick News-Post (Frederick, Md.) at www.fredericknewspost.com
Distributed by Tribune Content Agency, LLC.