World War II veteran takes flight in vintage airplane
by
Nick Hytrek
Sioux City Journal
September 2, 2021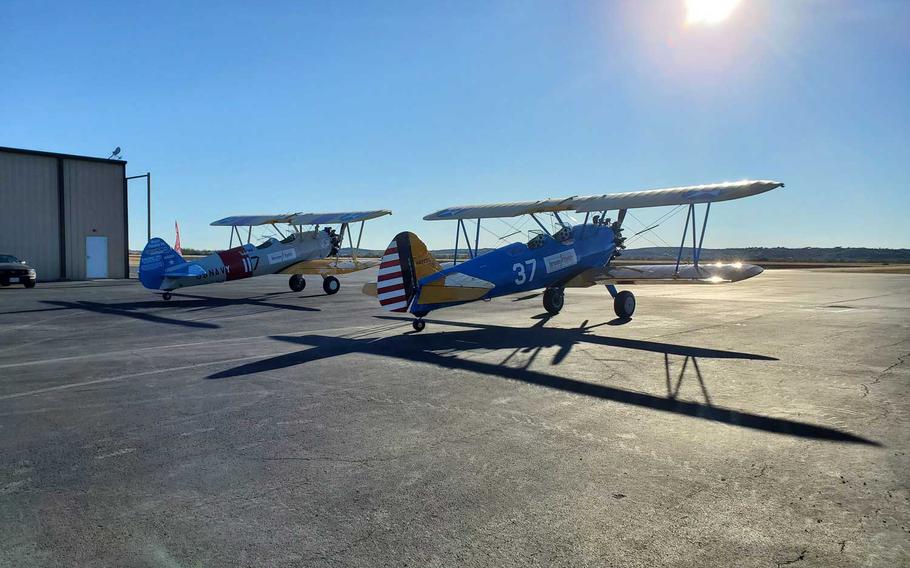 SIOUX CITY, Iowa (Tribune News Service) — Cal Swagerty spent World War II on the ground, fighting across France, Belgium and Germany.
On Wednesday, his service earned him a special flight over Sioux City in a WWII-era aircraft.
"I was mostly a ground-pounder," the Wakefield, Neb., native said shortly before he was helped into a 1942 Boeing Stearman biplane for a short flight over the Sgt. Floyd Memorial and Missouri River before landing back at Sioux Gateway Airport.
As the plane rolled to a stop in front of Hawthorne Global Aviation Services, Swagerty, who will turn 98 next week, grinned and waved to family, friends and volunteers who helped arrange the flight through Dream Flights, a nonprofit group that honors seniors and military veterans.
"That was nice. I enjoyed it," he said.
Through volunteers and donations, Dream Flights provides flights in Stearman biplanes, the same aircraft used to train many military aviators during WWII. Swagerty's flight was part of the group's Operation September Freedom. Launched on Aug. 1, the group plans 61 days of flights in more than 300 cities for more than 1,000 veterans. Another of those flights took place earlier Wednesday in Le Mars, Iowa.
McKenzie Roeber, life enrichment coordinator at Heritage care center in Emerson, Nebraska, said she was informed of the program earlier this year and was asked if any WWII veterans were living at the center. She said there's one: Swagerty.
"I talked with him and his daughter and son, and they said do it, sign him on," Roeber said.
Swagerty's daughter, Betty Wood, of Mapleton, Iowa, said her father initially agreed to it, but became a little hesitant.
"I kind of twisted his arm about it. I thought it was absolutely awesome, an honor," said Wood, who accompanied her father Wednesday.
By the time he arrived at the airport, Swagerty was all in, about what you'd expect from someone who enlisted in the Army at age 18. Swagerty was a member of the 35th Division and landed in France in June 1944.
"I missed D-Day by about a week, which is probably a good thing," Swagerty said.
He may have missed the invasion, but saw his share of combat once on the European mainland. He fought across France and at the Battle of the Bulge, the major German counterattack in Belgium, in December 1944 and January 1945.
"That was cold," he said.
From there, he entered Germany, advancing to the Elbe River by war's end.
After his discharge, he returned to Wakefield, where he worked as a welder, farmer and truck driver.
He's told family little about his war experiences, his daughter said. That just might change now, said Molly Littlefield, the pilot for Swagerty's flight, her 14th with a WWII veteran. The daughter of a WWII flight instructor, Littlefield said she's heard of veterans who open up after their flight and begin telling stories of their service they never shared with anyone before.
"It's really rewarding to see the fliers. It fills them up with adrenaline," said Littlefield, who lives in Seattle with her husband, Keith, who volunteers as her crew chief.
Swagerty's adrenaline appeared to be flowing before he ever left the ground. After he was strapped into his seat, he shouted, "I'm ready, I'm ready" and gave a thumbs-up to Littlefield. The plane's engine roared to life, and Littlefield slowly taxied to the runway while Swagerty waved to the small crowd gathered to witness his flight.
After landing, Swagerty rarely stopped smiling as he was assisted to the ground and led to the rear of the plane, where he signed his name on the rudder among the signatures of other veterans who had received rides in the plane.
Leaning on his cane, Swagerty continued smiling while family and volunteers recorded every moment on their cellphones.
"Thank you for the ride," Swagerty said to Littlefield.
It was one thank you from a man who was thanked over and over again Wednesday for his service many years ago.
(c)2021 Sioux City Journal, Iowa
Visit Sioux City Journal, Iowa at www.siouxcityjournal.com
Distributed by Tribune Content Agency, LLC.