Connecticut veteran, 94, relives military service on flight in 81-year-old aircraft
The Middletown Press
August 25, 2021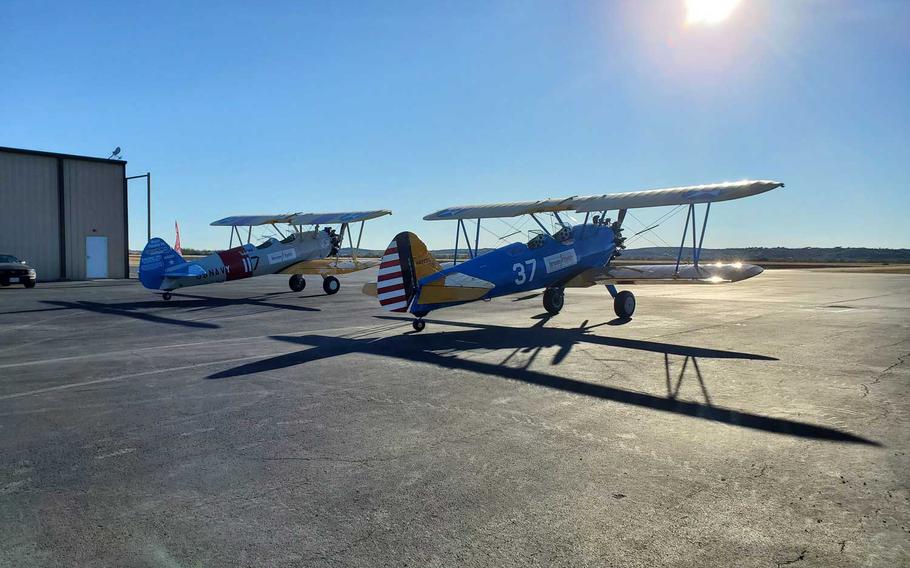 HADDAM, Conn. (Tribune News Service) — Nonagenarian and U.S. Army veteran Nestor Gendreau had a rare opportunity last week to take part in a ceremonial flight on an 81-year-old airplane as part of a program that allows World War II veterans to relive their military days.
Gendreau, who lives in the Higganum section of town, flew in the aircraft as part of a commemorative event sponsored locally by Sport Clips and organized by Dream Flights International, according to a press release issued by his son Gerald Gendreau.
The 20-minute flight left from a small airport in nearby Chester and toured the lower Connecticut River Valley and Long Island Sound, the news release said. Many state and local members of the Veterans of Foreign Wars, as well as friends and family members, were in attendance.
Gendreau's flight was piloted by James Sims, who flew an open-cockpit, Boeing Stearman 75 biplane. Designed in 1940, the plane was used as a military training aircraft during the war. Sims was assisted on the ground by his copilot Garett Williams, according to his son.
Dream Flights is a service organization whose pilots fly six similar vintage Stearman planes across the country. Based in Carson City, Nevada, with its maintenance hangar near San Antonio, Texas, the organization honors nonagenarian WWII veterans with period accurate flights, the release said.
In fall 1944, Gendreau, 18 at the time, was drafted, and left his family's potato farm in the remote, French-speaking Aroostook County of northern Maine to join the service. He traveled by rail to attend basic training at Camp Kroft in South Carolina, and was scheduled for immediate deployment to the war effort in western Europe, his son said.
Just as he completed basic training, news came that President Roosevelt had died. In the ensuing month, the war in Europe finally ended.
With the end of the war, Gendreau's orders changed quickly. He boarded another train, this time bound for Camp Maxey in Texas. Once there, Gendreau underwent advanced training to prepare for the "anticipated but dreaded" ground invasion of mainland Japan, Gerald Gendreau said.
From Texas, Gendreau went next to Fort Ord in Oakland, Calif. While stationed there, he learned the United States had just dropped atomic bombs on the cities of Hiroshima and Nagasaki. He boarded the USNS Adder at the naval base in San Francisco, as a member of the US Army's 77th Infantry Division (known as The Statue of Liberty Division) bound for Yokohama in mid-September 1945, the press release said.
The trip took 17 days, Gerald Gendreau said. While at sea, the ship was hit by a typhoon and lost one crew member overboard. Though often seasick, Gendreau landed safely in Yokohama, located only 415 miles from Nagasaki. He spent a few weeks there, and was soon moved to a U.S. base on the northern island of Hokkaido near Sapporo. Gendreau was promoted to corporal in 1946.
His responsibilities included guarding the munitions depot on the base. In 1946, after a 30-day furlough to return home in Madawaska, Maine, he extended his military service by a year. He was stationed in Tokyo for a brief period before he completed his service in 1947.
Gendreau was quarter master of the local VFW chapter for 29 years and post commander for two of those years. He has been a warden of the Knights of Columbus as well as a council member for 12 years, the news release said.
Prior to his retirement, Gendreau worked for 42 years as an electrician for Pratt & Whitney Aircraft in Middletown.
For information, visit dreamflights.org.
(c)2021 The Middletown Press, Conn.
Visit The Middletown Press, Conn. at www.middletownpress.com
Distributed by Tribune Content Agency, LLC.