Veterans with PTSD could get service dogs from VA under new law
by
Nikki Wentling 
Stars and Stripes
August 25, 2021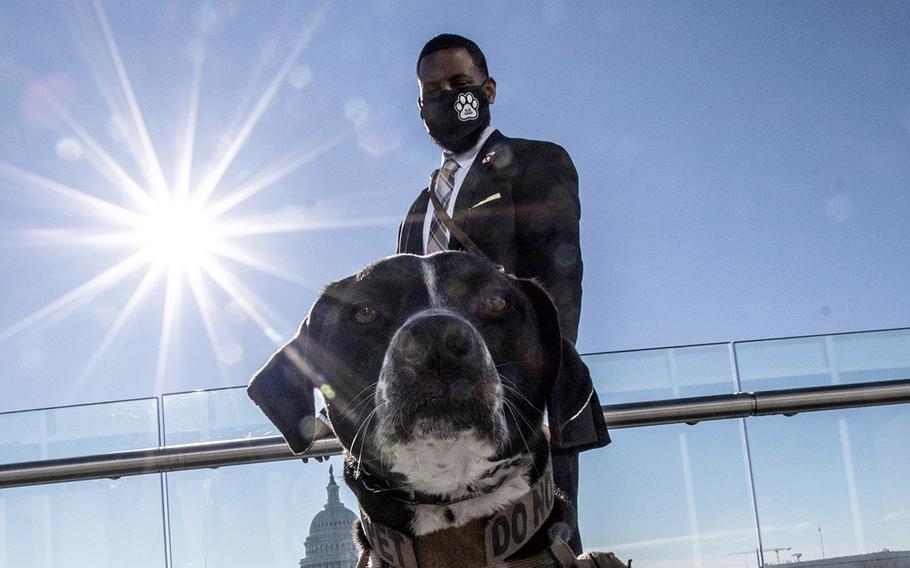 WASHINGTON — President Joe Biden on Wednesday signed a bill into law that will allow some veterans with mental health conditions to receive service dogs.
The new law orders the Department of Veterans Affairs secretary to develop and launch a five-year pilot program that provides service dog training to benefit veterans diagnosed with post-traumatic stress disorder. Previously, the VA only covered some costs of service dogs for veterans with certain physical disabilities, such as blindness, hearing impairment and mobility issues — but not mental health conditions.
Biden signed the bill in the Oval Office. Rep. Elissa Slotkin, D-Mich., who led the legislation through Congress, attended the ceremony.
"I've had the chance to visit with veterans and their service dogs in my district, and it couldn't be clearer how service dogs make life better for our veterans," Slotkin said in a statement Wednesday. "From waking them from PTSD-related nightmares, helping them open doors, or finding an exit in a crowded space, it can be transformational."
The Puppies Assisting Wounded Servicemembers for Veterans Therapy Act, or PAWS Act, requires the VA to start the pilot program in early 2022, and it must be carried out by at least five VA medical centers. The facilities will partner with accredited service dog organizations to perform the training.
There's a chance the program could extend beyond five years. When the five years are up, the VA must report back to Congress about whether it should be extended or made permanent. If it does continue, lawmakers will consider expanding the program to include veterans with mental health conditions other than PTSD.
Mental health service dogs are task-trained to assist people with PTSD, panic disorders, anxiety disorders, depression and other conditions. They can retrieve medication, bring their partner an emergency phone, call 911 or a suicide hotline with a K9 rescue phone, turn on lights and help with emotional overload, among other things.
Some lawmakers and advocates have pushed the VA for years to help veterans with PTSD cover the costs of training service dogs. The department maintained there wasn't enough scientific evidence showing dogs helped treat PTSD and its symptoms.
Congress directed the VA to conduct a study on the issue in 2010. The initial results were published in March. The study found veterans paired with service dogs experienced a reduction in the severity of their PTSD symptoms, and they exhibited fewer suicidal behaviors and ideations.
More results of the study, including its cost-effectiveness as a treatment for PTSD, are expected to be published in September.
"The research is clear on the range of benefits a service dog can provide for veterans experiencing those kinds of symptoms, which is why we're thrilled to see this pilot program become law," Christine Myran, executive director of the nonprofit Blue Star Service Dogs, said in a statement. "Providing support to our veterans is essential for helping with their transition back to civilian life, and this law will make a real difference for those making that journey."