Warrior-Scholar Project helps veterans at University of Arizona complete degrees
by
Carmen Duarte
The Arizona Daily Star
August 22, 2021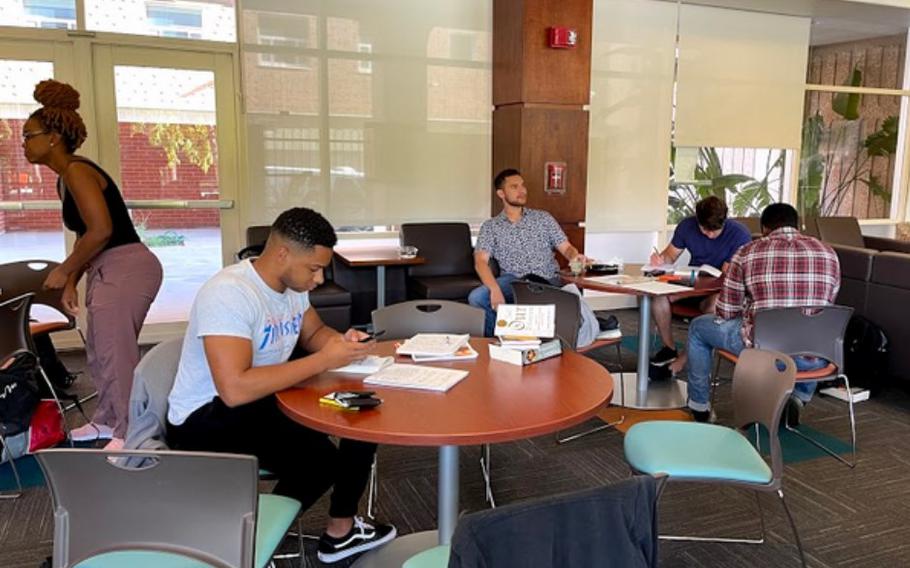 TUCSON, Ariz. (Tribune News Service) — For five years the University of Arizona has joined forces with the national nonprofit Warrior-Scholar Project to help student veterans acclimate to civilian life and successfully complete undergraduate programs.
More than 60 veterans have attended a rigorous two-week Warrior-Scholar Project academic boot camp at the UA to learn from faculty, receive mentoring from fellow student veterans and begin to adjust to a formal learning environment.
Navy veteran Victor Chiquete said the Humanities & STEM Academic Boot Camp he took in 2019 gave him the confidence to enroll at the UA where he is majoring in neuroscience.
Once he completes his undergraduate degree, Chiquete, 26, plans on going to medical school to become a neurosurgeon. He was treated for Tourette syndrome as a child and manages the tic disorders through medications. He said there is no cure for the syndrome, and he wants to become a neurosurgeon to research possible treatments.
The Nogales, Ariz., native joined the Navy in 2015 after high school graduation. He was a medic and served at Camp Pendleton. His service included a humanitarian mission to New Guinea.
Chiquete said he is glad he joined the Navy and did not go to college after high school because he needed life experiences and time to mature. He said the Warrior-Scholar Project provides resources and a strong support network from peers who arrange study groups with incoming veterans to the program.
Marine veteran Justine Miller, who lives in Bradenton, Fla., went through the academic boot camp in July and also became confident that she could succeed in a STEM program. In the camp, she learned from professors teaching in medical fields to professors teaching coding. She applied to the UA and plans to major in cyber operations with an emphasis in defense and forensics.
She served in the Marines for more than five years as an aviation electronics technician repairing aircraft parts, and she spent more than three years in Okinawa, Japan. Miller, 30, comes from a long line of veterans, all serving in the Army, except for herself and her younger sister, another Marine.
Professor Gregory Redhouse, an assistant professor of economics at the School of Business and Social Science at Diné College on the Navajo Nation in Tsaile, Ariz., volunteers for the Warrior-Scholar Project at the UA. "I give them an introduction to what students can expect from professors, and examples of different teaching styles. I explain the importance of being prepared for class," said Redhouse. He shares with students how to "gut a book, similar to gutting a fish" in order to finish all the assigned reading for class.
"You take a book and read the entire introduction, and read the first page and last page of each chapter, and read the entire conclusion. You then will have a good handle on the book. But, if there is a gray area, then go back to the chapter and read the entire chapter. I make sure I share this with them," said Redhouse.
"I think veterans are able to adapt to being students. They have life experiences to their advantage and can use what they have observed in different countries," said the assistant professor. "Here we are very privileged compared to others around the world who don't have the lifestyles and choices that we are given. Veterans recognize that and this strengthens them because they come back more mature, and they prefer more mature conversation."
Redhouse, who served in the Marines, also shares that he incorporated a phrase of the Marines motto — "improvise adapt and overcome" — in his student life.
The Warrior-Scholar Project boot camps "are proven to propel veterans to success in higher education," said Ryan Pavel, chief executive officer of the project. He said 90% of the project's alumni "have completed or are on track to earn their undergraduate degrees." He said the program's success is because of faculty, student fellows, and administrators who "dedicate their time to executing this life-changing program."
The project was founded in 2011 at Yale University by three students who wanted to help veterans or service members seeking a college degree to succeed. Since then, the program has expanded to 21 universities and has helped 1,700 veterans get a head start in higher education, according to program officials. In addition to Yale and the UA, partnerships include University of Notre Dame, Texas A&M, Harvard University, California Institute of Technology and University of Chicago.
The program, which is free to veterans, is financially supported by foundations, corporations, private donors and in-kind support from the partnering colleges and universities. The Warrior-Scholar Project spends about $2.5 million a year, the majority of the money supporting the academic boot camps, said Pavel.
Veterans who enroll at universities can use the G.I. Bill, which covers 36 months of education, and can apply for scholarships, grants, and loans.
(c)2021 The Arizona Daily Star (Tucson, Ariz.)
Visit The Arizona Daily Star (Tucson, Ariz.) at www.tucson.com
Distributed by Tribune Content Agency, LLC.