USS Oklahoma remains return to Hawaii for burial on Pearl Harbor attack's 80th anniversary
by
Wyatt Olson
Stars and Stripes
June 25, 2021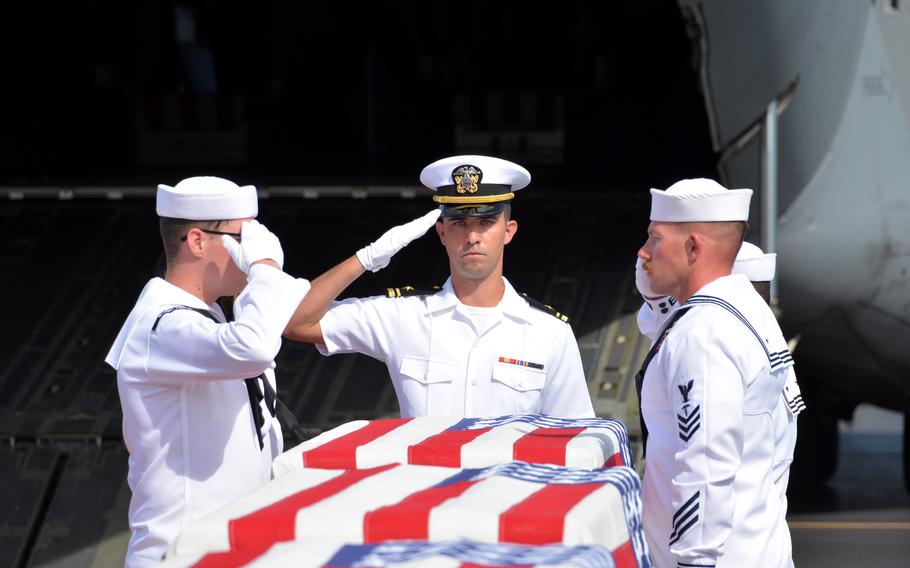 JOINT BASE PEARL HARBOR-HICKAM, Hawaii — The unidentifiable remains of 50 sailors and one Marine who died aboard the USS Oklahoma during the surprise attack on Pearl Harbor were flown to Hawaii on Thursday and will be buried in Honolulu later this year on the 80th anniversary of the raid.
During an honorable carry ceremony near the joint base's runway, Marine and sailor guards of honor carried 10 flag-draped coffins from a C-17 that had arrived from Offutt Air Force Base in Nebraska where the enclosed remains had undergone DNA testing.
The return of the remains represents the near completion of the six-year project by the Defense Department to identify Oklahoma victims who had been long buried as unknowns at the National Memorial Cemetery of the Pacific, also called the Punchbowl Cemetery, in Honolulu.
The remains of 388 sailors and Marines that had been buried in the cemetery in 1950 were exhumed in 2015 and sent to Offutt.
To date, the Defense POW/MIA Accounting Agency has identified 337 of those remains.
"We still will make identifications," Carrie LeGarde, the USS Oklahoma project's lead anthropologist, told reporters before the ceremony began. "They are in progress, so it's not completely done at this point. That will continue over the next couple months."
DPAA has been thus far unable to identify the 51 remains flown to Hawaii on Thursday, partly because DNA samples from some next of kin could not be found.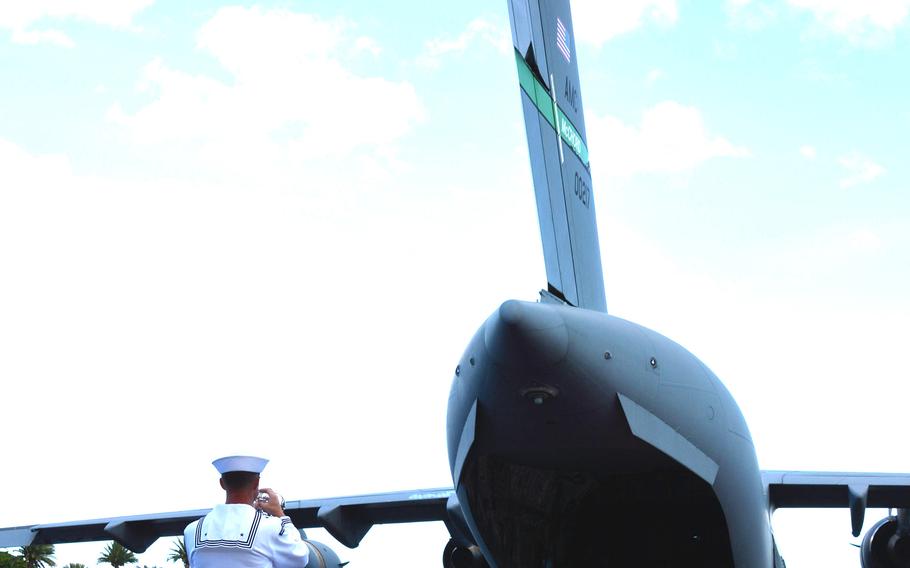 The remains will be kept at DPAA's identification laboratory on the joint base until their reburial by the Navy on Dec. 7 at the Punchbowl.
"The Navy is not actively pursuing family reference samples anymore for the Oklahoma project," LeGarde said. "We did a big push in the last year, and they got a lot of family reference samples actually in the last year. That has made a huge difference and why we're still making identifications now."
The USS Oklahoma was moored on Battleship Row on the morning of Dec. 7, 1941, when Japanese torpedo bombers descended on Pearl Harbor. Several made direct hits on the ship, capsizing it and killing 429 crew members.
After being moved to several gravesites, the remains of 394 sailors and Marines who died that day – all too badly burned, disfigured or decayed to identify – were laid to rest in 46 plots for the unknown in 1950. A few of those remains had been identified in the years leading up to 2015.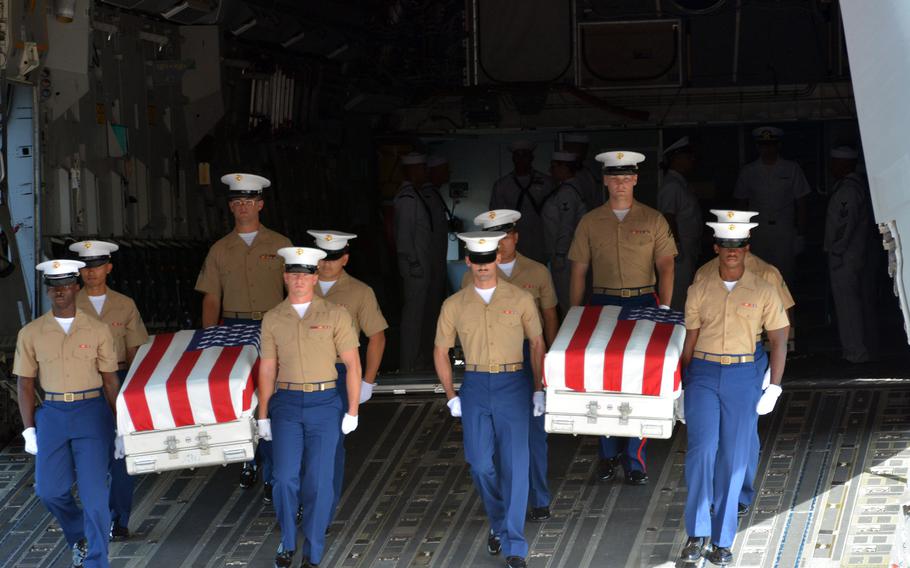 During brief remarks to a small group of people gathered for the ceremony, Adm. Sam Paparo, commander of U.S. Pacific Fleet, reflected on the military's ethos of striving to never leave a fallen comrade behind.
"These heroes that you see here have begun their final journey to the National Memorial Cemetery of the Pacific," he said.
Twitter: @WyattWOlson