New master chief takes the helm as Navy's top enlisted leader
By
Stars and Stripes
September 15, 2022
---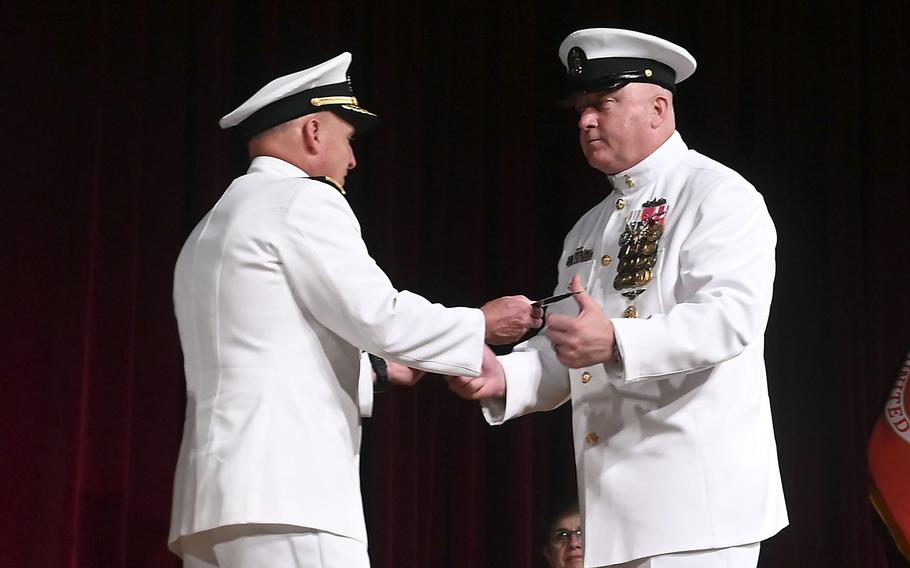 James Honea became the new master chief petty officer of the Navy during a recent ceremony in Maryland presided over by Chief of Naval Operations Adm. Michael Gilday.
Honea, installed Sept. 8 at the U.S. Naval Academy in Annapolis, takes over as the Navy's chief enlisted sailor and adviser to Gilday from Master Chief Petty Officer Russell Smith, who retired after his term ended under allegations of misconduct.
Honea "brings the exact kind of professional experience we need for this immense responsibility," Gilday said during the ceremony. "I've said it before: He's got saltwater running through his veins."
Now the 16th master chief petty officer of the Navy, Honea, with 35 years in the service, was formerly the senior enlisted leader for U.S. Indo-Pacific Command. He completed the Command Master Chief Course and the Senior Enlisted Joint Professional Military Education Keystone Course at National Defense University; he is married to Evelyn Honea, according to the Navy.
"When I was selected for MCPON, I thought heavily on what my tenure means and what I could bring to you all," Honea said, according to a Sept. 10 Navy news release. "I'm glad I chose to be challenged by this adventure and I'm proud of what it has brought me."
Honea began his naval career in 1987 as a boatswain's mate, serving at various sea assignments, including the USS Bonhomme Richard, an amphibious assault ship that was decommissioned and scrapped last year after a major onboard fire at Naval Base San Diego in July 2020.
He advanced through the ranks, and as a command master chief served on the USS Gridley, a destroyer homeported at Everett, Wash., and then the USS New Orleans, an amphibious dock ship homeported at Sasebo Naval Base, Japan. His resume also includes several shore-based commands as a command master chief.
His priorities as the Navy's top enlisted leader are laid out in a Navy document, MCPON 16 Priorities, issued Tuesday. They include "warfighting competency, professional and character development, and quality of life," the document states.
"We must ensure our principles, basic standards of technical competency development, and expertise align to the Chief of Naval Operations' navigation plan," Honea said in the release.
Honea is stepping into a position overshadowed by allegations of misconduct against his two predecessors.
Master Chief Petty Officer Steven Giordano, who spent almost two years in the job prior to Smith, retired in 2018 after a Naval Inspector General's report found he created a "toxic leadership environment" and belittled his subordinates, according to a Stars and Stripes report on June 22, 2018.
Smith, who took over four years ago, also came under IG scrutiny for unspecified allegations against him, according to reports in February from the Navy Times and USNI News, which cited unidentified Defense Department officials.
The Navy found nothing in the allegations that would prevent Smith from retiring honorably, Navy spokeswoman Lt. Alyson Hands told Military.com on Sept. 12.
In late April, Smith reportedly made insensitive remarks during an all-hands call on the aircraft carrier USS George Washington, during which he allegedly said that sailors should "lower their standards" to get through the ship's maintenance period.
Smith denied the accusations. "Frankly, as you probably are aware, there was quite a bit of social media furor over a non-statement that I didn't make," he told lawmakers during a House appropriations subcommittee hearing May 18.
The George Washington has been in dry dock since August 2017 in Newport News, Va. The IG launched separate investigations into a number of suicides among the crew and low morale attributed to subpar living conditions during the overhaul.
Sailors were offered the opportunity to move off the ship shortly after. The ship's maintenance is expected through March 2023.
During the ceremony Sept. 8 ceremony, Gilday acknowledged Smith's leadership and accomplished Navy career.
"Thank you for everything you have done over these past four years," he said. "Our Navy and our Navy family are much stronger than it was four years ago."
---
---
---
---