Army's training center in Alaska first in line for new cold-weather vehicles
By
Stars and Stripes
August 25, 2022
---
Soldiers at Fort Wainwright, Alaska, will be the first to receive the Army's new Arctic-capable vehicle late next year, the service said Monday.
The Cold Weather All-Terrain Vehicle, or CATV, will be produced by Michigan-based BAE Land and Armaments, which was awarded a $278 million contract for 110 vehicles, the Army said in a news release.
Dubbed "Beowulf" by BAE, the vehicles replace the Army's decades-old Small Unit Support Vehicles. The first four are slated to arrive at Fort Wainwright's Northern Warfare Training Center in the last quarter of 2023, the Army said.
CATVs are unarmored, tracked and capable of amphibious operations and climbing steep grades, BAE said in a news release Monday.
The basic version is a modular platform, meaning it can be fitted for various missions, such as homeland defense, cargo transport and search and rescue, BAE said.
"Beowulf can traverse snow, ice, rock, sand, mud, and swamp conditions and can operate in steep mountain environments," BAE said. "Its amphibious feature also allows it to swim in flooded areas or coastal waters."
The vehicle can also maneuver through muskeg, a type of North American bog that is a mixture of water and dead vegetation often shrouded by a layer of moss, the Army said.
Each vehicle can carry up to nine soldiers, the Army said.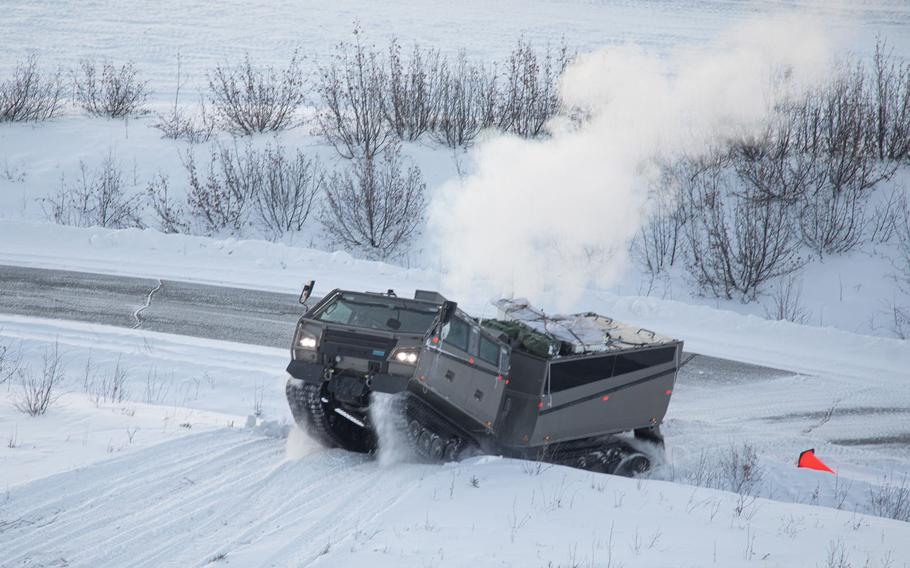 The new vehicles represent a further step in implementing the Army's Arctic strategy, which aims to train and equip soldiers to operate and fight in extreme cold for extended periods with minimal outside support.
"Regaining Arctic Dominance," the strategy report issued by the Army in March 2021, laid out how the service could successfully partner with Arctic allies and maintain regional stability in competing with Russia and China.
The transition to a new cold-weather vehicle was overdue, the commander of Alaska's 11th Airborne Division said in the Army's news release.
"The small unit support vehicles were great in their day but have needed replacing for the past two decades," said Maj. Gen. Brian Eifler.
"These new vehicles will provide our Arctic Angels with capable, reliable mobility and increase their survivability in the harshest conditions Alaska and the Arctic has to offer," he said.
---
---
---
---