Biden signs burn pits bill that helps more vets exposed to toxins, but the journey is not done
By
Stars and Stripes
August 10, 2022
---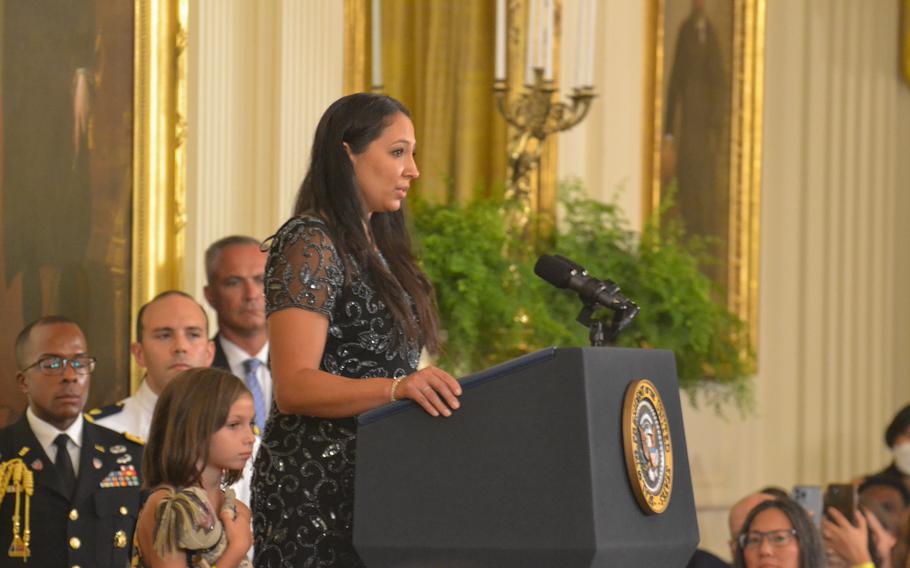 WASHINGTON — President Joe Biden on Wednesday signed a bill into law that will expand eligibility for health care and benefits for veterans exposed to burn pits and other toxins.
"As a nation we have many obligations and only one truly sacred obligation: to equip those we send into harm's way, and to care for them and their families when they come home," Biden said during the signing ceremony at the White House. "Today, we're one step closer to filling that sacred obligation."
The Sergeant First Class Heath Robinson Honoring Our Promise to Address Comprehensive Toxics Act of 2022, or PACT Act, passed last week by a vote of 86 to 11.
During the signing, Biden mentioned the death of his son, Maj. Beau Biden, who died of brain cancer in 2015. Beau Biden was a member of the Delaware Army National Guard and served in Iraq in 2008. His father suspects burn pit exposure could have been to blame.
Sens. Jon Tester, D-Mont., and Jerry Moran, R-Kansas, leaders of the Senate Veterans' Affairs Committee, introduced the PACT Act in May, calling the legislation historic and long overdue.
The bill seeks to provide an easier path to health care and benefits for veterans who served near open-air burn pits, which were used throughout the 1990s and the post-9/11 wars to burn garbage, jet fuel and other materials. Veterans diagnosed with cancer, respiratory issues and lung disease at young ages have blamed exposure to the toxic fumes from these pits, but the Department of Veterans Affairs contended for years that there wasn't sufficient evidence to support their claims.
The bill also would improve the VA's workforce and claims processing to speed up efforts to meet the needs of veterans and establish 31 new VA health care facilities in 19 states. Additionally, the bill would expand health care eligibility to post-9/11 combat veterans and add 23 conditions related to burn pits and other toxic exposures to the VA's list of service presumptions.
It will also expand the list of presumptions related to Agent Orange exposure to include Thailand, Cambodia, Laos, Guam, American Samoa and Johnston Atoll, strengthen federal research on toxic exposure, and improve the VA's resources and training. Tester's office said the bill will cost $279 billion for 10 years, but the Congressional Budget Office estimated that amount could increase to $600 billion.
The bill is named for Sgt. 1st Class Heath Robinson, who was diagnosed with a rare autoimmune disorder and lung cancer after serving with the Army National Guard in Kosovo and Iraq, where he experienced prolonged exposure to burn pits. He died in 2020.
Robinson's widow, Danielle, and her daughter, Brielle, and Danielle's mother, Susan Zeier, were in attendance.
"Today, I want to remember Heath for the man he was," Danielle said. "An immediate friend to everyone who crossed his path. The person who would instantly drop what he was doing to help a friend or a stranger on the street. The guy in the room who had a special glow and warmth to him. A soldier as strong as an ox physically and mentally, the ultimate cuddler and protector to our sweet little girl, Brielle, and a leader with the strong warrior ethos to all those who served under him."
Danielle said her family's story was just one story.
"So many military families had to fight this terrible, emotional battle," she said. "So many veterans are still battling burn-pit illnesses today. Too many have succumbed to those illnesses as well."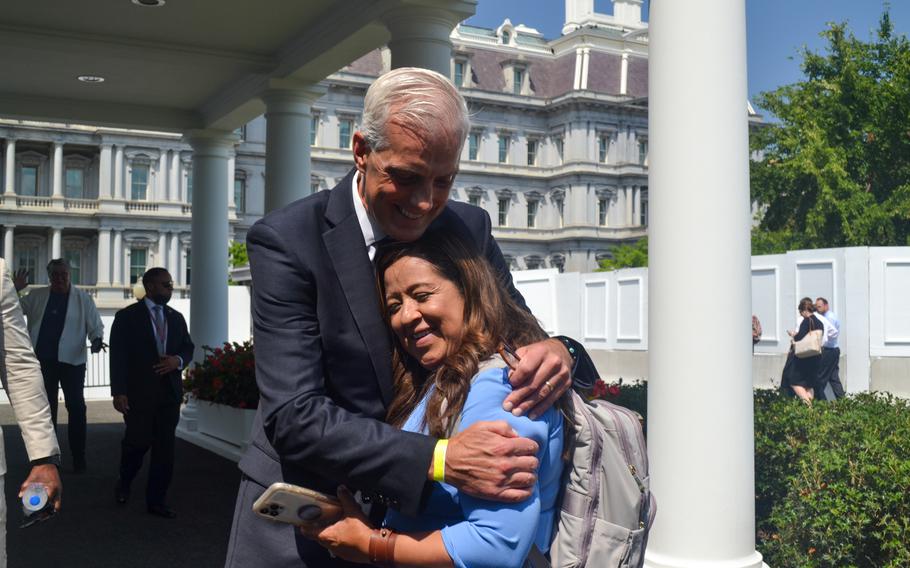 Department of Veterans Affairs Secretary Denis McDonough said the journey is not yet done because the agency must execute the new law. He said the agency wants veterans to begin to file their claims.
"That's going to be important data for us to get to the bottom of what's happening," he said. "One of the really important parts of the new law is that it recognizes and endorses the process that we've put in place to add new presumptives. ... We'll stay on top of this and make sure that we keep adding presumptive conditions as we get evidence to support that."
McDonough said the agency was making strides in the claims automation process, but they still have a long way to go. One step was building on the 2,000 people that the VA hired in the last eight to 10 months. 
"We will obviously be looking at the process itself, not only automating it, but looking to see if there (are) ways to get superfluous steps out of that process so that we can get from claim to benefit much faster," he said.
Veterans and families can learn more about the PACT Act by visiting VA.gov/PACT or calling 1-800-MY-VA-411.
Correction
An earlier version of this story misstated the date Beau Biden served in Iraq with the National Guard. It was 2008.
---
---
---
---