Ex-Army Ranger charged in Capitol riot: House committee hearings have 'poisoned the jury pool' for trial
By
Pittsburgh Post-Gazette
June 28, 2022
---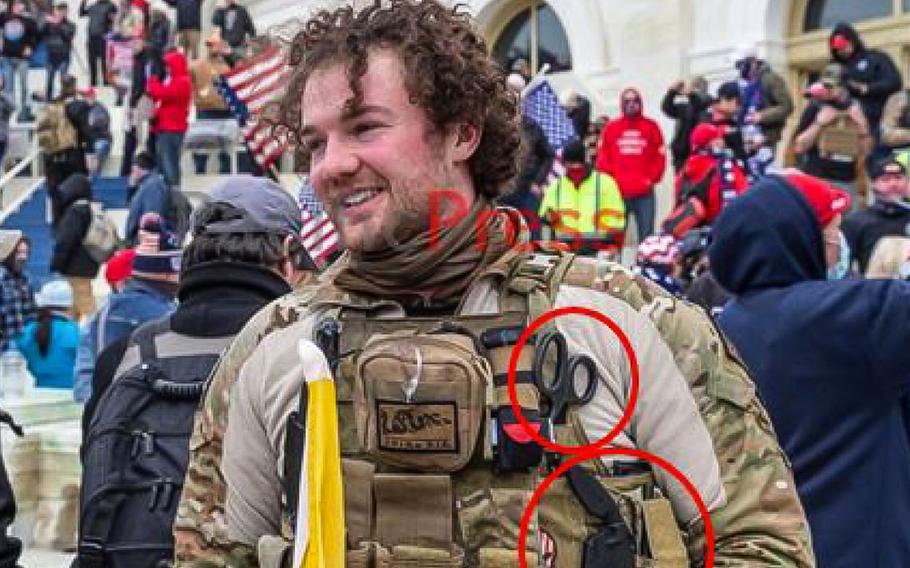 (Tribune News Service) — Robert Morss, a former Army Ranger from Glenshaw, Pa., charged in the Capitol assault, says the congressional committee hearings on the Jan. 6 insurrection will make a fair trial impossible and is demanding that the Justice Department turn over any communications it has had with the House committee.
Mr. Morss, a 29-year-old combat veteran, is accused of attacking police with a group of other rioters. He remains jailed pending trial this summer in Washington, D.C.
He and his lawyer, John Kiyonaga, said in a motion filed Monday that the committee's televised hearings have "irreparably poisoned the jury pool" and are asking for a change of venue because of it.
They also are seeking disclosure of communications to show "possible collusion" between the DOJ and the House committee in an effort to paint the insurrectionists as "murderous orchestrators of an attempted coup."
The motion said Mr. Morss and the rest of the more than 800 people charged in the riot, fueled by former President Donald Trump's repeated false claims about the election being stolen, have not been able to counter the House committee's version of events broadcast nationally.
"The hearings were conducted without any remote indication of any contrary view or possible grounds for skepticism," Mr. Kiyonaga said.
The result, he said, is that millions of Americans are viewing hearings portraying Mr. Morss and others as violent insurrectionists and threats to democracy without benefit of any cross-examination, as would happen in a court of law.
"The Committee's portrayal of the January 6th defendants as members of a seditious, murderous mob renders the notion of an impartial jury anywhere, but especially in the District of Columbia, risible," Mr. Kiyonaga said.
He also said the comments made by various committee members, along with the release of closed-circuit and bodycam video marked "highly sensitive" in discovery materials, indicate a willingness on the part of the committee to collaborate with the Justice Department.
Disclosing any communications to that effect will, "at the very least," supplement Mr. Morss' pending request for a venue change, the motion said.
Mr. Morss, who served three tours in Afghanistan and worked briefly as a substitute teacher in the Shaler Area district, faces multiple felonies and likely years in federal prison if convicted. He will be tried together with eight others who clashed with police in a Capitol tunnel.
Prosecutors said he acted as a leader and aggressor in assaulting multiple officers, initiating the violence and encouraging others to do the same.
Mr. Morss is among about two dozen people from the Pittsburgh region accused of storming the Capitol. Several have been sentenced, and cases against others are pending.
In addition to Mr. Morss' actions on Jan. 6, all of which were recorded on video, the FBI recovered a file from his phone in which he wrote to a potential sentencing judge that he did not regret his actions and that Congress should have overturned the election results.
(c)2022 the Pittsburgh Post-Gazette
Visit at www.post-gazette.com
Distributed by Tribune Content Agency, LLC.
---
---
---
---