Former Army Ranger objects to US attempt to bar self-defense claim in Capitol assault case
By
Pittsburgh Post-Gazette
June 16, 2022
---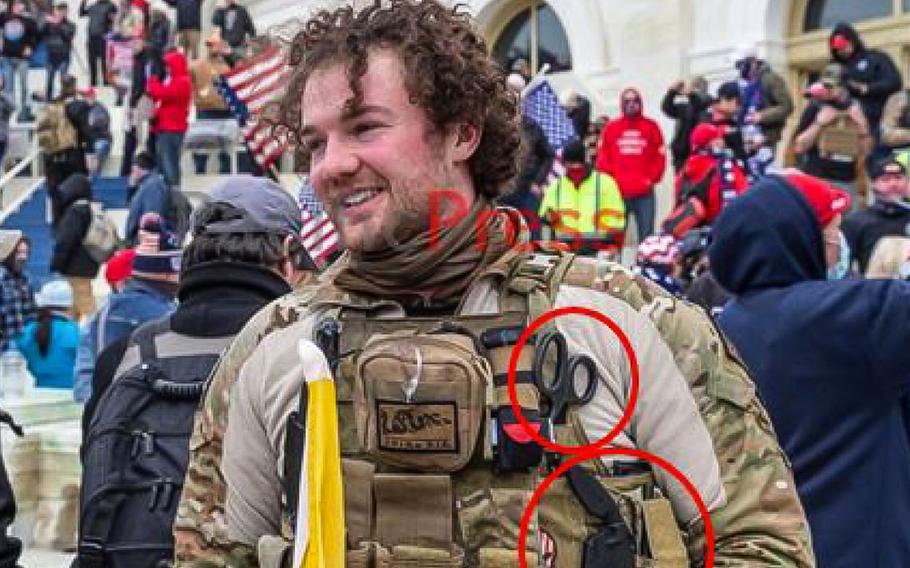 (Tribune News Service) — Federal prosecutors want to bar former Army Ranger Robert Morss from raising a self-defense claim when he goes to trial on charges of assaulting police during the Capitol insurrection, but his lawyer says the government has no right to prevent him from using that defense.
Morss, 29, is accused of storming the Capitol in support of Donald Trump's false election fraud claims and attacking police along with eight other rioters, all of whom will be tried together.
The U.S. attorney's office in the District of Columbia said Morss was the aggressor, as shown in various videos, and shouldn't be allowed to claim police attacked him.
"At no point before the assaults did any officer apply force to the defendant," prosecutors said. "Indeed, the video evidence shows that the officers were attempting to maintain control over their equipment and property. Any contact made by officers attempting to push back the crowd were incidental contacts with the defendant when trying to keep order."
The prosecution said the use of OC spray, batons and shields were not provocation but attempts to stop the violent pro-Trump mob from getting inside the Capitol.
It was Morss, the government maintains, who initiated the violence.
The U.S. attorney's office said U.S. District Judge Trevor McFadden should either not allow Morss to claim self-defense or make him present a pre-trial statement laying out facts to support that claim.
Morss' Virginia lawyer, John Kiyonaga, countered Wednesday by saying the government has failed to explain "why it believes itself to be entitled to a preview of Defendant's potential defense strategies."
He said federal court rules provide a list of defenses a defendant has to disclose before trial, such as insanity or an alibi that he wasn't there. Self-defense isn't one of them, he said.
He asked Judge McFadden to reject the request.
Morss, an Afghanistan combat veteran, is charged with 53 counts related to assaulting police in a Capitol tunnel. He is among two-dozen people from Western Pennsylvania accused of storming the Capitol in support of Trump's lies. Several have been sentenced; cases against others are pending.
Earlier this week, Morss lost an attempt to be released from U.S. custody pending trial when Judge McFadden said he will remain in jail, where he's been for a year.
The U.S. attorney's office said Morss led the assault on police and is both dangerous and a flight risk. In addition to his actions on Jan. 6, prosecutors said he wrote a letter meant to eventually be read to a judge in which he said he had no regrets and criticized Congress for not overturning the election.
No evidence has emerged to support Trump's false claims that the election was stolen. Recent Congressional hearings have made it clear that even Trump's own advisers told him he lost the election. Chief among them was his attorney general, Bill Barr, who testified that he told Trump the fraud claims were "bulls---."
(c)2022 the Pittsburgh Post-Gazette
Visit the Pittsburgh Post-Gazette at www.post-gazette.com
Distributed by Tribune Content Agency, LLC.
---
---
---
---