Bigger than Mariel: 140,000 Cubans have arrived at US borders since October
By
Miami Herald
June 23, 2022
---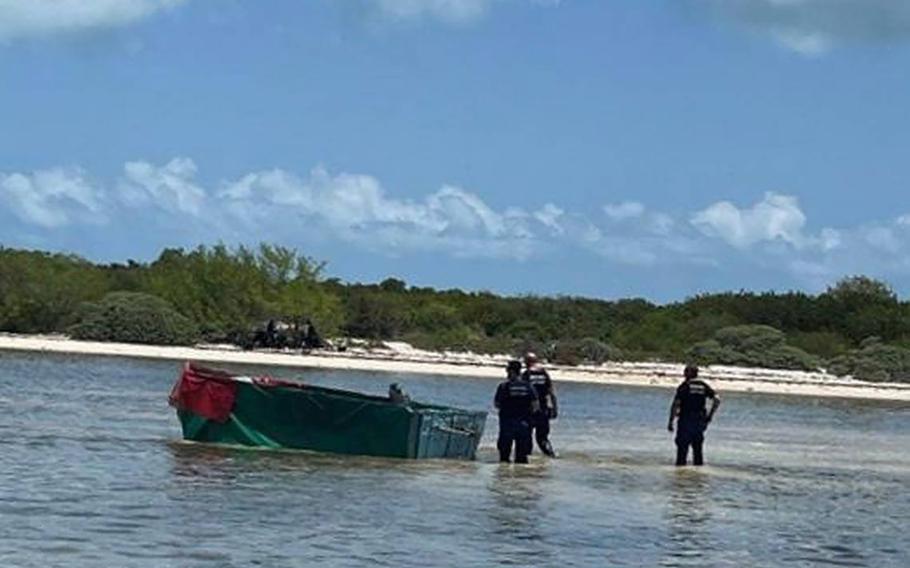 MIAMI — The number of Cubans fleeing poverty and oppression on the island surpassed the Mariel exodus of 1980, as U.S. government data reveals that more than 140,000 Cubans have been detained at U.S. borders between October last year and May.
The staggering figure surpasses the 125,000 Cubans who departed from the Port of Mariel near Havana between April and October 1980, also fleeing the deteriorating economic conditions and the lack of freedoms after Fidel Castro came to power in 1959.
Just in the past two years, which coincided with the COVID-19 pandemic and a severe economic crisis on the island, the number of Cubans who left the country has jumped from 14,015 in 2020 to 140,602 by May this year, according to data from U.S. Customs and Border Protection.
Most Cuban migrants arrive at the border with Mexico, though some also arrive by boat in South Florida. The U.S. Coast Guard sends back Cubans found at sea almost weekly. On Tuesday, the Coast Guard cutter Isaac Mayo repatriated 36 Cubans to the island who had almost made it to the Florida Keys. A total of 2,464 have been interdicted since October, the U.S. Coast Guard said Tuesday.
Cubans found at sea are usually sent back under a migration deal cut with the Cuban government after the 1994 Cuban raft exodus. But many Cubans who arrive by land have been allowed to stay and apply for asylum. Expulsions from the U.S. back to Mexico increased in May, under a deal with Mexican authorities to receive more Cubans, but the number, about 2,000, is still a small fraction of those who got in.
But there are some signs that migration from Cuba might be declining. In May, the number of Cubans detained at the borders nationwide decreased by almost 27%, from a peak of 35,080 in April to 25,691.
It is not clear why fewer Cubans arrived last month, and it is still too early to see if the trend will hold.
Several Latin American countries Cubans use as a route to the U.S. border have imposed new requirements on Cubans trying to obtain a visa, measures the Cuban government officials blamed on pressure from the United States.
Earlier this month, the Cuban government also ordered foreign embassies in Cuba to stop conducting transactions with Cuba's virtual currency, resulting in many Latin American embassies suspending visa processing.
The exodus has already prompted changes in U.S. policy toward Cuba. After pausing a promised policy review due to the government crackdown following mass protests last July, representatives from the two governments met in Washington in April to discuss the migration crisis.
The Biden administration also resumed legal pathways for Cubans to migrate to the United States that were shut down by the previous administration, like the Cuban Family Reunification Parole Program that the Department of Homeland Security said will restart this summer. Following announcements made by the White House last month, U.S. commercial flights to Cuban provinces resumed last week. Flights had been previously limited to Havana.
U.S. officials have said the administration is committed to issuing at least 20,000 immigration visas to Cubans yearly as part of the migration accords with Cuba. Still, the figure is lower than the average number of Cubans arriving monthly at the border with Mexico in the past three months.
The pressures to emigrate from Cuba continue, especially since shortages and blackouts have gotten worse this summer. Last week, Cuban leader Miguel Díaz-Canel appeared on TV presenting slides with graphs and data to try to explain to the Cuban population why there were so many cuts in electrical service. Given the poor state of the island's electrical grid and the lack of regular maintenance, he did not promise an immediate solution. Ramiro Valdés, an old-guard comandante, asked Cubans to reduce their energy consumption.
The price of food is also soaring. A 20-pound pork shoulder costs 7,000 Cuban pesos, almost twice the median salary of 3,838 pesos. A pound of limes is 100, a pound of black beans 70.
Many families have been affected by the crackdown on those who joined the demonstrations last July.
Carlos Michelena Valdés, 33, was recently sentenced to 10 years just for filming a smaller protest on July 12 in the impoverished neighborhood of La Guinera in Havana. His mother, Ana Rosa Valdés, posted a Tik Tok video decrying a revolution she said she supported in the past.
"I hate this revolution, a revolution I always believed in," she said. "But I don't believe in it anymore because it is plagued with injustice."
"Thank God my youngest child was able to leave the country this year to go to the evil country, as you call the United States," she said in reference to how Cuban propaganda portrays the U.S. "Thanks to him, I can take some food to my son in prison."
©2022 Miami Herald.
Visit miamiherald.com.
Distributed by Tribune Content Agency, LLC.
---
---
---
---