Lab director says pit production necessary for nuclear deterrence
By
The Santa Fe New Mexican
June 15, 2022
---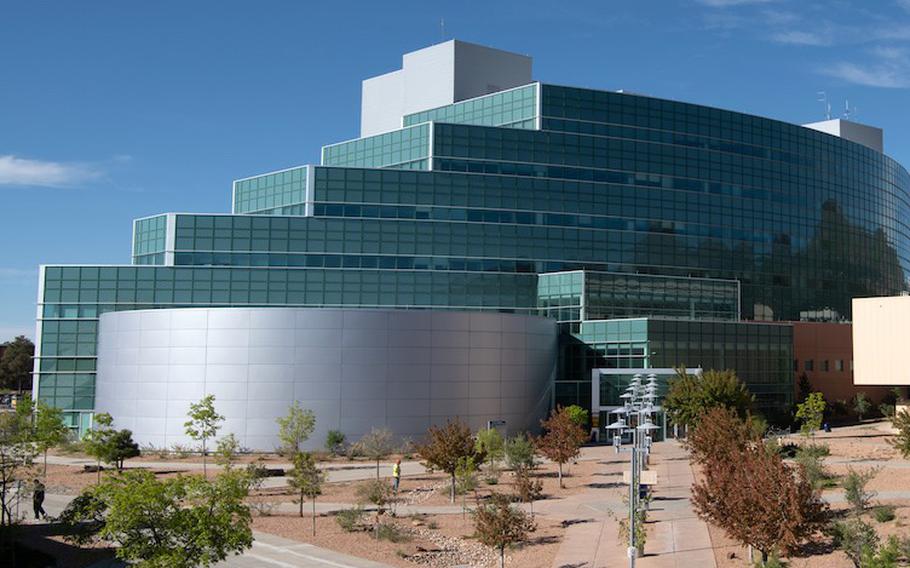 (Tribune News Service) — Nuclear deterrence is in full display during the war in Ukraine, with Russia and the U.S. threatening each other with nuclear destruction to force restraint, Los Alamos National Laboratory's director said during an online forum Tuesday.
Russia has told the U.S. and its allies not to intervene militarily in Ukraine, and President Joe Biden has made clear that Russia must not encroach one inch upon a NATO country — and both sides raise the specter of nuclear attacks if these boundaries are breached, lab Director Thom Mason said.
"The role that deterrence is playing in the Ukraine right now, really from both the U.S. and Russian side, is to attempt to limit that conflict," Mason said.
Mason is a staunch advocate of the lab producing 30 plutonium warhead triggers, also known as pits, per year by 2026, saying it's necessary to modernize the nuclear arsenal and maintain a strong deterrent against adversaries like Russia.
Plans also call for the Savannah River Site in South Carolina to make an additional 50 pits yearly by mid-2030.
Mason said he spoke with Biden during his Saturday visit to Santa Fe. They talked about the lab's protection against wildfires but also briefly about the situation in Ukraine, Mason said.
"At the end of the Cold War, there may have been — in fact, there was — some hope that we would be headed to a world where nuclear deterrence would be less important," Mason said. "And that's not the world we find ourselves [in] ... in 2022."
But critics of the lab's push to bolster its nuclear weapons program think the pit production goals are unrealistic and unnecessary.
Jay Coghlan, executive director of Nuclear Watch New Mexico, asked Mason in a written question why the lab is spending tens of billions of taxpayers' dollars ramping up production of the bomb cores when a 2006 study found the ones left over from the Cold War are good for 85 years.
Mason replied the authors of the study later supported resuming pit production to ensure they won't all have to be replaced en masse.
Most pits in the current stockpile are already 40-plus years old, Mason said. If you let them all expire at once, it will require massive production on the scale of Rocky Flats, he said, referring to the Colorado pit factory that made 1,000 a year before closing in 1989.
The pit production that's in the works will only replenish the nuclear weaponry gradually, which means there will be some 85-year-old pits in the stockpile before it's over, Mason said.
"We don't know what the future portends in their ability to age gracefully," Mason said. "This is a problem that gets worse if we wait longer."
After the forum, Coghlan wrote in an email he was unsatisfied with Mason's response. The question read to Mason was stripped of some wording necessary for context, Coghlan said.
Also, the study's authors actually called for more detailed research before resuming pit manufacturing, he said.
Efforts to get the pit production rolling on schedule is reflected in the lab's increasing budget, which has led to more hiring and more upgrades to infrastructure, Mason said.
The Los Alamos lab's funding would jump to about $4.6 billion from this year's $3.5 billion under the U.S. Energy Department's early budget requests for fiscal year 2023.
The lab is on track to hire 2,000 people in the current fiscal year, Mason said.
But the increased hiring isn't being felt on Los Alamos' transportation system because a quarter of the lab's workforce, which includes full- and part-time employees, is telecommuting, Mason said. Also, a portion are working at the two office buildings the lab is leasing in Santa Fe, he said.
When asked about plans to add a high-voltage transmission line, Mason said it is needed to give the lab a redundant or backup power supply, which is especially important for its supercomputers. The current power lines are reaching their capacity.
An environmental assessment will be done to gauge the impacts of the new line, which will require new transmission towers along its entire path across White Rock Canyon, south through the Caja del Rio area and then east through the Santa Fe National Forest to a substation.
Calls to boost protections for the Caja del Rio have grown louder since part of the La Cieneguilla Petroglyphs within the sprawling area were vandalized.
Mason said he supports minimizing the power line's impacts on the Caja del Rio.
The lab has entered agreements to buy solar and wind power from suppliers in an effort to use more green energy, but a new transmission line is needed, he said.
"We've got to get that power up the hill," Mason said.
© 2022 The Santa Fe New Mexican (Santa Fe, N.M.)
Visit www.santafenewmexican.com
Distributed by Tribune Content Agency, LLC.
---
---
---
---