Biden tells Navy graduates next decade will be decisive for democracy and world order
By
Stars and Stripes
May 27, 2022
---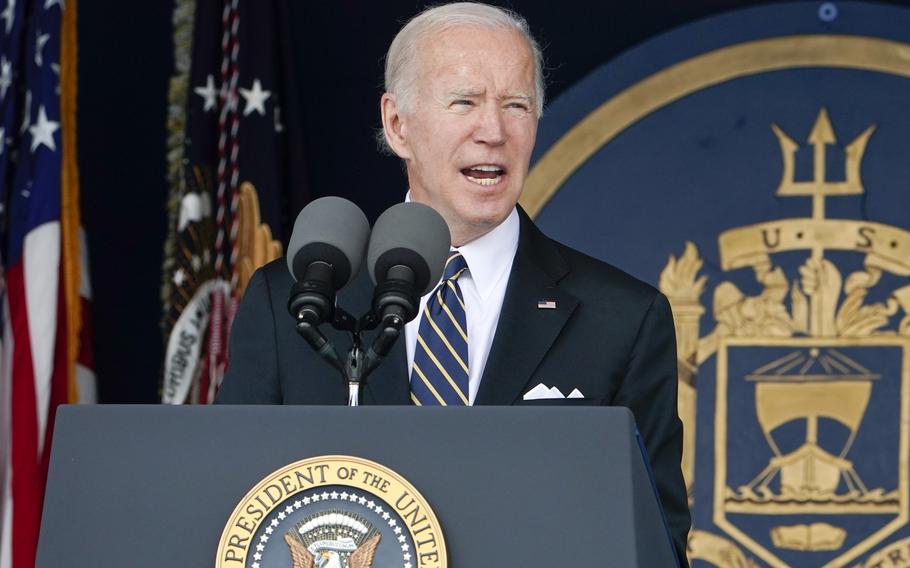 President Joe Biden told U.S. Naval Academy graduates on Friday that the next decade will be decisive for democracy, national security and reshaping the international world order for generations.
Russia's brutal assault on Ukraine has spurred a fight that is dividing the globe in terms of geography and values, Biden said at the academy's graduation and commissioning ceremony.
"We're living through a global struggle between autocracies and democracies," he said.
Biden accused Russian President Vladimir Putin of aiming to conquer Ukraine to wipe out the identify of its people. Attacks on schools, nurseries, hospitals, museums serve no other purpose than to eliminate the Ukrainian culture, he said.
"That's what you're graduating into," Biden said. "A world that more than ever requires strong principles and engaged American leadership, where America leads not only by the example of its power but the power of its example."
The fallout from the war in Ukraine is already changing longstanding defense postures around the world, he said. Putin's attempt to "Finland-ize" Europe into neutrality has backfired, Biden said, driving Finland and Sweden into NATO's arms. The two nations applied to join the military alliance earlier this month after decades of neutrality.
"[Putin] has NATO-ized all of Europe," Biden said.
Fresh off a trip to Asia, the president told graduates that they will be at the forefront of U.S. efforts to counter the rising dominance of China. The maritime theater in the Indo-Pacific — a region that will be "vital to the future of our world" — will be the "leading edge" of America's response to natural humanitarian disasters, Biden said.
"[We will show] people throughout the region the unmatched ability of the United States to be a force for good," he said.
The Navy will be tasked with strengthening connections with allies and implementing an Indo-Pacific strategy that ensures freedom of navigation of the South China Sea and keeps sea lanes open and secure, Biden said.
"These long-standing basic maritime principles are the bedrock of a global economy and global stability," he said. "Sailors and mariners, submariners and SEALs, Navy aviators and surface warfare officers, we're going to look to you to ensure the security of the American people."
---
---
---
---