National Guard needs stable funding from Congress to execute program to train Ukrainian troops, top general says
By
Stars and Stripes
May 24, 2022
---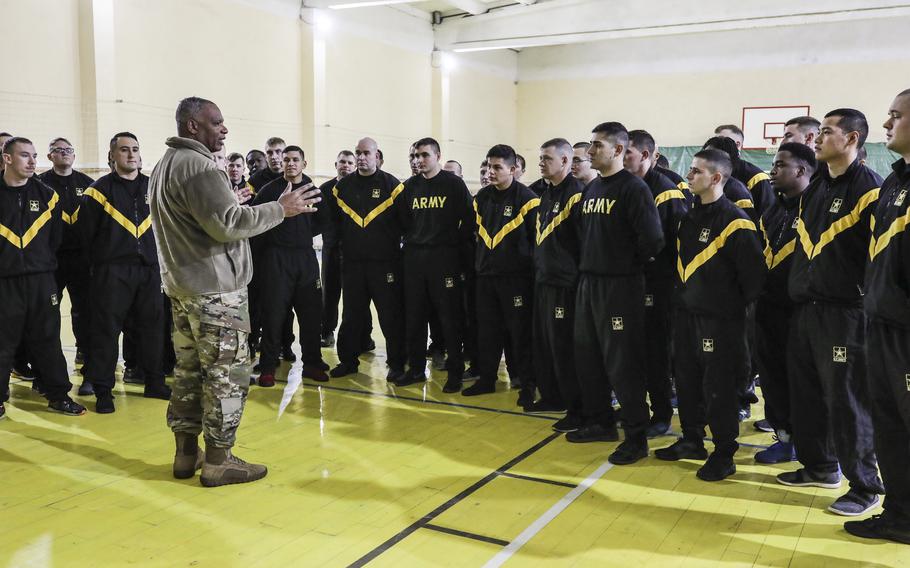 WASHINGTON — The inability of Congress to pass timely spending bills is hindering the effectiveness of a National Guard program charged with training Ukrainian forces, the National Guard's highest-ranking officer told House lawmakers on Tuesday.
Gen. Daniel Hokanson, chief of the National Guard Bureau, implored a subpanel of the House Appropriations Committee to avoid delays in funding the State Partnership Program, a collaboration between a state's National Guard and a partner nation that is now teaching Ukrainians how to use American weaponry against Russia.
The initiative cannot function properly when Congress resorts to short-term, stop-gap funding measures because of a failure to agree on defense spending for a full fiscal year on time, Hokanson told lawmakers.
"Sometimes we don't get that money until later in the year and because we get it later and the fiscal year ends on Sept. 30, the window is so short that our partner nations can't adjust accordingly and unfortunately, we have to return that money," he said.
Reps. Dutch Ruppersberger, D-Md., and Tom Cole, R-Okla., pledged to address the issue as Congress deliberates over the Pentagon's $773 billion budget request for fiscal year 2023, which begins Oct. 1.
"Count me as very much in favor of providing you with the flexibility to be able to keep those funds and deploy them as you see fit," Cole said. "I don't think there's anybody on this subcommittee that has any question about the value of this program and how effectively those dollars have been used. We shouldn't let our own disfunction from time to time keep you from executing your mission."
The program came to the forefront this year as Guard troops took a leading role in preparing Ukrainians for combat. The California National Guard began a partnership with the nation in 1993 and conducted more than 1,000 training exercises with Ukrainians in the years since, Hokanson said. The National Guard maintained a regular presence at the Yavoriv military base near Lviv, Ukraine, since 2016.
When Russian forces launched a full-scale invasion of Ukraine on Feb. 24, Ukrainian military leaders immediately texted members of the California National Guard, Hokanson said. The Ukrainians first told the Guard members their country was being invaded and then told them what they would need for battle, he said.
Florida Guard troops were among the last Americans to leave the country before the war began and are now training Ukrainian troops on howitzers, armored personnel carriers, radar systems and other equipment in Germany, Hokanson said. The success of Ukrainian troops in repelling Russia's attack came as no surprise to the Guard troops who had worked with them, he said.
"A lot of the training we conducted with them when it comes to command and control, logistics, small-unit tactics, development of non-commissioned officers — we're really seeing the result of that on the battlefield today in Ukraine," Hokanson said.
The State Partnership Program began in 1993 with 13 former Soviet Union republics and now boasts 85 partnerships with 93 countries. In 2021, the program added partnerships between Austria and Vermont, Cabo Verde and New Hampshire, and Egypt and Texas, according to Hokanson. The National Guard is aiming to grow the initiative by another 30 partnerships in the next decade, he said.
Rep. Ken Calvert, R-Calif., said the program could be especially beneficial in Taiwan as China eyes reclaiming the small island nation as its own. He noted last year's National Defense Authorization Act, an annual spending plan for the Pentagon, included a provision for determining the feasibility of enhanced cooperation between Taiwan and the National Guard.
President Joe Biden brought renewed attention to Taiwan during his first visit to Asia as commander in chief this week, vowing to defend the nation against a Chinese attack.
"Taiwan now is obviously an issue," Calvert said. "I would like to get this going sooner rather than later."
The National Guards of Hawaii, Michigan and Minnesota have already cultivated relationships with Taiwan, Hokanson said, but Indo-Pacific Command and the State Department are examining what other capabilities the National Guard could provide. Hokanson said he met with the chief of staff of the Taiwanese army last October to discuss that army's reserve forces.
"The National Guard is here and our foot is on the gas. We're not slowing anything down and if there's any way we can help, we will do that as quickly as possible," Hokanson said.
---
---
---
---