Second former soldier convicted of murder in death of Army veteran in Washington state
By
Stars and Stripes
March 11, 2022
---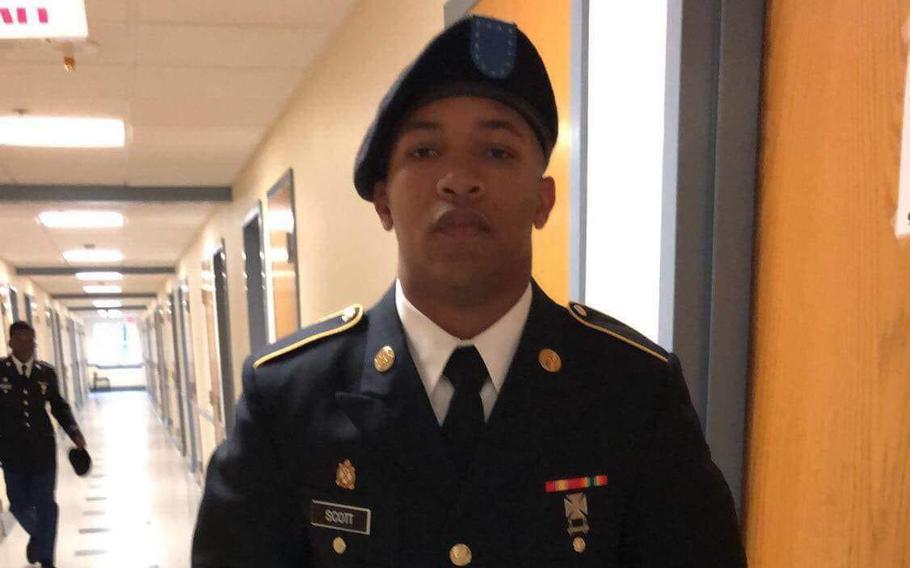 A jury has found a second former Joint Base Lewis-McChord soldier guilty of killing an Army veteran whose body was discovered brutally beaten in rural Washington state nearly two years ago, according to Kittitas County prosecutors.
Joshua Gerald, 22, was found guilty of murder in the second degree in the death of Leroy Joseph Scott III, whose body was found April 25, 2020, off a rural road in Kittitas County. Gerald faced murder in the first degree, a more serious charge that includes premeditation, but the judge granted a request from his attorney that the jury also consider a charge of second-degree murder, said Craig Juris, lead prosecutor for Kittitas County.
Sentencing is set for April 1, and Gerald faces between 10 and 18 years in prison, said Steve Graham, Gerald's attorney.
"He will be filing an appeal," he said.
The appeal issues will largely center around the fact that there were not any Black people in the jury pool of 69 people or on the 12-person jury, Graham said. Gerald is a Black man as was Scott.
Another former soldier, Raylin James, 22, was found guilty of murder in the first degree in January during a jury trial. He was sentenced in February to 25 years in prison and is listed as an inmate at Washington Corrections Center in Shelton, according to online court records.
James has filed intent to appeal his case, according to online records.
Gerald was listed Friday as an inmate at Kittitas County Jail, according to online jail records.
All three men served together in JBLM's 555th Engineer Brigade, according to service records provided by base officials. Scott, who was known to his family as "Trey," left the Army in December 2019.
James and Gerald were active-duty soldiers when they were arrested in May 2020 in connection to Scott's death. However, Gerald was separated from the Army in November 2020 and James in January 2021, said Col. Joey Sullinger, spokesman for JBLM and I Corps.
Cellphone records showed the phones of the three men were together at an apartment in Ellensburg, Wash., the night Scott died, according to evidence presented in court. The gathering was a 20th birthday party for Scott in a town about 130 miles east of Joint Base Lewis-McChord.
Records show at about 1:10 a.m., cellphones belonging to Gerald, James and Scott left the apartment.
They all arrived about 17 minutes later at the location where Scott's body was found about 10 miles outside of town. At about 1:55 a.m., records show Gerald and James' phones traveling back toward Ellensburg.
Scott's badly beaten body was found by passersby the following day in a creek just off the road, according to the Kittitas County Sheriff's Office. The autopsy determined Scott died from sharp and blunt-force trauma to his head.
The jury heard more than five days of testimony, including the presentation of physical evidence that linked Gerald to the murder, Juris said. Evidence showed Gerald had bruising and scratches on his right hand that weren't there prior to the weekend and scrapes on his legs. He also told police investigators that he had been at the scene, though he denied taking any active role.
"I believe [the jury] were really attentive to all the evidence," Juris said. "They made an educated and informed decision."
---
---
---
---