Former soldier convicted of murder, but family of veteran who he killed left with questions
By
Stars and Stripes
January 25, 2022
---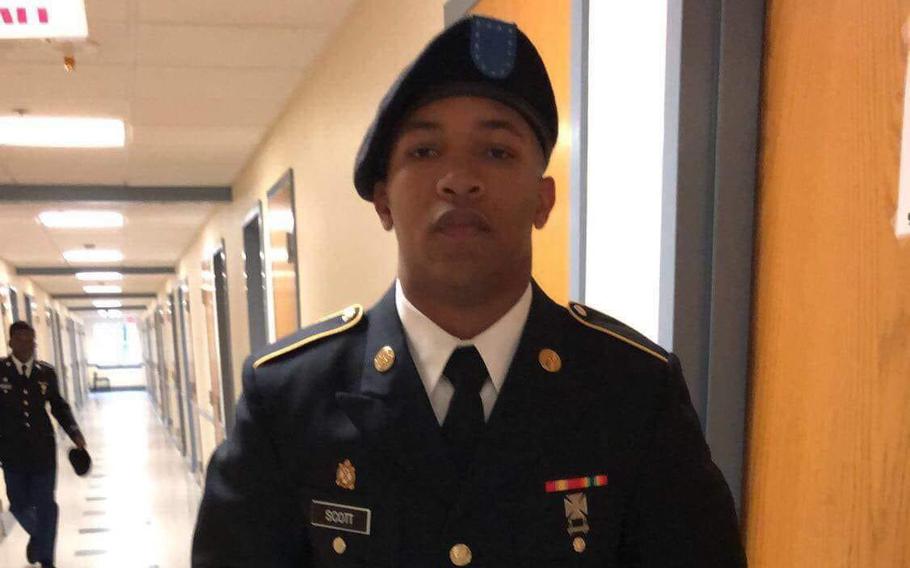 A jury has found a former Joint Base Lewis-McChord soldier guilty of killing an Army veteran after the two spent a night of partying together in rural Washington state.
Raylin James, 22, was found guilty of murder in the first degree in the death of Leroy Joseph Scott III, whose body was found April 25, 2020, off a rural road in Kittitas County.
Sentencing is set for Feb. 14, and the state's guidelines in such convictions recommend a minimum of 20 years in prison.
Another former soldier, Joshua Gerald, 22, has also been charged with murder in connection to Scott's death and his trial is scheduled to begin next month.
"I am happy with the verdict, [and] just waiting now for the sentencing and the other trial to begin so we can put this behind us," said Leroy Scott, the victim's father.
All three men served together in JBLM's 555th Engineer Brigade, according to service records provided by base officials. Scott, who was known to his family as "Trey," left the Army in December 2019.
James and Gerald were active-duty soldiers when they were arrested in May 2020 in connection to Scott's death. They both were listed Tuesday as inmates in Kittitas County Jail, according to online jail records.
Both men are no longer soldiers, said Col. Joey Sullinger, spokesman for JBLM and I Corps. Gerald was separated from the Army in November 2020 and James in January 2021, he said.
The jury in James' trial heard six days of testimony during the eight-day trial. They reached a guilty verdict Thursday, said Craig Juris, lead prosecutor for Kittitas County.
"I believe that the jury just looked at the evidence that we presented to them and came to the conclusion that we believe the evidence pointed at," Juris said Monday during a phone call. "There was pretty important DNA evidence. There was a jacket found in the back of Mr. James' car that was his jacket that had blood and Mr. Scott's DNA on it."
Cellphone records showed the three men's phones were together at an apartment in Ellensburg, Wash., the night Scott died, according to evidence presented in court. The gathering was a 20th birthday party for Scott in a town about 130 miles east of Joint Base Lewis-McChord.
Records show at about 1:10 a.m., cellphones belonging to Gerald, James and Scott left the apartment.
They all arrived about 17 minutes later at the location where Scott's body was found about 10 miles outside of town. At about 1:55 a.m., records show Gerald and James' phones traveling back toward Ellensburg. Scott's phone was found submerged in water near his body, according to evidence presented.
The autopsy determined Scott died from sharp and blunt-force trauma to his head, the prosecutors said during the trial. They described in detail that Scott had been badly beaten and doused in gasoline in an attempt to burn his body.
Paul McBride, James' defense attorney, countered in his opening statement that much of the evidence against his client was circumstantial.
While the family is relieved to have one trial behind them, they still do not have a motive for why Scott was killed, said Demetrick Carter, who is Scott's uncle.
"They discussed motives, plural. But I don't think they really nailed a motive," he said. "We just want to know why."
---
---
---
---