Lawmakers call for immediate passage of $6.4 billion aid package for Ukraine
By
Stars and Stripes
March 1, 2022
---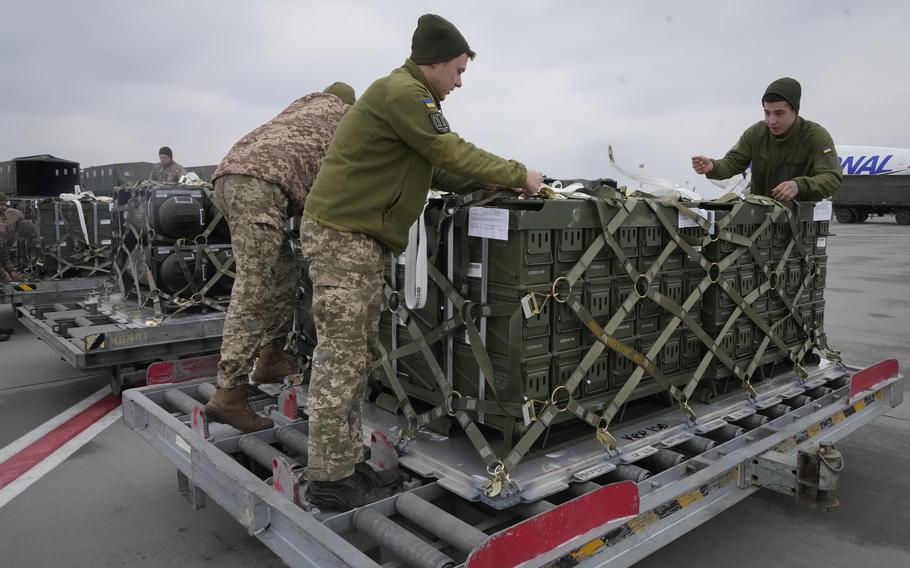 WASHINGTON — Congressional lawmakers on Tuesday called for the immediate passage of a multibillion-dollar emergency spending package to aid Ukraine and warned time was running out to deliver security and humanitarian assistance as Russian forces closed in on the country's capital city of Kyiv.
Frustrated by plans to fold the aid to Ukraine into a larger government funding bill next week, Rep. Doug Lamborn, R-Colo., urged his fellow lawmakers to move faster on the request from the White House to send at least $6.4 billion to the war-torn country.
"What I've heard is that we're going to wait a week and deal with it," Lamborn said during a House Armed Services Committee hearing about U.S. national security objectives. "Aren't there civilians who are going to be dying in Ukraine? Aren't there soldiers who are taking up arms who are going to die? Isn't there property that's going to be destroyed? Isn't there going to be hunger in Ukraine? Why in the world can we wait a week to deal with this?"
Russia launched a large-scale invasion of neighboring Ukraine last week after months of amassing more than 150,000 troops on Ukraine's borders.
During the hearing Tuesday, Lamborn pressed Mara Karlin, the assistant secretary of defense for strategy, plans and capabilities, to help push other lawmakers into swift action on the bill.
"We could have passed this last night on a voice vote," he said. "It's wrong for us to wait a week to do this. Do you have any influence? Can you talk to anybody and say, 'Let's bring this up today?' Let's get this going. There are people dying in Ukraine right now. There's a 40-mile convoy of Russian tanks and armor going to Kyiv."
Karlin said officials at the State and Defense departments are moving quickly to deliver supplies and support to Ukraine, including $350 million in ammunition, Javelin anti-tank missiles, Stinger air-defense systems and other emergency military aid that the White House authorized last weekend.
The emergency spending package for Ukraine awaiting congressional approval would provide $3.5 billion to the Pentagon and $2.9 billion to the State Department and U.S. Agency for International Development for humanitarian assistance.
In the Senate, Sen. Rick Scott, R-Fla., a member of the Senate Armed Services Committee, also urged his fellow senators to begin immediate consideration of the emergency aid bill and detach it from long-term government funding legislation still being drafted. The larger bill needs to pass by March 11 to keep federal agencies open and avoid a shutdown.
"Russia's blatant act of war demands a strong and immediate response in the form of aid for Ukraine from the United States," Scott said in a statement Tuesday. "While some may find it convenient to just stitch these issues together, doing so needlessly delays delivery of critical aid and military resources to the people of Ukraine as they fight for the survival of their democracy."
Much of the requested assistance for the Defense Department would fund increased operating costs for the growing number of American troops in Europe, which has surged from about 80,000 to about 100,000 during the Ukraine crisis, Karlin said. Some of the aid money will also be used to replenish U.S. weapons stocks that the Biden administration has tapped into three times to supply Ukraine since last fall, she said.
"This will help fill some of the material that the military services have been able to facilitate the transfer of to Ukraine," Karlin said.
Rep. Elissa Slotkin, D-Mich., told Karlin to seize a rare time of bipartisan unity to demand more military assistance for Ukraine and specify what the Pentagon needs to bolster Ukraine's ability to defend itself against the Russian assault.
"You have an absolutely unique moment where the U.S. Congress has bipartisan agreement on giving you what you need and we're not getting an ask. Ask us for things," she said.
Rep. Adam Smith, D-Wash., chairman of the House Armed Services Committee, defended the pace of congressional deliberations, noting "a ton of money is flowing out of the United States of America right now to help the people of Ukraine" that does not require congressional action.
"Congress needs to look at whether or not we need to send more money, whether or not we need to give [the Biden administration] authority to do that. And that's perhaps why we're waiting to make sure that we do this right," he said. "But while we're waiting to pass congressional legislation, it is not the case that nothing is happening."
---
---
---
---