Top Republican on Senate Armed Services Committee stepping down
By
Stars and Stripes
February 25, 2022
---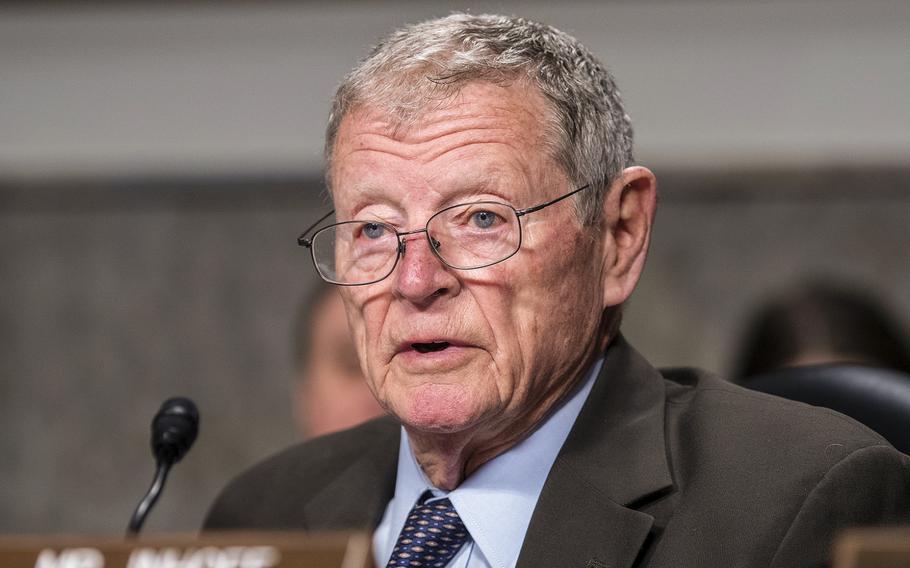 WASHINGTON — Sen. Jim Inhofe, the top Republican on the Senate Armed Services Committee, announced Friday that he will retire at the end of the current congressional session after decades in office.
The 87-year-old Oklahoma legislator will step down on Jan. 3, four years before the end of a six-year term he won in 2020. He was first elected to Congress as a member of the House of Representatives in 1987 and became a senator in 1994.
"Today's announcement is not the end of the road," Inhofe said in a statement. "I have work yet to do for Oklahomans over these next nine months, including passing the National Defense Authorization Act and holding the Biden administration accountable."
Inhofe's retirement will leave a Republican leadership vacancy on the powerful Senate committee overseeing military affairs, where he has long held sway over Department of Defense policies. Inhofe succeeded the late Sen. John McCain as chairman of the committee in 2017 but lost the post when Democrats took control of the Senate in January 2021.
Sen. Roger Wicker, R-Miss., is in line to succeed Inhofe as the ranking Republican on the committee and could become chair if the GOP retakes the Senate in the November mid-term elections.
An Army veteran, Inhofe is among the Senate's most conservative members. He advocated for a strong U.S. military presence around the world and pressed for robust spending on defense.
Inhofe endorsed his chief of staff, Luke Holland, to replace him in a special election in November to "continue my legacy of a strong national defense," according to a letter Inhofe sent to the Oklahoma secretary of state.
---
---
---
---