Biden says he's 'convinced' Putin has decided to invade Ukraine as violence erupts in eastern regions of the country
By
Stars and Stripes
February 18, 2022
---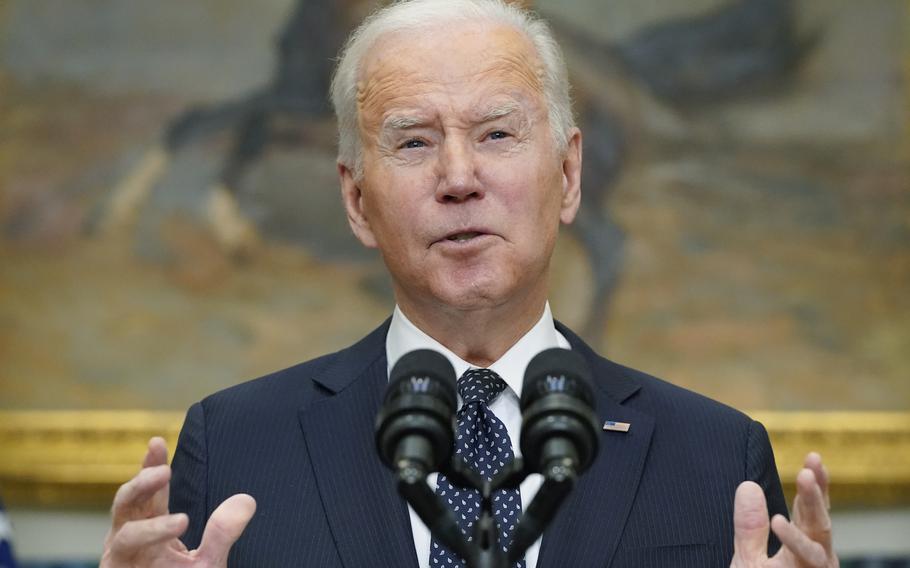 WASHINGTON — President Joe Biden said Friday that he now believes Russian President Vladimir Putin has made the decision to invade Ukraine.
"As of this moment, I'm convinced he's made the decision," Biden said during a public address from the White House. "We have reason to believe that."
There are more than 150,000 Russian troops surrounding Ukraine along its borders with Russia and Belarus. The buildup has been increasing for months, climbing from an estimated 70,000 troops in December.
"If Russia pursues [Putin's] plans, it will be responsible for catastrophic and needless war of choice," Biden said. "The United States and our allies are prepared to defend every inch of NATO territory from any threat to our collective security as well."
Still, the president said "it's not too late" for Russia to de-escalate the tensions and return to diplomatic negotiations.
Secretary of State Antony Blinken and Russian Foreign Ministry Sergey Lavrov plan to speak on Feb. 24 in Europe, "but if Russia takes military action before that day, it will be clear that they have slammed the door shut on diplomacy," Biden said.
The president also reiterated his earlier promise not to send American troops into Ukraine, but he said the U.S. "will continue to support the Ukrainian people," citing the $650 million in security assistance that the U.S. has sent the country in the past year.
Yet, White House Press Secretary Jen Psaki on Friday said the U.S. could send more troops to allied countries in Europe as the Russia-Ukraine crisis worsens.
"We have always said from the beginning that we are open to sending more troops should that be needed, but I don't have any update on that front," she said.
The Pentagon has sent roughly 4,700 troops from Fort Campbell, Ky., and Fort Bragg, N.C., to Poland in the past two weeks as tensions increased. They joined a force of 4,000 troops who were already stationed in Poland on a regular rotational basis.
Defense Secretary Lloyd Austin also sent 300 Fort Campbell troops to Germany on Feb. 2 to establish a joint force headquarters. The same day, he moved about 1,000 troops from Germany to Romania to support the 900 U.S. service members already there on rotational orders.
Austin also placed 8,500 troops in the U.S. on heightened alert on Jan. 24 to be ready to deploy to Europe within five days should NATO activate its response force, which is made up of approximately 40,000 troops from multiple nations. Some of the 8,500 included those who have already deployed to Europe.
Austin on Friday announced the U.S. will sell 250 M1A2 Abrams main battle tanks as well as F-35 fighter aircraft, Patriot air defense batteries and high-mobility artillery rocket systems to Poland amid the rising tensions in the region.
The defense secretary's announcement came during a news conference with Polish Minister of National Defense Mariusz Blaszczak in Warsaw. Austin on Tuesday began a European trip to speak with defense leaders in Belgium, Poland and Lithuania.
"What Mr. Putin did not want to see happen was a stronger NATO on his flank, and that's exactly what he will see," he said.
Some Russian troops along the Ukrainian border in Belarus are within 200 miles of the Polish border, Austin said.
"If Russia further invades Ukraine, Poland could see tens of thousands of displaced Ukrainians and others flowing across its border, trying to save themselves and their families from the scourge of war," he said.
While in Poland, Austin will also visit U.S. and Polish troops at Powidz Air Base "to tour the facilities and observe the culture and conditions of our rotational presence there," chief Pentagon spokesman John Kirby said Monday.
Poland is one of four NATO countries that neighbor Ukraine, including Romania, Slovakia and Hungary. The U.S. pledges under the NATO collective defense clause to come to the aid of fellow alliance countries if they are attacked.
Putin in December asked NATO to withdraw all foreign troops and military equipment from countries that joined the alliance in the past 25 years, which includes the four NATO nations that flank Ukraine to the west. But his central demand has been for NATO to bar Ukraine from future membership, but the alliance has also refused to do so, citing its "open door" policy.
There are 28 countries in NATO, which grew from 12 founding members in 1949 and most recently added North Macedonia in March 2020.
Yet Russian propaganda this week has been implying a conflict could erupt because of alleged planned violence against ethnic Russians in the eastern Ukrainian city of Donetsk, according to Russian state media.
There is no such attack planned, Blinken said Thursday.
"Russia plans to manufacture a pretext for its attack," he told the U.N. Security Council. "This could be a violent event that Russia will blame on Ukraine, or an outrageous accusation that Russia will level against the Ukrainian government."
The city is in Donbas, a Ukrainian region home to two pro-Moscow separatist groups: the Donetsk People's Republic and the Luhansk People's Republic. Denis Pushilin, who leads the former, announced Friday mass evacuations of the area, urging citizens to flee Ukraine for Russia to avoid a coming war, according to the Moscow Times.
Psaki on Friday said the call for an evacuation "a good example" of a false-flag operation that the U.S. has warned Russia could launch to justify an invasion of Ukraine.
"What we have long anticipated or long predicted for all of you [is] that the Russians would take part in pretext or steps that would lay a predicate for either war or to create confusion or spread misinformation about what's actually happening on the ground," she said.
Blinken said other false-flag operations could include "fabricated so-called 'terrorist' bombings inside Russia, the invented discovery of a mass grave, a staged drone strike against civilians, or a fake – even a real – attack using chemical weapons."
"Russia may describe this event as ethnic cleansing or a genocide, making a mockery of a concept that we in this chamber do not take lightly," he said.
Another example was the Thursday shelling of a Ukrainian kindergarten school, which "Russia has falsely asserted was carried out by Ukraine," Biden said.
"There is simply no evidence of these assertions and it defies basic logic to believe the Ukrainians would choose this moment -- with well over 150,000 troops arrayed on its borders -- to escalate [this] conflict," he said.
Multiple explosions were reported in Donbas on Friday, including an apparent car bomb outside a government building in Donetsk and a massive blast at a gas pipeline in Luhansk, according to Russian state media.
On Friday, Putin met with Russian security council members regarding the "growing tensions" with Ukraine, which the Kremlin said in a statement are "being provoked by external forces."
Putin also spoke with Belarusian President Alexander Lukashenko, who welcomed Russian troops to his country's southern border with Ukraine in January, according to the Kremlin.
"We will discuss the developments in the region and evaluate our military cooperation. Right now, our military exercises are in the active phase," Putin said Friday, according to the Kremlin.
Over the weekend, Putin will oversee Russian strategic nuclear drills to include multiple missile launches, according to the Russian Defense Ministry.
Biden said he doesn't believe Russia would use nuclear weapons in a conflict with Ukraine, and it is likely a show of force.
"I don't think he is remotely contemplating using nuclear weapons," Biden said. "But I do think he is focused on trying to convince the world that he has the ability to change the dynamics in Europe in a way that he cannot."
---
---
---
---