US service members balk at some duty posts over racism fears, survey finds 
By
Stars and Stripes
February 2, 2022
---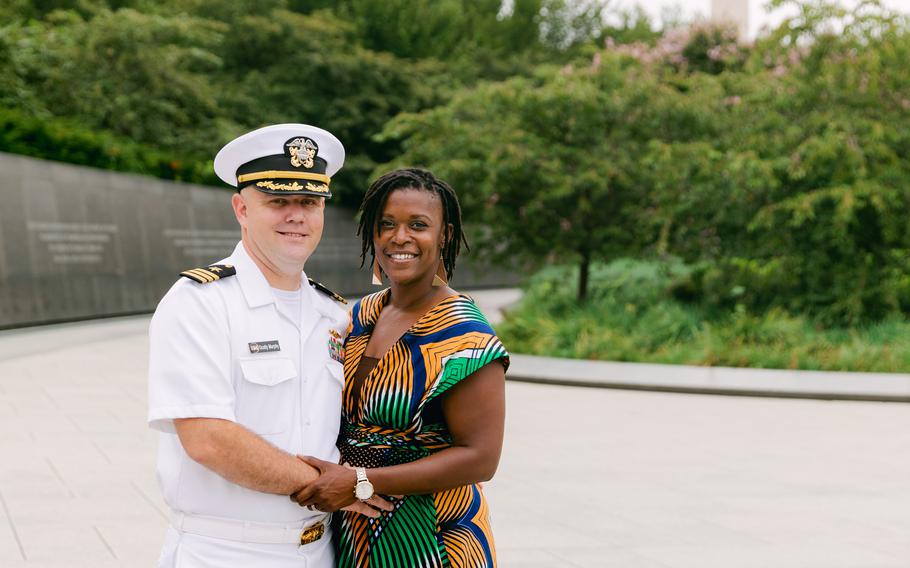 Military personnel who are minorities or have family members of color can face an agonizing decision when they receive assignments to places where they think they will face racial discrimination, a study commissioned by a military family advocacy group found.
And numerous respondents said that turning down a duty assignment over concerns of how they would be treated had harmed their military careers.
The results of the survey, which polled 2,731 respondents who identified as nonwhite, were published Wednesday. It was designed by Blue Star Families and Syracuse University's Institute for Veterans and Military Families.
The sample included 303 active-duty troops as well as veterans and military family members who identified as Black, Asian, Latino or Hispanic.
Some 42% of active-duty troops of color said concerns about racism at certain bases and surrounding communities led them to reject assignments there, the report said.
"We have had good people across all branches leave because of negative experiences with either being sent somewhere where they were not safe or did not feel safe, or where they were harassed," Tonya Murphy, a fellow with Blue Star Families who participated in the study, told Stars and Stripes on Tuesday.
Murphy, who is Black, said she and her husband Scotty, who is white and a Navy submariner, balked at an assignment to Naval Submarine Base Kings Bay in Georgia and a stint at Naval Support Activity Mid-South in Tennessee out of concern for the safety of their sons, ages 15, 13 and 9.
Other troops and their families made similar decisions knowing that their career advancement could be adversely affected, the report said.
Approximately two-thirds of troops of color who turned down orders said they were given a less attractive assignment, saw less opportunity for promotion, received a poorer evaluation or had their careers ended, the Blue Star Families report said.
Troops and their families specifically expressed concerns about discrimination and racial profiling by police in much of the U.S., including the Midwest, South and West.
More than half of surveyed active-duty personnel or their family members living in these regions said they feared for their safety at least once since the start of 2020 because of their race or ethnicity, the poll said. In the Northeast, 43% of respondents said the same.
One in three Black family members of active-duty personnel reported being racially profiled by police, the report said. Respondents reported higher levels of trust in military law enforcement than for civilian police.
Nearly 70% of the surveyed active-duty troops of color agreed that they were regarded as valued members of their military community, and 79% said the military positively influenced their professional growth. But 41% also said they had experienced racial or ethnic discrimination or harassment by their peers at some point in their career.
"Are we all in this together, or are we not?" said Steven Price, who now runs The Voices of Our Veterans outreach group in San Antonio.
Price, a Panamanian-American who said he faced racism and slurs while in the Army in the 1980s, fears that extremism is on the rise.
"You would think because we wore the same uniform, that we would be classified as a soldier, not based on our race," Price said.
Defense Secretary Lloyd Austin, a Black former Army general, has vowed to rid racists and extremists from the ranks.
Some of Austin's efforts have drawn criticism from U.S. Sen. Tom Cotton, a former Army officer who said diversity campaigns are creating mistrust and not "something that our military needs to constantly obsess about."
But not talking about the experiences of troops of color and their families won't make the issues affecting them go away, Murphy said.
"We have to take the conversations from being whispered about in small circles and quiet talks, and they need to be had out loud," Murphy said. "How are we a more ready force if our service members are worrying about the safety of their families at home?"
---
---
---
---