VMI's first Black superintendent blasts white critics of diversity and equity reform
By
The Washington Post 
January 28, 2022
---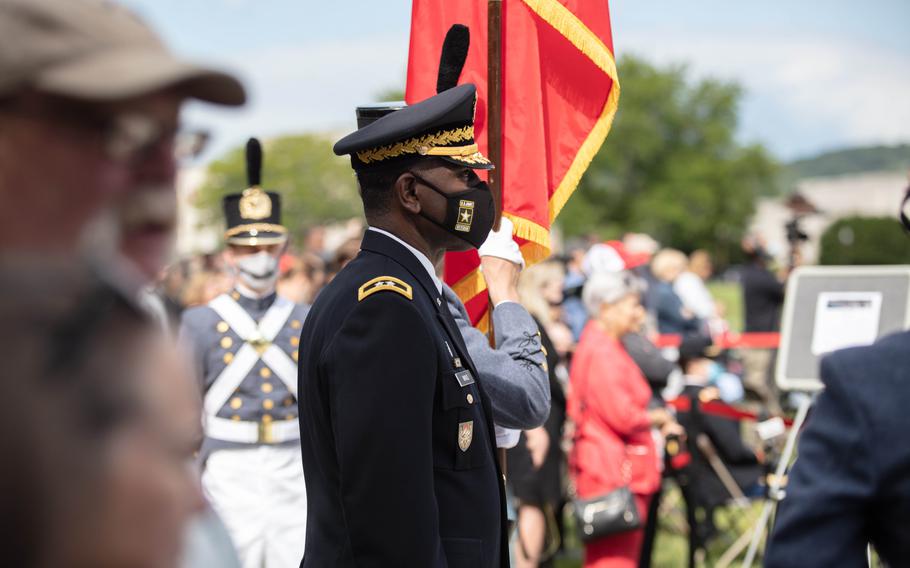 Retired Army Maj. General Cedric Wins had a message he wanted to send.
The first Black superintendent of Virginia Military Institute went onto Facebook Jan. 21 and set off a social media skirmish.
His target: a well-connected white alumnus who'd questioned VMI's push for diversity, equity and inclusion at the nation's oldest state-supported military college.
Carmen D. Villani Jr., a member of the Class of 1976, had appeared on a Richmond radio show and urged fellow graduates to ask the state legislature to "look very seriously" at an extra $6.1 million for their alma mater, which received $21.6 million in state funding for the 2021-22 academic year. He also warned that critical race theory — an academic framework for examining system racism under attack by conservatives — had "entered into the VMI realm."
The additional $6.1 million had been requested by VMI to cover the cost of a host of reforms in the wake of a state-ordered investigation that found the college suffers from a "racist and sexist culture."
If approved by General Assembly this year, the money would pay for expanded Title IX and diversity offices, three admissions counselors who would target underrepresented populations, and an ongoing effort to rebrand and re-contextualize the college's numerous Confederate tributes.
"Mr. Villani," Wins wrote on a public VMI Facebook group for parents, cadets, and alumni that boasts more than 3,700 members. "You advised the listeners to urge the members of the General Assembly to 'look very seriously' at VMI's funding request, a request you have no understanding about. VMI's funding request will pale in comparison to that of the other public colleges in the state. You have no understanding of [Diversity, Equity and Inclusion] or what it means, or how much of the funding for DEI is represented in our request."
Wins also said Villani's allegation that critical race theory had crept into discourse at VMI was "categorically false."
The scathing Facebook post stunned VMI's tightknit network of students, parents and alumni and exposed the ongoing battle over the college's future.
The campus did not admit its first Black students until 1968 and its first women until 1997. Just six percent of its 1,650 cadets are Black. Women make up 14 percent of the student body.
In the hundreds of comments that followed Wins's Facebook post, one person called diversity, equity and inclusion "racist," and another bemoaned "the ascendancy of cultural Marxism" and "virtue signalers beating down every last vestige of the Confederacy."
On Thursday, Villani wrote a new post in the Facebook group, saying he'd spoken to Wins in the aftermath of their tussle and that they were "able to find some common ground."
The college's best way forward, Villani wrote, should be based on what unites them, and "equality/ability not equity; inclusiveness based upon 'content of character.'"
Since Wins took the helm of the 182-year-old Lexington campus in November 2020, he has tried to modernize the college's culture without alienating conservative donors or alumni deeply wedded to VMI's traditions and history. But 14 months into his tenure, Wins, who graduated from VMI in 1985, is still confronting resistance to change from alumni and students.
One bloc of opposition comes from wealthy alumni who formed the Spirit of VMI political action committee. The group endorsed Glenn Youngkin, R, during his successful campaign for governor and counts Villani as a donor. Other influential graduates who've given to the PAC include two former members of VMI's Board of Visitors: Thomas "Teddy" Gottwald, Class of 1983, who gave the group $25,000, and, Grover Outland III, Class of 1981, who donated $1,000. The two men resigned from the board in October 2020 right before it voted to remove the campus's statue of Confederate Gen. Stonewall Jackson.
Wins declined an interview request. Gottwald and Outland did not return messages seeking comment. Villani, whose LinkedIn profile says he is a retired airline captain who lives in Texas, declined to comment.
Since the PAC launched in early 2021, it has criticized and mocked many of the college's reforms. One white donor to the PAC wrote an essay in May on the group's website blasting the college for expanding the symbolism of its "Virginia Mourning Her Dead" statue. The monument originally honored only VMI's cadets who fought and died for the Confederacy at the Battle of New Market during the Civil War, but now commemorates all of the college's students and graduates killed in the line of duty.
In June, one of the PAC's Facebook posts displayed a decades-old black-and-white photograph of what appears to be an older VMI cadet yelling at a younger student, with a cartoon figure drawn underneath saying, "Wouldja like some oppression with that equity & inclusion?"
Matt Daniel, one of Wins's classmates who has served as chairman of the PAC, did not return messages seeking comment.
When Youngkin was elected governor, the Spirit of VMI's supporters celebrated on the group's Facebook page, with some advocating for the removal of the college's new chief diversity officer, Jamica Love, the school's highest-ranking Black woman, or other "'woke' hires of the last administration."
"Can the Spirit of VMI now lobby the New Gov to remove the Northam appointees to the [Board of Visitors]?" asked one alum on the PAC's thread, rejoicing over Youngkin's win.
Youngkin has close ties to VMI stalwarts. One of his top donors during the campaign was Gottwald's father, Bruce C. Gottwald, a member of the Class of 1954, who gave the Republican candidate $250,000. He's also appointed as his legal and policy counselor Richard Cullen, a former VMI board member and lawyer who advised the college during the investigation into racism and sexism.
After he took office this month, Youngkin applauded as VMI cadets marched in his inaugural parade, as they do for every Virginia governor. And last week, a photo surfaced online of the governor seated at a conference table in front of the Virginia state seal wearing a red vest emblazoned with VMI's logo and the name and insignia of the college's student-run newspaper.
Youngkin hasn't released any public statements on VMI since he moved into the governor's mansion. On the day that Wins scolded Villani on Facebook, Youngkin released a list of legislative priorities. None of them mentioned VMI. But he'd already issued an executive order that forbids Virginia's public schools from teaching of "inherently divisive concepts, including Critical Race Theory." And Youngkin is seeking legislation to change the name of Virginia's Office of Diversity, Equity and Inclusion to the Office of Diversity, Opportunity and Inclusion.
Youngkin declined an interview request. The governor's spokesperson, Macaulay Porter, said he will evaluate VMI's funding request for diversity reforms "once it has made its way through the legislative process."
Some of the General Assembly's top lawmakers have already made it clear they support the $6.1 million request.
Senate Minority Leader Thomas K. Norment Jr., R-James City, who graduated from VMI in 1968, and Sen. R. Creigh Deeds, D-Bath, are co-sponsoring a budget amendment that would give VMI the $6.1 million entirely from general fund revenue that pays for salary increases and other discretionary expenses.
By Tuesday morning, Wins's foray into VMI's online culture wars had yielded nearly 300 Facebook comments, though about 100 were eventually deleted.
"General, with all due respect, stay in your own lane of traffic," wrote one alum, Roger Jarrell, 52, an attorney and former Trump administration official. "Leave politics to the politicians. Run the Institute. Attacking people directly is never a good look."
But another alum, Lincoln Swineford, said Wins was well within his rights to defend his reforms.
"Come on," Swineford said. "He's just supposed to lay back and take this type of unjustified abuse?"
Later, Jarrell suggested Wins might face political repercussions.
"I'm sure Todd Gilbert will be interested in [the] General's attack," he wrote, referring to the new Republican House Speaker in the General Assembly. "Why General Wins decided to publicly attack a civilian in this forum in the manner in which he did mystified me. He could lose his job for this."
Many of the people dismayed by the resistance to Wins are his Black classmates. Just 13 Black men, including Wins, are listed in his 300-member graduating class, VMI's 1985 yearbook shows.
One of them, Terry Thompson, who was the football team's co-captain and is now a senior program manager with Intel in Phoenix, said opponents to Wins's reforms "should be ashamed of themselves." He added: "When they picked him as permanent superintendent, I couldn't have been prouder. It was the best decision the school could have made in the current environment with diversity and inclusion being at the forefront of a lot of conversations ... he has a lot more people on his side than not."
Byron Ross, 59, another Black classmate who is a retired Army lieutenant colonel, likened Wins's appointment to the election of Barack Obama as president. But he does not understand the resistance.
"My question is, Why are they pushing back?" asked Ross, who lives in Northern Virginia, adding that Wins was justified in his response on Facebook. "He is defending the Institute."
On campus, VMI continues to contend with a host of cultural issues.
The college is still deciding whether to keep many Confederate tributes, including the name of its main administration building, Smith Hall, an homage to VMI's first superintendent, Francis Smith. According to VMI's records, Smith enslaved nine people and served as the commander at the execution of abolitionist John Brown in December 1859. A bronze statue of Smith also stands outside of Smith Hall, facing the parade ground and student barracks.
VMI, which resisted admitting women in a case that went all the way to Supreme Court, also still appears to be struggling with misogyny among its corps of cadets.
On Jan. 22, students participated in a mandatory 50-minute virtual "sexual violence prevention class" from their barracks rooms. But during or after the session, cadets went on Jodel, the anonymous social media app, to mock or insult the class and its material. Some joked about watching television during the session or muting it.
"Girls just wanna have fun. ... Until after the fact," someone posted.
"What Title IX has taught me over the last three years: only men are capable of rape and sexual harassment/assault," one cadet posted, which earned 23 upvotes.
Then one female cadet said: "I hate this because it really shows how much the guys at this school hate women..."
To which another cadet replied: "Pipe tf down."
Soon, VMI will have to decide whether it will endorse a bill that would guarantee students who report being sexually assaulted while consuming alcohol or drugs that they will not be punished for violating the school's drug and alcohol policy. Right now, VMI is the only college in the state exempt from having to give such immunity to its students.
The college has not decided whether it will endorse the bill, according to Bill Wyatt, a VMI spokesman. Wyatt added that no VMI cadet who has reported a sexual assault has been punished for other infractions that came to light during the incident.
Virginia Del. Dan Helmer, D-Fairfax, the sponsor of the bill to strip VMI of its exemption, said that he's in discussions with Wins and hopes the superintendent will support the bill, which is scheduled to face a hearing Monday in the General Assembly.
"We have many schools with ROTC programs in Virginia that commission graduates as officers," Helmer said. "VMI should not be the only one in which a future leader who is sexually assaulted doesn't enjoy the protection that they would enjoy at every other college in the commonwealth."
---
---
---
---