At VMI, Virginia governor urges cadets to embrace change a year after ordering racism probe
by
Ian Shapira
The Washington Post
November 16, 2021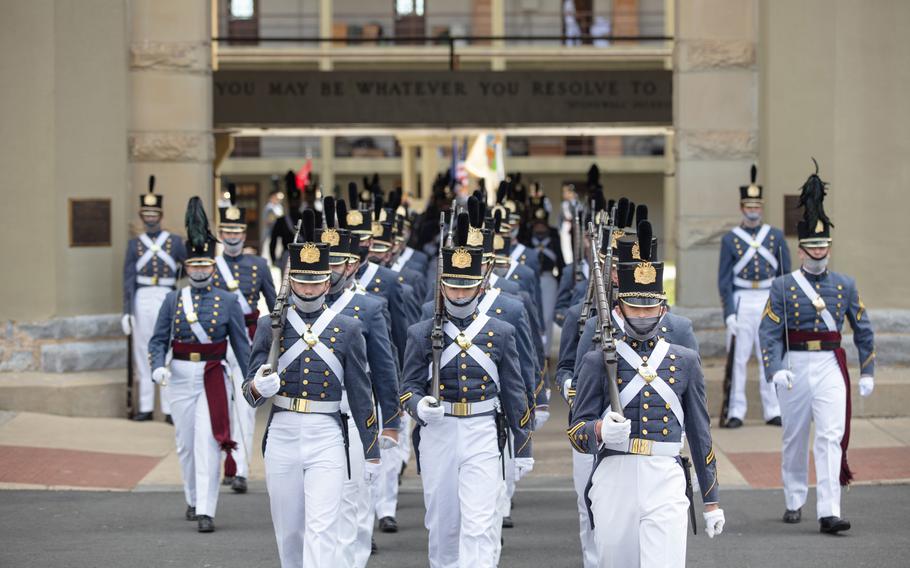 One year after angering many students and alumni by ordering an investigation into racism at the Virginia Military Institute, Virginia Gov. Ralph Northam, D, told about 1,700 cadets Monday night at his alma mater that he shares their pride in the school but defended the push to make VMI more inclusive.
"If you haven't experienced sexism or racism yourself — perhaps because you look like me," said Northam, who is white, "and you haven't paid much attention to what it looks like, you're going to have a very hard time recognizing it. Until you learn what it looks like. Until you learn how to see it."
According to a copy of his prepared remarks, Northam argued that, "For VMI to survive and thrive for generations to come, we must continually ask ourselves a few simple questions. ... Do we reflect the people that we serve? ... What do prospective students experience when they come on post? Does our reputation invite new students and faculty from diverse backgrounds, or do they simply never consider VMI in the first place?"
Northam's speech at VMI's Cameron Hall was not open to the public or live-streamed, and students were ordered to leave their cellphones in their rooms, ensuring that none of them could record the reaction of the cadets or post any remarks online until after the appearance was over.
Shortly before the speech, VMI's new commandant, Col. Adrian T. Bogart III, urged the corps to be gracious to their speaker, according to cadets who spoke to The Washington Post after the speech. They were.
"It was really respectful, and everyone behaved exactly as they were supposed to," said one upper-class cadet who spoke on the condition of anonymity for fear of reprisal.
A second cadet said Northam connected well with his audience: "He was very humble — he was one of us."
Northam graduated from VMI in 1981, less than 15 years after the nation's oldest state-supported military college admitted its first Black students. Women were not admitted to VMI until 1997, after a legal battle that went all the way to the Supreme Court. The cadets at the Lexington campus, who fought and died for the Confederacy during the Civil War, remain mostly white and male.
"Here at VMI, we have built up a lot of traditions over the generations," Northam said. "Many of those traditions have great value in molding young people. But others do not. ... Gone are the statues that glorify rebellion against the United States. In place are new provisions for privacy and safety for all — especially women. The Institute has now stated a commitment to diversity, and to making certain that all cadets, faculty and staff, feel safe and welcome. This needs to continue for VMI to succeed."
Northam omitted any mention of the $1 million investigation that he and other state leaders ordered in October 2020, two days after The Post published an account of bigotry at the 182-year-old college. A cascade of changes followed: the resignation of the school's longtime superintendent, the appointment of its first-ever Black leader, Cedric T. Wins, and the removal of a statue of Confederate Gen. Stonewall Jackson from its prominent perch on the campus.
"This last year has been an incredibly difficult time for everyone who loves this place. And I want you to know, that includes me," Northam said.
Northam defended VMI's ongoing transformation, which includes hiring a chief diversity officer, Jamica Love, the school's highest-ranking Black woman.
In an interview after the speech, Wins praised Northam's remarks and its reception by the students. "It was exactly as I would have expected it from our corps of cadets," he said. "And the one thing that I've asked them to do, which they've demonstrated time and time again, contrary to the narratives that are put out, is that they demonstrate the very best of who they are as VMI cadets."
Wins said Northam's speech underscored the efforts both men have undertaken to help transform the school. "The governor, as am I, we're forward looking. We're interested in doing the things that we believe need to occur here at the school to move it forward," he said. "We are not averse to change in the right way."
The governor also tried to make amends with students, who have frequently denounced him online over the last year. (At least one cadet, though, is likely in his corner: his nephew Travis Northam, a sophomore. "Travis, your dad says hi," Northam said during his speech.)
"I want you to know that as an alumnus, and as your governor, I support each and every one of you in the corps of cadets, and I have your back. I am one of you," Northam said. "My experience at VMI, and the way it shaped me and my life, have led me to do everything I can to make this institution we all love a better, stronger place."
Northam talked about his own time as a 17-year-old freshman "rat," during the late 1970s, when students played "Dixie" and brandished the Confederate flag. He acknowledged that he didn't scrutinize VMI's history or traditions back then.
"It didn't occur to me to ask, who is that a statue of? When was it erected? Why is that person being honored? Who decided that we would all salute him?" Northam said. "When I saw the Confederate flag, it didn't occur to me to ask, what does flying the Confederate flag, or playing 'Dixie,' symbolize? Why are we glorifying the Lost Cause? And might these symbols be offensive to some of my fellow cadets?"
But Northam did not use the speech to mine his own past controversies with race.
Shortly after the college informed students Thursday that Northam would speak on campus, many cadets and alumni complained that he had no business setting foot on campus, let alone launching an investigation into VMI's racial climate.
In February 2019, the conservative news outlet Big League Politics posted an article featuring an image from Northam's 1984 medical school yearbook page showing one person dressed in blackface and another in a Ku Klux Klan robe. Northam initially apologized for appearing in the photograph, but didn't identify which person he was. Then he said he wasn't in the photo, didn't know how it made it onto his yearbook page and hadn't seen the image until the scandal broke.
His 1981 VMI yearbook also listed his nickname as "coonman," a racial slur. And during a news conference trying to explain the yearbook controversy, he admitted that he attended a 1984 dance contest in San Antonio, where he used shoe polish to darken his face and dress up as Michael Jackson.
At the time, some of his strongest allies called for his resignation, but Northam refused to step down. Instead, he vowed to make racial equity a top priority for the remainder of his tenure.
Since then, he and a Democratic-led General Assembly checked off a list of reforms, including removing the Robert E. Lee statue in Richmond and re-writing a Virginia law that had prohibited local authorities from getting rid of Confederate monuments; securing more than $300 million in funding for the state's historically Black colleges and universities; legalizing marijuana and making Virginia the first state in the South to abolish the death penalty.
In an interview Tuesday morning, Northam said VMI's transformation has been a high priority for him personally.
He said he wanted to speak at VMI in his final days as governor "to come full circle."
"I obviously graduated from there and there (are) a lot of the alumni that ... blame for what's going on there, but this isn't about me," he said. "It's about making VMI better and I wanted to impress upon that last night."
Shortly before the speech, Northam ate dinner at the campus dining hall with some of the corps' senior-most leaders: the college's first female regimental commander, Kasey Meredith, a senior from Pennsylvania, who has endured misogynistic insults on Jodel, the anonymous social media app popular at VMI; the Honor Court president, a position Northam held his senior year; and the senior class president.
The investigation into the college didn't come up in conversation, Northam said, but, "it was clear that they understood that diversity is very important and being inclusive. ... I think they were accepting of where we're taking VMI."
While plenty of students support VMI's evolution, some told The Post that they question whether, given Northam's yearbook scandal, he was the right person to launch it.
"A lot of students here are past the point of forgiveness," said one senior, who spoke on the condition of anonymity out of fear of reprisal from classmates and school officials and who has been supportive of the school's changes. "They think he's a hypocrite."
In recent days, VMI students have denounced the governor on Jodel, calling him a "Disgrace to the Institute," "Gov. Blackface," or "turncoat." There was talk of refusing to clap or boycotting the speech altogether.
The least he could do, some cadets argued in advance of the speech, would be to offer them "amnesty," an act — conferrable by the college's superintendent, Virginia's governor or a U.S. president — that suspends students' punishments, such as penalty tours and campus confinement. (During his 2018 inauguration, Northam granted the Corps amnesty, according to the college, as his "first official act as governor.")
At the end of Northam's speech, he delivered exactly what the cadets wanted.
"Tonight, as we approach the holidays, and in the spirit of treating others as I would have liked to have been treated, I have an announcement," he said. "By the powers vested in me as the Governor of the Commonwealth and as the Commander-in-Chief of the Virginia Military Institute Corps of Cadets, I hereby grant amnesty to those cadets with penalty tours and confinement currently in effect."
The cadets erupted in cheers, as Northam knew they would.
"Anybody that's been at VMI and understands confinement and penalty tours," Northam said Tuesday, "there was a reason for them to erupt."
---
---
---