Amid calls to defund VMI, superintendent calls alleged attacks on female cadets 'unacceptable'
by
Ian Shapira
The Washington Post
July 13, 2021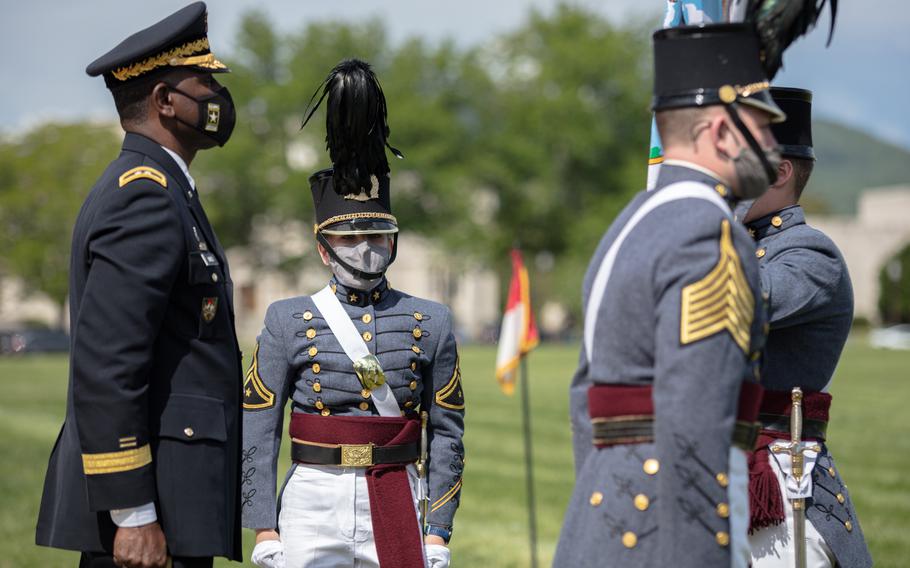 The new superintendent of the Virginia Military Institute issued a withering warning to the school's 1,700 students Monday night, condemning online attacks and sexual assaults against female cadets chronicled by The Washington Post earlier that day.
"The allegations contained within the story are unacceptable of any VMI cadet and no one — VMI cadet, faculty, staff, nor civilian — should be subjected to the type of behavior detailed in the article," retired Army Maj. General Cedric Wins wrote in an email to the student body. "The fact that this type of behavior is reported to have come from individuals who have worn the VMI uniform is repugnant."
More than a dozen women at VMI described an atmosphere of hostility at the nation's oldest state-supported military college and an expectation of backlash from male cadets if they reported being groped or raped. Five of the women were sexually assaulted at VMI. And female cadets are targets of constant ridicule on an anonymous, widely used social media app called Jodel, where they are derided as "shedets" or "sheeds." Male students unleashed a torrent of abuse aimed at Kasey Meredith after the school announced she would be the first woman to lead the Corps of Cadets in VMI's 182-year-old history.
The Post's article led to outrage online and consternation within VMI's alumni community. On Twitter, the hashtag #DefundVMI circulated. The school received $19.3 million in state funding for fiscal 2021, along with $33 million toward a new aquatics center.
Del. Mark H. Levine, D-Alexandria, tweeted Monday morning: "If VMI can't rid itself of endemic sexism and racism — and discipline students involved in it — Virginia must defund it entirely."
In an interview on Tuesday, state Sen. Janet D. Howell, D-Fairfax, the chairwoman of the Senate Finance and Appropriations Committee, said the revelations were disturbing and that she is considering whether to support a push to "partially defund" the college.
"My reaction is dismay. I'm embarrassed that this is going on at a Virginia-financed institution," Howell said. "I am thinking about reducing their state support if they don't make rapid changes."
VMI didn't accept women at its Lexington campus until 1997, and only after a Supreme Court decision compelled it to do so. Since then, the college's treatment of women, who make up just 13% of the student body, has come under investigation by the federal Department of Education, and this year by the state of Virginia.
On June 1, the state released an independent investigation ordered by Gov. Ralph Northam, D, that found that VMI fosters a "racist and sexist culture."
Though the state investigation, conducted by the law firm Barnes & Thornburg, credited VMI's "robust" procedures for probing sexual assault complaints, it also found that 14% of female cadets who participated in its survey reported that they'd been sexually assaulted at VMI and another 63% said another cadet had divulged to them they'd been sexually assaulted.
"Many female cadets reported a consistent fear of assault or harassment by their fellow male cadets," the report warned. "Many female cadets also feel that assault complaints are not or will not be taken seriously by the VMI administration or that a cadet will suffer retaliatory consequences for reporting them."
Last week the executive committee of the college's Board of Visitors voted to provide the governor, General Assembly and the State Council of Higher Education for Virginia quarterly reports showing the school's work toward improving "diversity, equity, and inclusion efforts," according to a news release. The first report will be disseminated no later than January and will continue for three years.
Howell said she believes that VMI's Board of Visitors needs more non-alumni members who aren't as devoted to the 182-year-old school's history and traditions. At the moment, the 17-member body includes 12 people who graduated from the college. Only two board members are women: Lara Tyler Chambers, a member of the class of 2003, and Gussie Lord, who graduated in 2001 and was just appointed by Northam.
VMI's culture of misogyny and sex assault also attracted the ire of one federal lawmaker, Rep. Jackie Speier, D-Calif., who has helped spearhead a measure in Congress that would strip military commanders of their authority to choose which acts of sexual assault get prosecuted in military courts.
Speier told The Post that she was "horrified" by The Post's article and that she hopes VMI can conduct annual "climate surveys" to gauge the levels of racism and sexism on campus.
"We have got to do a better job of monitoring these state institutions that are training the next generation of leaders in the military," she said. "If you are tolerant of a toxic environment, the perpetrators take full advantage — and that's what happening at VMI, and it's what's happening in the military."
VMI is the only college among Virginia's public and private nonprofit universities where students can be punished for drug or alcohol violations that come to light in the reporting of a sexual assault. Though the college says it has not punished students in recent memory for reporting or cooperating into the investigation of sexual assaults, VMI's former superintendent, retired Army Gen. J.H. Binford Peay III, still lobbied last year in Richmond for the carve-out.
On Monday, Del. Dan Helmer, D-Fairfax, tweeted his belief that the exemption should be scrapped.
"I'll always support survivors. That's why we passed our bill to ensure we protect those who report sexual assaults on campus. That's why I opposed exempting VMI from it," he tweeted. "And that's why we'll remove that exemption in the next session."
In his email Monday night, Wins tried to reassure students that the school takes the issue of sexual assault and harassment seriously.
"For those cadets who have experienced sexual assault or harassment, VMI is committed to your healing and success," he wrote. "At VMI, one reported rape or sexual assault is one too many. Our job as an institution is to ensure cadets have confidence that their concerns or complaints will be addressed in a timely and compassionate manner without fear of reprisal. This is my commitment to you."