Marine discharged after criticizing handling of Afghanistan withdrawal starts new chapter
By
The Daily News
January 25, 2022
---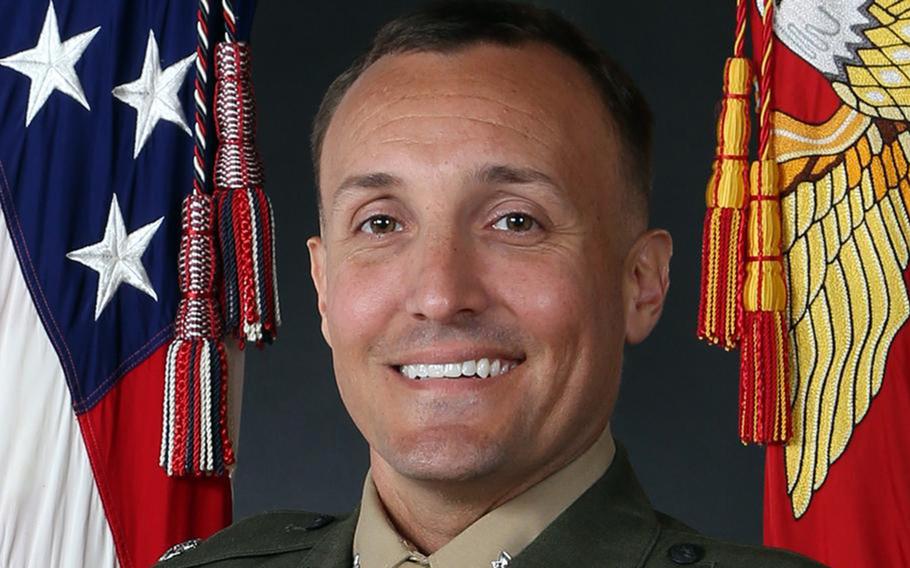 (Tribune News Service) — A year ago, Stuart Scheller fully intended on serving in the Marine Corps for another four or five years.
Now the former Marine officer, who spent years at Camp Lejeune, is on a media tour following a months-long gag order he was under after he publicly decried the U.S. withdrawal from Afghanistan last August.
"There's been a narrative run about me that I didn't have the legal ability to counter," Scheller said in a recent interview with The Daily News. "All along, I felt like what I did was right — I felt like there are ways I could have delivered it better, but it was a very tough and challenging situation for me."
That's why months after legal proceedings prompted by remarks calling out senior leaders over the withdrawal, the former lieutenant colonel still wants accountability.
From platoon commander to battalion commander, Scheller served with six different Camp Lejeune units throughout his nearly two-decade-long career. The Camp Lejeune area is home to Scheller, but the base where he spent most of his adult life was also his place of prosecution.
Scheller's evolution from being a fairly unknown Marine officer to the subject of national news stories began on Aug. 26, 2021.
As U.S. troops were on the ground conducting a non-combatant evacuation operation in the Afghanistan capital of Kabul following the Taliban's takeover, 13 U.S. service members — 11 Marines, a Navy corpsman and a soldier — were killed in an attack at the airport, among them Sgt. Nicole Gee of Camp Lejeune.
After the attack, Scheller recorded and later posted a video of him in uniform speaking about the incident and blasting military leadership over the debacle, primarily calling for accountability over the withdrawal.
"People are upset because their senior leaders let them down and no one is raising their hands and accepting accountability, saying we messed this up," Scheller said in the video.
The following day, he was relieved of his command of the Advanced Infantry Training Battalion at Camp Geiger. Two days later, he published another emotion-filled video in which he resigned his commission and stated "follow me and we will bring down the whole ... system."
Scheller continued posting, and on Sept. 27 was placed in pretrial confinement at Camp Lejeune, where he spent nine days.
On Oct. 4, Scheller was charged with violating six articles of the Uniform Code of Military Justice, to which he pleaded guilty the following week before being sentenced to a reprimand and $5,000 fine.
In an unsworn court statement, Scheller acknowledged his actions were "potentially damaging to the Marine Corps' reputation" but said that he "felt the conversation and need for change outweighed the potential negative bad press."
"I did what I did because I thought it was in the best long-term interest of the Marine Corps," Scheller told the judge during his court martial, which included defense testimonies from members of Congress and comrades. "I have always wanted to make the Marine Corps better. Not damage the Marine Corps."
In late December, Scheller was officially separated from the Marine Corps by general discharge under honorable conditions.
"I felt like I needed to accept accountability," Scheller said of the guilty plea. "I feel like I broke some rules (but) I don't think everything in that charge sheet was legit."
As he ponders his next moves, Scheller has already done interviews with TV personalities Lou Dobbs, Tucker Carlson and Megyn Kelly. Scheller said he now has the ability to speak his side and bring Afghanistan, an issue he feels the media had forgotten about, back into focus.
"I got painted as like a violent extremist, far-right wing extremist, and that's not me at all," Scheller said. "I am conservative, but I am like somewhere in the center — I think the extremes on both parties are what is ripping the country apart."
Now as a civilian, Scheller said he plans "to influence the election cycle with candidates" he believes "have the leadership qualities to make a difference."
Scheller has also launched an official website — AuthenticAmericans.com — with a discussion forum and is releasing a book titled "Crisis of Command: How We Lost Trust and Confidence in America's Generals and Politicians."
"That website is meant to be a place where we can have healthy dialogue and not have people attacking each other," Scheller said. "It's a place where they can donate to the Disabled Veterans' PAC, which I have partnered with to fund candidates that we think have the leadership skills to go and fight for some of the things that I'm talking about."
Two candidates Scheller has publicly endorsed so far are former Navy SEAL Latham Saddler, a Senate candidate from Georgia, and Jay Collins, a retired Green Beret seeking to represent Florida's 14th Congressional District.
Scheller intends to make an impact on the political side of things, but he hasn't given up on the key issue that led to his recognition — the demand for accountability from military leaders over shortcomings in the Afghanistan withdrawal.
"The whole point of this was to address failures and accountability, and we haven't received those yet," Scheller said. "My mission is to make sure that the American people understand where the breakdowns were, because the military is not addressing them.
"The bottom line is I am invested in America and I want to see America succeed, and I think it takes leadership to do that, so I can't just sit on the sideline and not do anything. I've spent my whole life devoted to this cause of America and democracy, and I am going to continue fighting for it."
(c)2022 The Daily News (Jacksonville, N.C.)
Visit The Daily News (Jacksonville, N.C.) at www.jdnews.com
Distributed by Tribune Content Agency, LLC.
---
---
---
---