Settling in: Afghan refugees discuss life since arriving in Kentucky
by
Christie Netherton
Messenger-Inquirer
January 6, 2022
OWENSBORO, Ky. (Tribune News Service) — Afghan refugees who have settled in Owensboro, Ky., continue to face challenges as they adapt to a new culture, but many have felt welcomed and have received assistance throughout the process.
The biggest hurdles are housing availability and receiving documentation, as there is a language barrier that exists for many of the refugees and parolees, according to Khaibar Shafaq, who assists in translation for other refugees.
Ahmad Bilal Badaan was evacuated from Afghanistan on Aug. 27, following the attack on the Kabul airport.
Badaan is settled in a house in Owensboro with his wife and four children. Getting settled was not necessarily easy, he said, but he and his family received lots of help from the International Center and other community volunteers.
After spending about two-and-a-half months on a military base in Wisconsin following his evacuation, Badaan and his family were transported to Owensboro.
He said he had no idea where Owensboro even was, but he has since come to love it, along with the rest of his family.
"We were all in the bases, and they were asking where were our ties — where do you have friends and relatives living in the United States?" Shafaq translated for Badaan. "His relatives were living in Colorado and Virginia and also Seattle, so these two places he gave his ties, but he didn't know where he was going. He was expecting he might be shipped to one of these locations because he gave the tie and addresses of the people that he knows, but the weather got cold, and they came to him and said, 'you're moving to Kentucky, Owensboro.'"
Although the family was originally apprehensive about the location, Badaan said settling in Owensboro has been a positive change for his family.
"Once we came here, we saw the people are very nice, they treat us well and helped us a lot, they welcomed us, they took care of myself and my family members," he said through Shafaq. "Now my family members are calling me asking, 'when are you coming,' 'are you going to stay here,' and I told them 'no, I'm going to stay (in Owensboro).' If they want to come here, they are most welcome, but I'm staying."
Badaan said his four children are also enrolled in school and happy. He said they have already started making new friends and the community has embraced him and his family.
While Badaan and his family have managed to get proper documentation in order to receive housing, find jobs and open a bank account, he said the process, in general, tends to be slow for many others who may not have the same assistance he has had access to along the way.
Many of his coworkers who were transported to other countries throughout Europe, he said, have already received their necessary documents. However, many he knows in the U.S. are having difficulties.
"This is something he's a little bit worried about, and he's trying to request if the U.S. government can ease this process and provide the documents so they can be free to move and to work freely in any places," Shafaq said.
The International Center in Owensboro has been a tremendous help in making sure refugees arriving in the city are able to get the documentation they need, according to Badaan, which he said he is grateful for.
"We are safe; the family is safe; the kids are going to the school — they are happy. We have a house here; if we would have stayed in the country, our lives and the family life would have been in danger," he said. "The 15th the country collapsed, the 17th, they came to my house looking for me and threatened the whole family — everyone was scared. The U.S. government has brought us into a safe haven."
Badaan is currently studying to take a driving test and get his license and said the process here is "moving very well."
Kanishka Safi has resided in a hotel in Owensboro since arriving about a month ago.
He said while he is happy to be here, it is difficult to not have access to housing for many.
"More than 170 people staying in the hotel and finding shelter is a difficult time," he said. "Many people are not willing to give houses for the Afghanistan refugee who doesn't have any credit here, and we are new here, so they are not willing to rent a house. This is one of the big, challenging problems here."
Jobs, he said, are also difficult to find.
Safi said, however, that the International Center and other volunteers in the community have been working hard to help with the process and get refugees and parolees anything they might need, including food, clothing, a place to sleep, transportation and medical appointments.
"(It) is a special time for everyone, and we are getting a warm welcoming here, and we are thankful for that. They help us a lot," he said.
Muhammad Sabir, who arrived in Owensboro without family, has also been resettled into a home with another refugee who arrived alone.
Sabir arrived in Owensboro after spending 76 days in a military base in Virginia. He then spent more than a month at a hotel before being settled into a home.
He said he is happy to have a home and all his essential needs and is excited to start his life here.
Sabir said he and his housemate are working on getting some household items and have already started making friends in Owensboro, both locals and other refugees, even inviting them to their home at times.
He said he looks forward to meeting even more people and getting acclimated in Owensboro.
"We are happy," he said through the assistance of Shafaq. "It's the beginning of the new life."
cnetherton@messenger-inquirer.com
(c)2022 the Messenger-Inquirer (Owensboro, Ky.)
Visit the Messenger-Inquirer (Owensboro, Ky.) at www.messenger-inquirer.com
Distributed by Tribune Content Agency, LLC.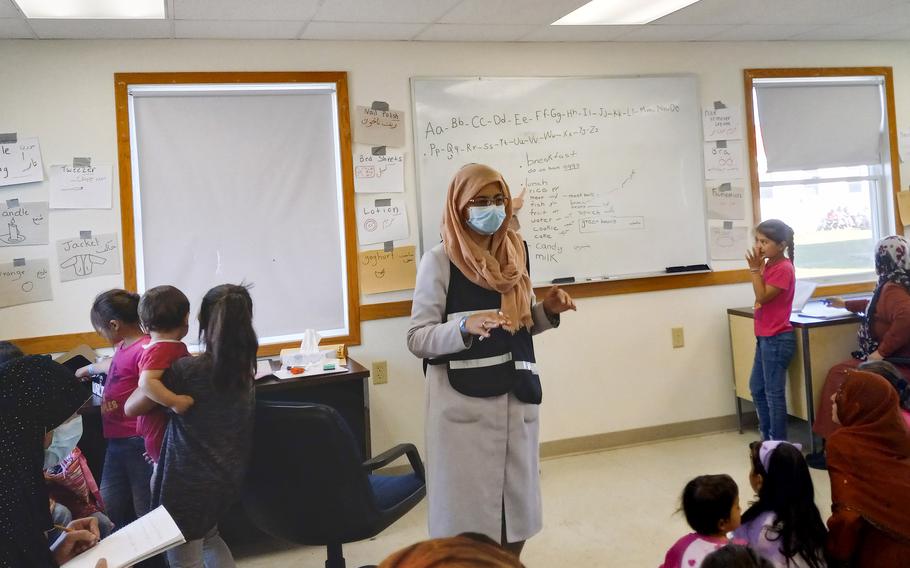 ---
---
---
---