Finding home: Volunteers racing to secure housing in Maryland city for Afghan refugees
by
Jillian Atelsek
The Frederick News-Post
January 5, 2022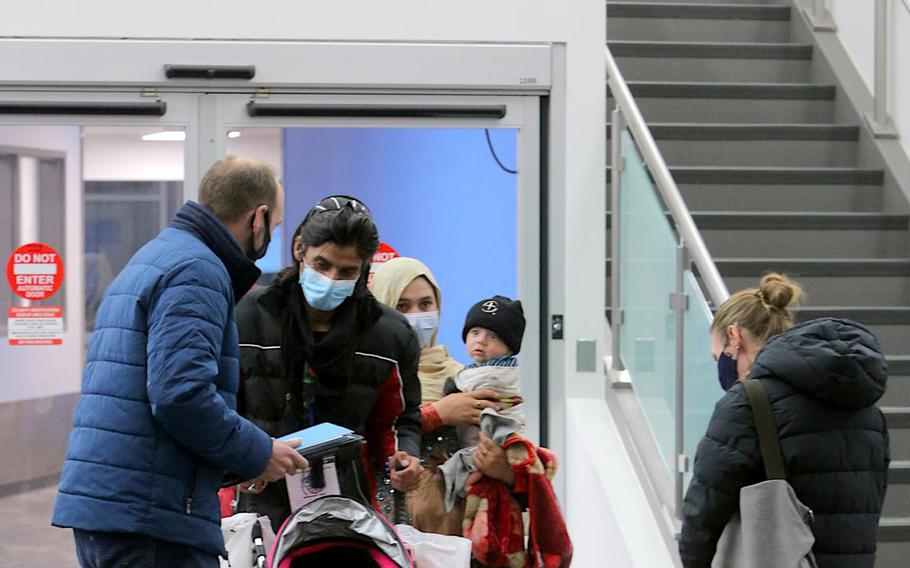 FREDERICK, Md. (Tribune News Service) — It was a Sunday, Shogofa Sojjani remembers easily. Aug. 15, 2021. She was at home in Kabul.
Then the message came in from the U.S. Embassy: The Afghan government had collapsed, the Taliban had taken control, and Sojjani needed to get to the airport immediately. So she fled, alone, navigating streets lined with armed soldiers and carrying just a few items of clothing.
Born and raised in the Jowzjan Province of northern Afghanistan, Sojjani had studied biology in university before taking a job as a translator for the Americans in 2016. She couldn't carry any identifying items with her that day, let alone her educational or professional certificates — if she'd been stopped and searched, she explained simply, she would have been shot.
After 10 days at the Kabul airport and more than three months at a refugee camp in New Mexico, Sojjani settled in an apartment in downtown Frederick. Drawn to western Maryland by a cousin in Hagerstown, she's since taken a community health job with the Asian American Center of Frederick.
"I'm here," she said Tuesday afternoon, smiling warmly even after recounting the terror that had gripped her on that summer day and in the lonely months that followed. "And I'm alive."
About 100 more Afghan refugees who are still camped out on military bases across the U.S. will be settling in Frederick before the end of February, said Matthew Carr, a manager for the nonprofit resettlement agency Lutheran Social Services of the National Capital Area (LSSNCA).
Like Sojjani, they'll need shelter and jobs and community support. Locals have taken up the charge, collecting furniture, organizing cultural programs and volunteering to help the new arrivals navigate everything from getting a drivers' license to enrolling their children in public school.
But one area is proving to be the most difficult: Securing permanent housing.
"It's going very slowly," said Betsy Bainbridge, who helped form the Resettlement Welcoming Committee (RWC), a coalition of faith groups and nonprofits in the Frederick region. "The housing situation is tight and expensive in Frederick."
Many landlords are reluctant to rent to recently settled refugees, Bainbridge and Carr said, even when they're backed by aid groups that will ensure they make rent. The new residents need time to find a job and receive a pay stub they can present to a property owner. They may lack a government-issued ID. Most of them don't speak fluent English.
"It requires the landlords to understand their situation and to anticipate that they will be good clients," Bainbridge said.
Later this month, the LSSNCA will open its first office in Frederick County, Carr said. The group has had one in nearby Prince George's County for nearly 20 years. In that time, resettlement managers have built relationships with landlords and apartment complex owners in the area — meaning that when they need to find housing for a family, they know where to turn.
But that's not the case in Frederick.
"We're kind of starting from the ground floor here," Carr said. "We don't have a lot of these resources."
The incoming refugees are scattered across the country right now, finishing their paperwork and vaccinations at camps on U.S. military bases, Carr said. Some are coming to Frederick because they have a close friend or relative nearby, like Sojjani did. Others are simply placed wherever there is room: Each state and each major resettlement agency has a set capacity.
Carr and his coworkers are cold-calling property managers around the county, explaining their cause and asking if they'd consider housing a refugee family. He tells them that the LSSNCA can guarantee at least eight months of their rent.
Still, at the rate they're going, the group will likely have to move families into hotels or Airbnbs at first, Carr said.
"Because this is sort of a crisis at the time — because we have so many people to move in a short period of time — we're utilizing temporary housing," Carr said. "But ideally, we'd be able to get permanent housing right away, have it fully set up by the time of their release date."
When Sojjani arrived in Maryland, she stayed with her cousin in Hagerstown for about two weeks before moving into her Frederick apartment. She shares the home with a family of three — one member of which was a coworker of hers back in Kabul. The four of them are the only recently settled Afghan refugees in the Frederick area so far, RWC volunteers said.
Sojjani is grateful for her housemates' companionship and to have found a network of people who care for her. It helps her not miss her family so much. Her mother and two sisters are still in Kabul.
Under Taliban rule, they're not allowed to serve in most public sector jobs or attend secondary schooling. They can't travel long distances without a close male relative — which they don't have.
Sojjani thinks of them sometimes when, after work, she finds her apartment temporarily vacant. Each time, she feels alone, and each time, it's painful.
Plus, she's struggled with adjusting to life in a country she had never even set foot in before August. Afghanistan was the only home she'd ever known.
"It's a different culture, different people," she said. "Everything is new for me here."
Wais Insaaf, a member of the RWC and secretary of the Islamic Society of Frederick, said he hopes to focus his volunteer efforts on helping Afghan refugees find cultural comforts once they arrive. Since many of them will be Muslim, he'll make sure they know where the local mosque is and when they can expect to attend services. He'll help them prepare meals and find groceries that are familiar to them.
The RWC and the LSSNCA will also help the new arrivals enroll in English classes, search for jobs, schedule medical appointments and take advantage of local resources like public libraries and the YMCA.
Originally from Afghanistan himself, Insaaf came to the U.S. as a teenager. As he works to prepare for the refugees' arrival, he said — like the other volunteers — that housing was the biggest worry on his mind.
"I think we need a lot of help," Insaaf said. "A lot."
Rentals within the city of Frederick — especially ones close to downtown — are often prohibitively expensive, Insaaf said. The refugees could find cheaper prices in the county's more rural areas, but that wouldn't be feasible for people who would likely rely on walking or taking public transportation to get groceries or travel to work.
"If you put them somewhere in the boonies, what are they going to do?" Insaaf said. "They don't have anything. They don't have cars."
Rebecca Shillingburg and Mehra Blott, two other RWC community volunteers, said helping welcome the refugees was a deeply personal cause to each of them.
Shillingburg's son was in the U.S. Special Forces, she said, and served in Afghanistan three times. Without the work of interpreters and other Afghans on the ground, he wouldn't have been able to do his job safely.
And as a woman, she said, she feels an extra obligation to help those who have been forced to flee for fighting against the Taliban's oppressively misogynistic regime.
Blott, who can speak Farsi, said she's been able to meet Sojjani and her three housemates. Since then, she's become even more determined to rally the community around them and the incoming refugees.
"They're really interested in working and getting back on their feet and becoming part of the community," Blott said. "They're a great group of people."
(c)2022 The Frederick News-Post (Frederick, Md.)
Visit The Frederick News-Post (Frederick, Md.) at www.fredericknewspost.com
Distributed by Tribune Content Agency, LLC.
---
---
---
---