After Surfside collapse, a push not just for more high-rise inspections but smarter ones
by
Andres Viglucci
McClatchy Washington Bureau
December 31, 2021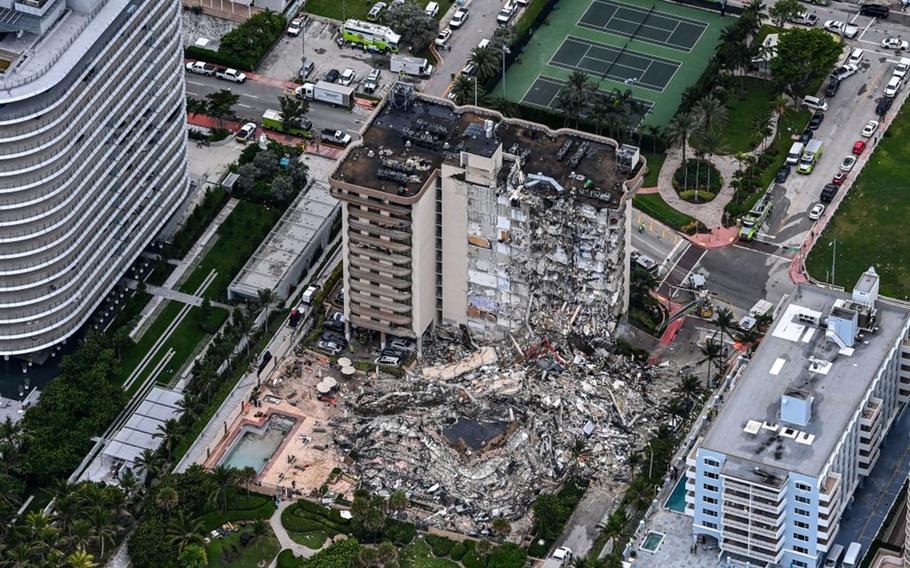 (Tribune News Service) — In 2008, the Florida Legislature approved a strict and forward-looking inspection regime for the state's aging stock of high-rise condos: To uncover defects or deterioration that might threaten their safety and structural integrity, buildings taller than 50 feet would need to be inspected every five years.
The rule didn't last long.
Two years later, amid a concerted pushback from condo lawyers and property managers, the same body did a 180. The Legislature repealed the new requirement, citing a need for "cost savings" for condo associations and unit owners reluctant to pay for inspections and any resulting repairs.
Now, after the sudden collapse of the Champlain Towers South condo in Surfside, the rules governing maintenance of high-rise condos across Florida are again under scrutiny, and potentially in for a significant overhaul. The requirement for regular inspections that was shelved 11 years ago is back on the table — along with a slew of other rigorous, and potentially costly, measures designed to come as close as possible to preventing another catastrophe like Champlain Towers.
The proposals touch on everything from quality and frequency of high-rise condo inspections to how associations pay for repairs, and come from a wide range of sources, including the Florida Bar, professional engineering organizations, Miami-Dade County, the Miami-Dade Grand Jury and the Community Associations Institute, a national nonprofit that advocates for homeowners' groups.
The proposals indicate one area of broad consensus: that more inspections are an essential step. But some structural engineers interviewed by the Miami Herald, including one who has worked as the Herald's consultant since the collapse, said more sophisticated and detailed inspections, not just more frequent ones, are needed.
Champlain South had undergone multiple inspections in the years leading up to the collapse as part of a review process required in South Florida to recertify the safety of 40-year-old buildings. But it's not clear that the renovations required for recertification would have prevented the collapse, even if they had been done sooner, these engineers noted.
"Just inspecting more often is not enough," said Dawn Lehman, the Herald consultant.
Enacting wide-ranging reform would require bold action from the Florida Legislature, a body where an army of condo lawyers and lobbyists have long managed to fend off any new mandates that could increase costs or lay out specific actions for repairs and maintenance by associations and unit owners.
Virtually all the publicly released analyses describe a laissez-faire state regulatory scheme predicated on maintaining "affordability" by keeping costs low for condo owners. Florida's condo law broadly requires upkeep and maintenance but sets out few if any standards.
According to a lengthy report by an expert task force organized by the Florida Bar, state law sets out no requirements for high-rise condo inspections and no guidance or requirements for associations on how or when to undertake maintenance and repairs. Its requirements for keeping cash at hand to cover those costs, meanwhile, are easily and legally skirted. Those conclusions are echoed in reports by the associations institute, engineering groups and the Miami-Dade Grand Jury.
Moreover, neither condo boards that discover serious problems in their buildings, or their engineering consultants have any obligation to notify local authorities when they do so, numerous reports say.
"In residential condos, none of that exists," noted Bill Sklar, a West Palm Beach condo attorney who chaired the Florida Bar task force, referring to inspection and repair protocols. "There should be a maintenance standard. There is none. It's left to chance, and it should not be."
To address the glaring loopholes, reports from the Bar group and others call for reforms that include regular mandated inspections of critical building elements, strict reporting requirements, stronger qualifications for inspectors and significantly tightened rules on reserves to ensure basic maintenance costs can be covered. Some also call for full disclosure of building conditions and expected maintenance costs to prospective buyers.
The Bar report and others also outline proposals for financial assistance for unit owners and associations financially unable to meet the costs of inspections and repairs. Those include tapping into existing state and federal housing-assistance programs and making it easier for associations to receive low-cost financing for repairs.
The Bar report says that establishing clear and uniform rules and protocols for associations to follow, and providing aid to owners who can't afford a hike in maintenance fees or assessments, would make the job of condo boards easier by solving a longstanding issue — the "inherent conflict" facing board members obligated to properly maintain buildings while also pleasing unit owners who elect them and who may be resistant to carrying the costs.
Such conflicts may have played a part in the Surfside collapse. Amid disputes over money and rapidly worsening structural deterioration, the condo's board put off work under a 40-year recertification requirement by Miami-Dade County, one of only a few local authorities in Florida that mandate condo inspections. (Broward County has its own 40-year inspection program and the city of Boca Raton approved a 30-year recertification program after the Surfside calamity.)
Whether any of the proposed statewide reforms will become law after the legislature convenes January 11 is still unclear. No bills had been filed as of late December. Sklar, the Bar task force chair, said legislative leaders have assigned the task of writing bills to members, though he added he doesn't know details. He did say he believes there is support for reforms.
The associations institute, which represents thousands of condo association members, unit owners, real estate agents, managers and others in the industry, included a follow-up survey in its report that shows near-overwhelming support for its proposed reforms among its membership.
That doesn't mean that a legislative session expected to focus on decennial redistricting and various culture-war measures in an election year will have time or appetite to tackle complex condo-law reform.
Miami-Dade Commissioner Raquel Regalado, who has been leading a special committee that's endorsed moving up the county's 40-year-recertification time frame to 30 years and tightening inspections standards, is skeptical.
"I don't see that flying in an election year," she said. "There's not statewide interest because there is still a belief this is a Miami-Dade problem. What I've heard is, 'Don't bring your Miami-Dade problems to us.' "
'The bare minimum'
If even some proposed reform measures are enacted, though, it could amount to the most consequential makeover of condo regulations in decades, with repercussions for millions of Floridians.
Mandated inspections and disclosure could provide building officials across the state a clear picture of overall condo conditions for the first time. According to widely quoted data, the state has about 1.5 million condo units, 60% of which — or some 912,000 units with an estimated two million occupants — are older than 30 years.
Sklar and others said there is sufficient evidence beyond the possibly unique Champlain Towers South collapse of extensive deterioration and postponed maintenance at other high-rise condos to raise real concerns. In Miami-Dade, inspections ordered at older condos across the county after Surfside led to several residential high-rises being ordered vacated.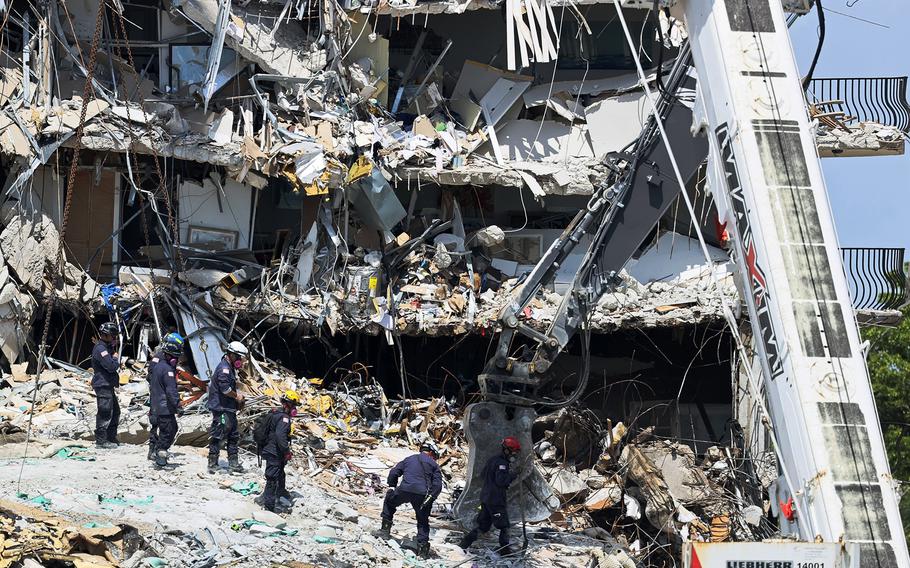 The Bar report, based on numerous public meetings with a broad cross-section of experts, including condo industry figures, managers, lawyers and engineers, recommends starting a baseline program of inspections at every Florida condo by the end of 2024, then instituting a regimen of recurring inspections every five years thereafter. Other groups recommend longer time spans between inspections.
The Bar endorsed mandated inspections every five years, with clear protocols written into law for conducting the reviews. The associations institute, based in Virginia, recommends a baseline inspection for condos at 10 years of age, a second at 20 years, and reinspections every five years after that — with inspection standards based on published protocols from the American Society of Civil Engineers, whose guidelines are widely used around the country.
The Miami-Dade Grand Jury, in a report issued Dec. 15, recommended that all buildings older than 10 years be inspected now, then again every 10 years. New buildings would be inspected 10 to 15 years after completion, then every 10 years after that.
The state's engineering associations, in a joint report, called on Florida to require that nearly all large buildings be inspected for structural issues within their first 30 years, with follow-ups every 10 years. The initial inspection timeline would be significantly shorter — at 20 years — for buildings within three miles of saltwater, which exposes concrete and structural steel to high risks of corrosion.
Allen Douglas, executive director of the Florida Engineering Society and the American Council of Engineering Companies of Florida, called the inspection requirement "the bare minimum of what you should do."
But it's not only the frequency of inspections that should change, the joint report said. It's also the quality and depth of testing and maintenance.
The report prescribes a two-phase approach to recertification — starting with visual observations, which are already required under Miami-Dade's approach, but followed by mandatory further testing if the inspector deems there are "signs of structural distress" like "excessive" concrete cracking or spalling, corrosion of steel, or settlement of the foundation.
Testing isn't currently required. The county's 40-year recertification guidelines note that "visual examination will, in most cases, be considered adequate when executed systematically." The engineering groups' report doesn't specify what type of testing should be performed, instead giving inspectors latitude to decide.
"As experienced structural engineers, we know that every single property is different, and what may be required for one may not be required for another," said Joel Figueroa-Vallines, an Orlando-based structural engineer who was part of the engineers' working group.
At Champlain Towers South, experts who spoke to the Herald noted that even if the condo board had moved faster to make the costly repairs recommended by its consulting engineer, it isn't clear that they would have addressed the building's most dangerous faults. That's because a combination of design flaws and structural deterioration that may have contributed to the collapse were hidden from plain view and would not likely have been detected in a routine inspection.
Available records suggest the proposed repairs would not, for example, have strengthened a key connection between the pool deck and the building's southern perimeter wall. A computer model of the collapse created by Lehman, which factored in eyewitness accounts collected by Miami Herald journalists, showed the disaster likely began when corroded steel reinforcement at the southern wall snapped.
Lehman, an engineering professor at the University of Washington, has consulted with the Herald since shortly after the collapse of the tower. The National Institute of Standards and Technology, which will ultimately issue a report on the official causes of the collapse and make recommendations, asked Lehman to present her findings this past month, which she did.
The damage at Champlain South perhaps could have been better understood with inspection methods that go beyond visual observation, experts told the Herald — such as ground-penetrating radar to scan for proper placement of steel rebar, or a method known as half-cell potential measurements to assess the extent of steel corrosion in a slab.
"Human intervention may not be enough," said Khalid Mosalam, professor of Civil Engineering at UC Berkeley and an expert in fracture and damage mechanics. When older, brittle, concrete structures like Champlain South collapse, the failure tends to be rapid and largely without warning — at least not the kind of warning that would be detectable by human senses.
"We need more monitoring and instrumentation systems," Mosalam said. "We don't trust our homes with our noses. We have to put up fire alarms and carbon monoxide monitors. Building movement and vibrations and deflections is the same thing,"
Monitors would protect human life while the engineering and research catches up, he said.
Much of modern structural engineering focuses on buildings' behavior during earthquakes. Less is known about the specific behavior of structures by the ocean — despite that being one of the harshest environments on earth, Mosalam said.
"Environmental impact of older buildings is more of a ticking bomb and unless we listen carefully we're going to see this happen without much warning," he said.
Abieyuwa Aghayere, a structural engineering professor at Drexel University in Philadelphia, said the recertification process should also include a review of a building's original design, a step the current Miami-Dade guidelines say there's "little need" for because "it is obvious that this has been 'time tested' if still offering satisfactory performance."
The Champlain South collapse belies that assumption. After the collapse, Aghayere and other engineers found that many of the tower's columns and its pool deck slab weren't designed to code.
"The fact that a structure has been standing for 40 years does not necessarily guarantee that the original design is adequate," Aghayere said.
Who pays?
Most of the post-Surfside reports also go beyond the need for improved inspections to tackle how condo associations finance repairs. One overriding concern is overhauling of current rules for establishing condo repair reserve funds that the Bar's Sklar calls "paltry."
Current Florida condo law does require condo associations to develop a schedule of reserves set aside for repair and replacement of major building components, but it provides no guidelines or requirements as to what's appropriate, leaving that up to the full discretion of condo boards. In addition, condo associations can waive the need for reserves with a vote of a majority of unit owners present at a meeting — not even the full ownership.
That waiver threshold is too low, most of the reports conclude. It means that many condos simply waive the need for reserves, then have trouble raising the money when the need for repairs arises, so that work is done on the cheap or put off. That leads to cascading issues and costs, the associations institute said in its report.
"The greater issue with deferred maintenance is that it only grows in scope — and cost — the longer it is deferred, resulting in 30 times the cost to repair versus keeping up with routine maintenance," the Community Associations Institute report says.
That same sort of progression may have hit Champlain Towers South. After postponing major repairs amid bickering over costs, owners and the association were hit by a $15 million bill and massive individual special assessments to obtain its 40-year recertification. A portion of the 12-story tower collapsed as repair work was under way. A Miami Herald analysis found design defects, poor construction, and water intrusion and deferred concrete and structural repairs may have combined to contribute to and worsen the building's abrupt failure.
Some of the reports recommend doing away with the waiver of reserves entirely, while others, like the Bar, want to require firm guidelines for determining the amount of cash reserves needed.
The Bar report goes further: It recommends that the legislature give condo boards the power to approve assessments or seek bank loans to make urgently needed repairs without waiting for a vote of unit owners.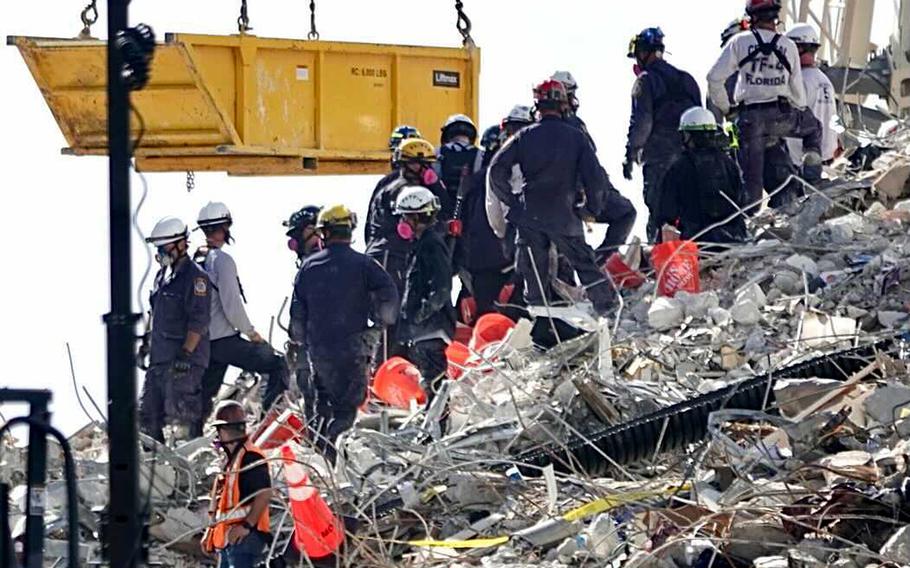 All the proposals will cost money — cash that's likely to come out of condo owners' pockets. Even a basic inspection can run to thousands of dollars, and concrete and structural repair bills for even well-maintained but aging buildings can strain condo owners' household budgets. That often leads to resistance from unit owners and conflicts between associations and professional condo managers responsible for ensuring proper maintenance and repairs are carried out.
"Residents don't want to pay the money," said Nick Mikhailitchenko, a property manager for residential and commercial buildings in Florida. "I've seen boards go head-on with legal teams to stop structural repairs."
Mikhailitchenko says property managers are in a difficult position. Those who push for major repairs against a condo board's wishes could lose their jobs. He says any new legislation should include protections for them.
"The manager should be able to notify the city of issues without jeopardizing their salary and livelihood," he said.
Mikhailitchenko says he got so fed up with trying to convince residents of deteriorating waterfront condos in Miami Beach to make repairs that he moved to Orlando.
"There's no future in Miami with the current messed-up system," he said.
One of the most prominent opponents of condo-law reform has been Fort Lauderdale-based Becker, a law firm that represented Champlain South, said Fred O'Neal, a Central Florida attorney who represents homeowners.
"They are very good at what they do, they should never be underestimated, and they will do whatever it takes within the bounds of law and ethics to further the interests of their clients," O'Neal said. "I think sometimes they are so intent on furthering the interests of their clients, they fail to see the bigger picture."
Val Lucier, who served as the election monitor for the state's condo ombudsman under former Gov. Jeb Bush, said Becker was a powerful adversary.
"Every time they had a chance, they would find a way to block change," Lucier said.
A spokeswoman for Becker (formerly known as Becker & Poliakoff) countered that the firm supports the reforms proposed by the Florida Bar.
"Becker fully endorses the [Bar's] reform recommendations," said Doreen Fiorelli, the spokeswoman. "Our firm's Joe Adams was part of the expert task force which met extensively to determine what changes to law could prevent or minimize future tragedies. ... Becker believes in thoughtful legislation that improves the safety of buildings and provides clear, common-sense guidelines for its application."
The concern over the inability of some condo owners to cover the cost of regular inspections or extensive repairs is valid, said David Haber, a veteran Miami condo-law attorney, so any strengthened requirements must be accompanied by measures to ease the financial burden.
Often, the oldest buildings in most urgent need of repair are the ones with less in reserves and fewer residents able to pay. The typical short-term bank loan for condo repairs can mean steep payments for unit owners, he noted.
"When you're dealing with fixed-income people who bought a condo unit that's now worth $350,000, and you tell them they need to pay $75,000 for a special assessment, the chances of them being able to pay that are typically very low," Haber said.
Haber suggested lawmakers find a way to guarantee loans that would provide incentives to banks to extend payout periods from the standard three-to-seven-year period out to 15-year chunks.
"You'll need some kind of program to make it more feasible for the owners to pay," Haber said.
No simple endeavor
Other proposals take aim at the qualifications of the professionals who would conduct the additional inspections.
Current law allows architects and engineers of any type to conduct condo inspections. The Miami-Dade Grand Jury recommended no longer allowing architects to do inspections, saying they lack the necessary expertise. Some argue only experienced structural engineers should be inspecting high-rise structures.
"Testing is important, but the problem is, if it's not done by the right person or interpreted by the right party, testing is really not going to do much," said Figueroa-Vallines, the Orlando-based structural engineer. "If you haven't designed one of these buildings as a structural engineer, you're not going to know where the weaknesses are, you're not going to know where the failure points could be."
Even reform backers warn that instituting a new inspection regime across the state would be no simple endeavor.
Sklar noted that the Bar task force was told there is a potential shortage of structural engineers to meet increased demand for inspections, with only 650 current Florida practitioners having passed a rigorous state exam.
Beefing up the inspection requirements could have other consequences. For one thing, it could lead to a years-long backlog for inspections if every high-rise condo is to be inspected and repair plans reviewed and approved at local building departments. Miami-Dade already has a backlog of overdue 40-year recertifications that stretches for years.
Still, the one change that does seem almost certain to happen is that Miami-Dade will move up the time frame for recertification from the current 40 years to 30 after a building's construction. That's one of a slate of proposed changes to the 45-year-old program that emerged from public hearings conducted by a special committee led by Regalado after Surfside. The changes are now being formalized in a report expected to go for a vote before the full commission in January, she said.
Regalado noted that no matter what the state or the county decide, more frequent inspections of condos is already happening because some insurers are now requiring regular engineering reviews as a condition of renewing policies.
"You can't have so many inspections that it's prohibitive for owners," Regalado said. "You also want to be careful. You don't want to tell people a building is safe until it's 30 or 40 years old. ... It could have defects from the very beginning.
"But as the market demands more of these inspections, poorer people will have less access to condos. That eliminates the condo as an entry-level option for homeownership for a lot of people."
The contemplated county measures would give condo associations more time to gear up for recertification by mailing associations a series of three reminders two years before it's due, in contrast to the current 90 days. The new rules could also require inspections of building elements be conducted by structural engineers; current standards allow architects and non-structural engineers to do so. Inspecting engineers would also for the first time be legally obligated to share reports with local building authorities.
Under those proposed rules, a condo association could still ask for extensions on inspections and repairs, as is allowed now, but would have to issue an affidavit by a structural engineer that the building is safe to occupy, said Sergio Ascunce, deputy building official for Miami-Dade.
"We want to know is nothing imminent going on with this building," Ascunce said.
The county is also looking to strengthen requirements for the condo structural inspections to include what Ascunce called a "more holistic" approach that includes not just key support elements but also foundation elements to look for excessive settlement, as well as the full building envelope, retaining walls and seawalls.
As the recertification deadline is moved up, Ascunce said, the county will simultaneously increase its corps of inspectors, engineers and plan reviewers to cope with what he expects to be a flood of additional work.
"We're going to see a big influx of certifications come in," he said.
But Ascunce also had some reassurances for owners of condos built after codes were strengthened and reviews of building plans significantly improved after Hurricane Andrew in 1992.
The codes themselves are also much stronger, Ascunce said. And associated reforms have made it much harder for structural design defects, such as those that may have existed out of sight for decades at Champlain Towers South, to go undetected when plans are reviewed. After Andrew, the county became the only authority in the state to require that experienced structural engineers review new building and repair plans — not just at the county building departments, but also at municipal offices.
Steve Rosenthal, who survived the Champlain South collapse, says the lesson is clear: Condo owners need to open up their wallets and invest in their homes. And legislators need to take action. Even if the monetary cost is high, he said, it's the responsible thing to do.
"These 98 people," he said, "don't need to have died in vain."
Miami Herald staff writers Aaron Leibowitz, Nicholas Nehamas, Sarah Blaskey and Ben Conarck contributed to this report.
©2021 McClatchy Washington Bureau.
Visit mcclatchydc.com.
Distributed by Tribune Content Agency, LLC.
---
---
---
---