Republicans send support for troops fighting vaccine mandate 
by
Nikki Wentling
Stars and Stripes
December 20, 2021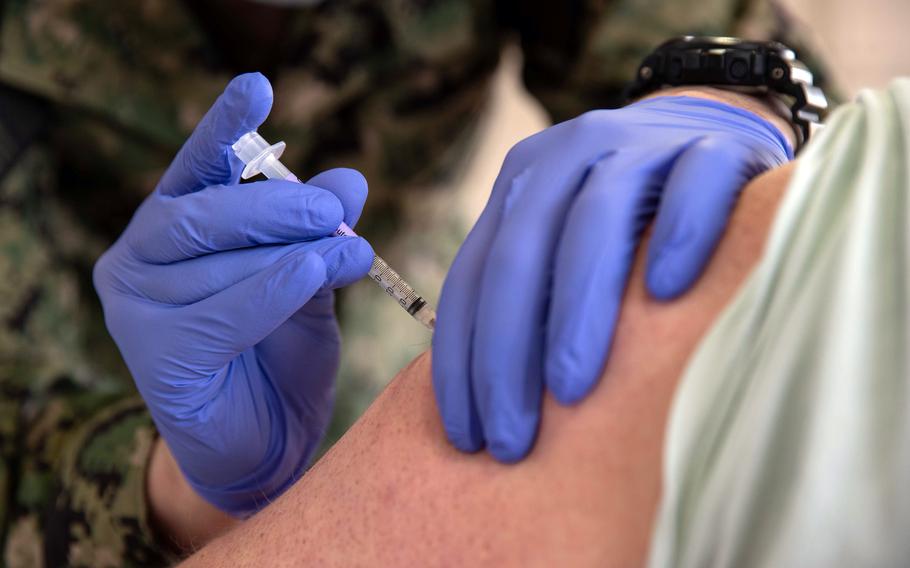 WASHINGTON — Forty-seven congressional Republicans filed a letter of support Friday for a lawsuit in which enlisted service members claim President Joe Biden's administration is infringing on their religious rights by refusing to grant exemptions to the COVID-19 vaccine mandate.  
Twenty-six Navy SEALs and nine other special operations sailors asked a federal court in November to shield them from the Pentagon's mandate. A hearing on the issue began Monday in the U.S. District Court's Northern Texas division.  
Ahead of the hearing, nine senators and 38 members of the House of Representatives filed an amicus brief, arguing that there must be "realistically obtainable" religious exemptions to the vaccine mandate. As of Monday, more than 12,000 service members were seeking religious exemptions, and none had been successful.  
The Republicans argued that exceptions should be made for service members with sincere religious objections because the mandate has been waived for some other troops, including those with medical conditions that interfere with vaccination.  
"The Navy … has already admitted that not every single person must be vaccinated, because it exempted from the vaccine mandate individuals with medical issues," their brief states. "Since accommodations can be made for these individuals, there is no compelling interest in forcing plaintiffs and other individuals with sincere religious objections to violate their core beliefs by receiving the vaccine."  
The brief was led by Sens. Ted Cruz, R-Texas; Jim Inhofe, R-Okla.; and Roger Marshall, R-Kan. The three senators sponsored a measure that aims to prevent the military from giving dishonorable discharges to service members who refuse to be vaccinated. The amendment made it into the annual defense bill that Congress approved last week. Biden is expected to sign the legislation. 
The lawsuit was filed on behalf of the sailors by the First Liberty Institute, a Christian conservative legal group based in Texas. The suit claims the sailors have different reasons for believing the vaccines violate their religious beliefs — among them that they believe taking it would cause them to "participate in the abortion enterprise" or the immune response that the vaccines produce do so in "a manner not designed by God." 
"Multiple plaintiffs hold to the sincere religious belief that, upon seeking guidance from God as to whether to receive a [coronavirus] vaccine, God instructed them not to do so," the suit maintains.
The rates of refusal for vaccinations among service members remain low. Across the active-duty force, more than 97% of troops have had at least one shot, and 90.7% are fully vaccinated, chief Pentagon spokesman John Kirby said last week.  
By military branch, about 95% of the active-duty Marine Corps, 98% of the Navy, 97.5% of the Air Force and 98% of the Army were at least partially vaccinated, according to Pentagon data.  
In their amicus brief, 37 Republicans claimed the Pentagon's lack of consideration for religious exemptions to the vaccine mandate would "create significant consequences" for military readiness and be damaging to national security. They argued religious individuals would be less likely to want to join the military. 
"This mandate … sends a strong signal to these young men and women that they must choose between their faith and their desire to protect America because the military will not reasonably accommodate their sincerely held religious beliefs," the brief states. "If the mandate stands, it is likely, then, that it will be more difficult for our military to recruit highly qualified individuals of faith to serve our country." 
---
---
---
---