Overseas military bases no longer housing Afghans as 31,000 still await visas at seven US bases
by
Caitlin Doornbos  
Stars and Stripes
December 13, 2021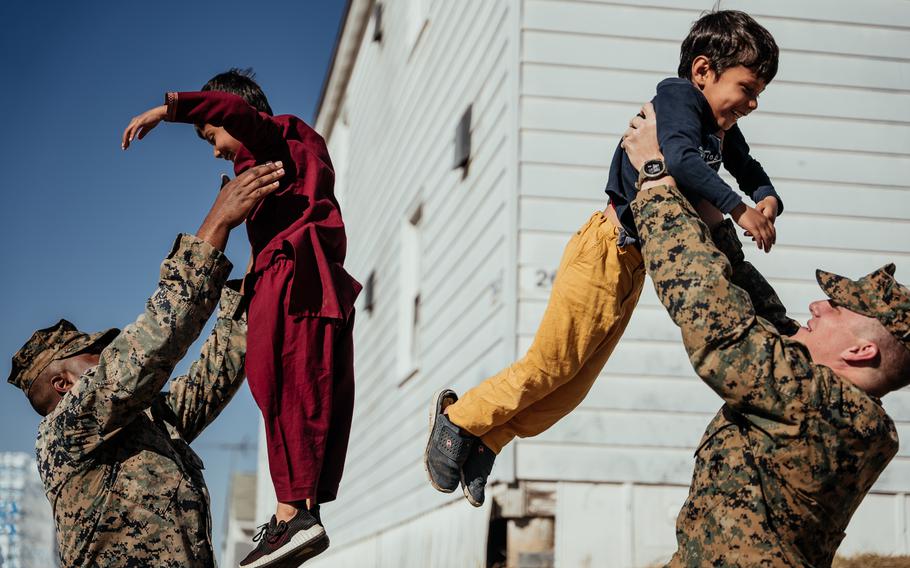 WASHINGTON — The last of the Afghan refugees housed at overseas U.S. military bases have been transported to other locations more than three months after American forces conducted their final flights out of Afghanistan on Aug. 30, chief Pentagon spokesman John Kirby said Monday.
About 69,000 refugees were transported to bases in Europe and the Middle East for screening before they were flown to the United States to complete their visa process. There are now about 31,000 Afghan evacuees still living on seven military bases in the United States, Kirby said. The number is down from 34,000 on Dec. 6.
At the peak of the evacuation mission, the military had the capacity to house 64,000 Afghan refugees at eight installations in the U.S. when evacuations began in the final weeks of the 20-year U.S. involvement in Afghanistan.
On Nov. 17, Fort Lee, Va., ceased its participation in Operation Allies Welcome, the name of the mission supporting Afghan evacuees in their transition to America, Kirby said.
"We now have fewer Afghans on military bases than ever before, and more now have processed out than we have waiting to get processed," he said last week.
The bases in the U.S. that continue hosting Afghans are Fort Bliss in Texas, Joint Base McGuire-Dix-Lakehurst in New Jersey, Fort McCoy in Wisconsin, Camp Atterbury in Indiana, Holloman Air Force Base in New Mexico, and Fort Pickett and Marine Corps Base Quantico in Virginia.
Kirby could not say last week how much longer the mission will last and which base might be next to end its evacuee-support operations. Fort Lee was the first to help with the mission, and the first to end operations.
"We continue to work with nonprofits and aid organizations as well as the State Department and [Department of Homeland Security] to continue the relocation of the remaining Afghans," he said Monday.
In total, the U.S. helped evacuate about 120,000 people out of Afghanistan, which included Afghans who had helped Americans during the 20-year conflict.
---
---
---
---