Bob Dole remembered at World War II memorial that he helped create
by
Nikki Wentling
Stars and Stripes
December 10, 2021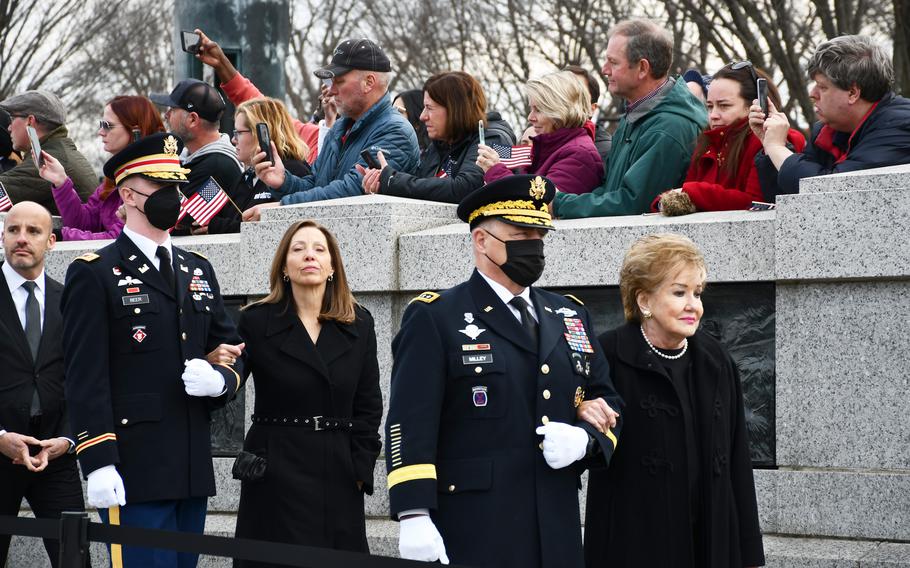 WASHINGTON – Marilyn Jenkins was always proud during her 28 years in the Air Force to tell her fellow airmen that she was from Kansas – in large part because of Bob Dole.
"When I served in the miliary, I was able to be very proud of Kansas. Dole worked the aisle and did it right," Jenkins said of the longtime Republican senator from Kansas. "It was very easy to stand up and say, 'I'm a Kansan.'"
Jenkins, who is from Leavenworth, Kan., but now lives in Washington, D.C., stood Friday afternoon alongside dozens of other onlookers at the National World War II Memorial, where a public remembrance was held for Dole. He died Sunday at the age of 98.
Following a memorial service at the National Cathedral, Dole's funeral procession stopped in front of the World War II Memorial. Throngs of people lined 17th Street and watched as his wife, former Sen. Elizabeth Dole, as well as Army Gen. Mark Milley, actor Tom Hanks and Today Show host Savannah Guthrie exited the SUVs on either side of the hearse that transported Dole's casket.
Milley, Hanks and Guthrie spoke Friday about Dole's military and civil service.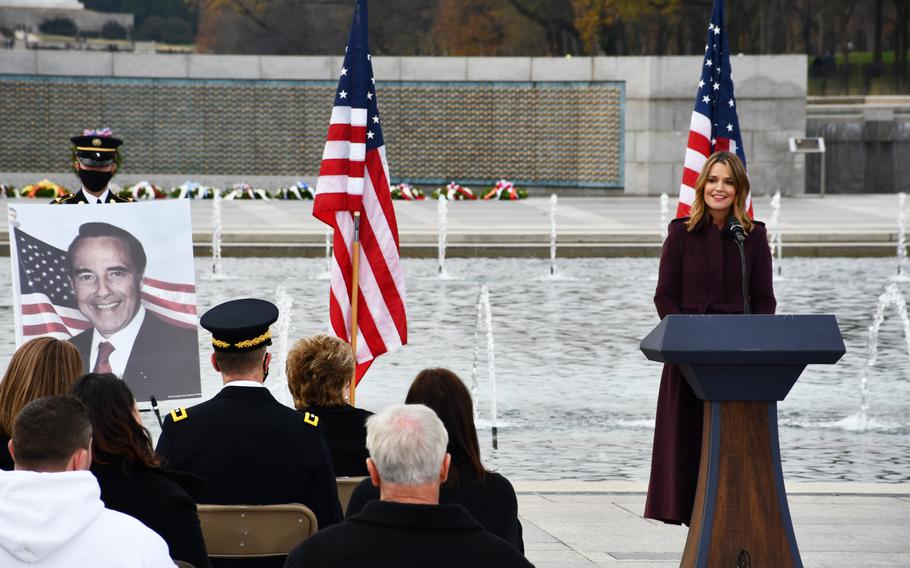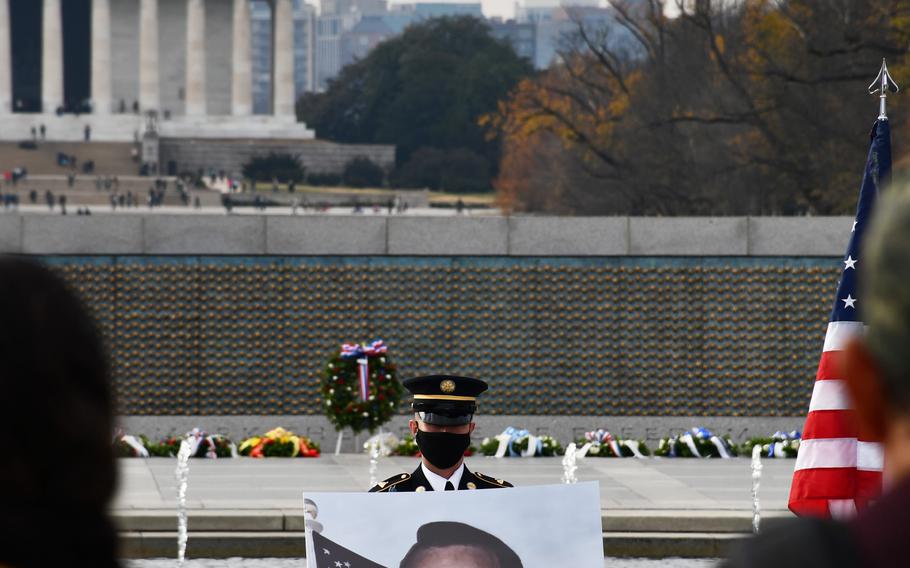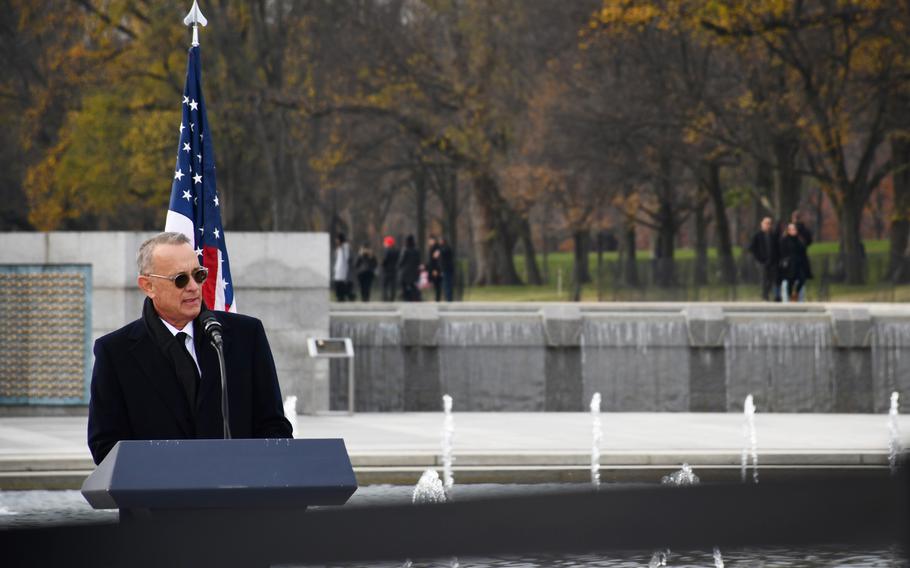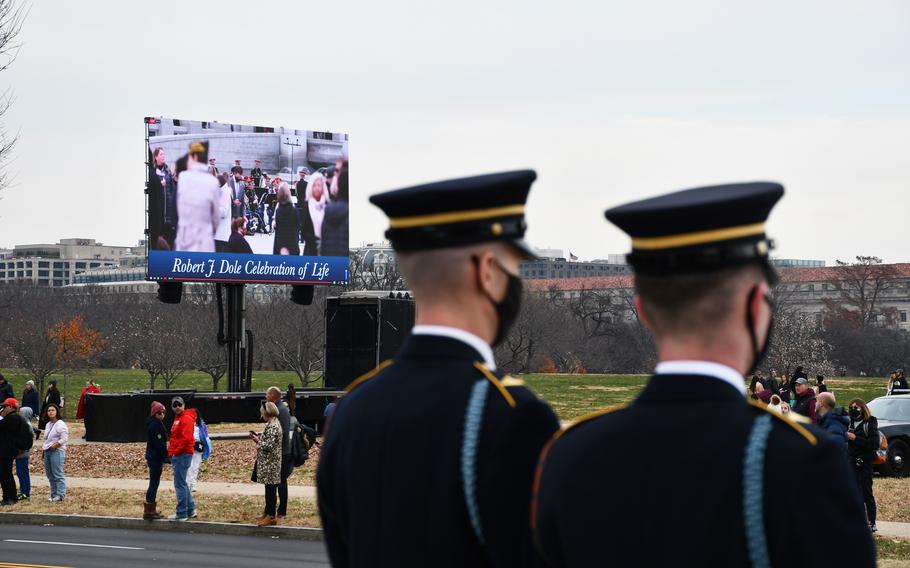 "Today we're honoring a man of deep character and impressive accomplishment," said Milley, chairman of the Joint Chiefs of Staff. "He suffered, he endured, and he showed us all what hope can do."
Dole was born in Russell, Kan., and attended the University of Kansas. He enlisted in the Army in 1942. Dole was severely wounded in April 1945 while fighting in Italy during World War II, and he spent years in rehabilitation. He never regained feeling in his right arm and hand.
Dole first ran for public office in 1950. He held statewide positions until his election to the House in 1960. Dole represented Kansas in the House from 1961 to 1969, followed by a 27-year tenure as a senator. He held the role of Republican leader of the Senate during his final 11 years in the upper chamber before he launched his second and final presidential run in 1996.
"He went off to do his duty and came back, body broken and dreams snatched," Guthrie said. "He suffered unfathomably, but he willed himself to recover and heal and find a new path. He stood for resilience, determination and hope."
After 36 years in Congress, Dole used his political acumen to champion a cause for veterans — a World War II memorial on the National Mall.
In 1997, one year after his last failed presidential bid, he took over as the national chairman of the fundraising campaign for the memorial. With help, Dole raised more than $190 million.
Dole spoke at the memorial's dedication when it was completed in 2004, and he often visited the memorial to shake hands with veterans who visited it.
"Bob Dole came to this plaza often to talk to veterans like himself," Hanks said. "The memory and conscious of the man himself will always be right here for as long as there is an America. Right here, we will always remember Bob Dole."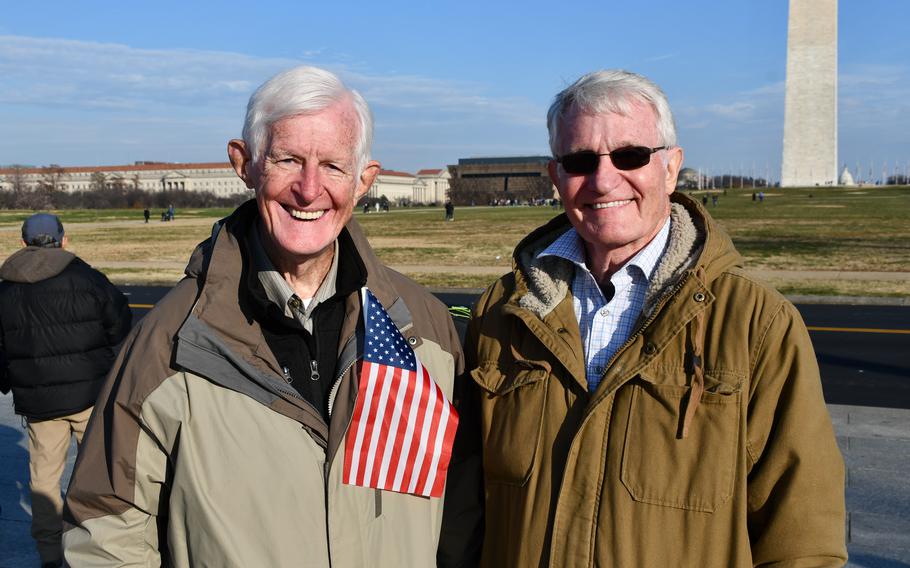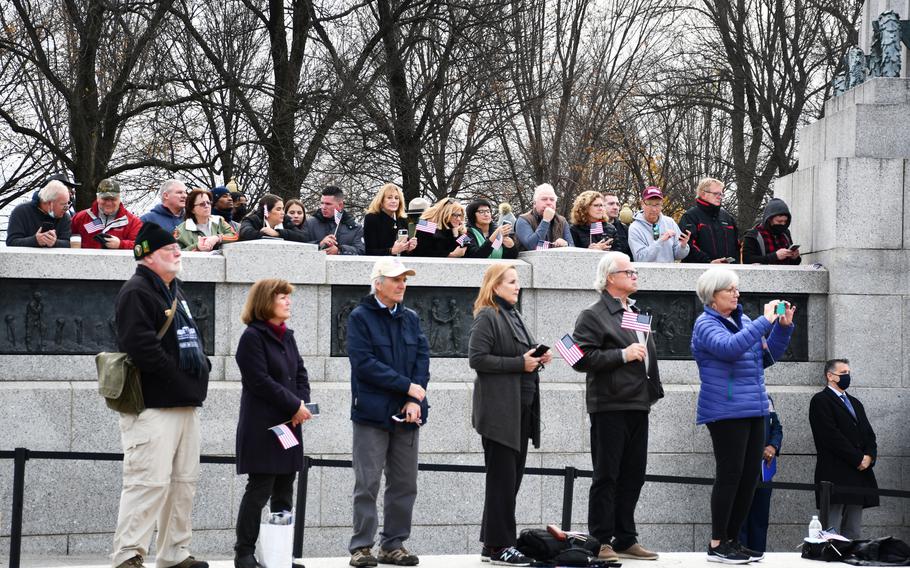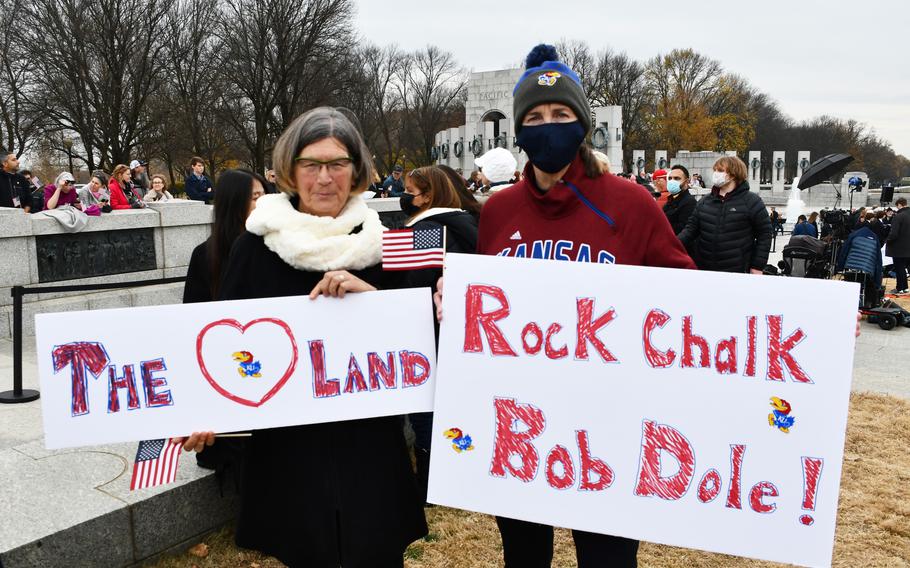 Like Dole, Marilyn Jenkins attended the University of Kansas. At the remembrance Friday, she wore a hat and sweatshirt emblazoned with the school's logo and carried a sign that read, "Rock Chalk Bob Dole!"
Other Kansans saw the sign and approached Jenkins to take her picture, including Clay Wirt and Paul Robbins, who yelled, "Rock Chalk," a greeting among KU sports fans. Wirt, originally from Clay Center, Kan., was a congressional staff member for Dole from 1970 to 1974.
Wirt and Robbins traveled to Washington on Friday from Myrtle Beach, S.C. They went to the Capitol to see Dole's casket carried down the steps, and they stood on the National Mall for two hours, watching a livestream of his memorial service.
Dole went "above and beyond" for his staff, Wirt said.
"He always went that extra mile," he said. "He really cared for people."
Wirt reminisced on Dole's reelection in 1974. During the campaign, Wirt accompanied Dole on visits to all 105 counties in Kansas.
"He was very careful to spend time with people," he said. "I remember he worried that the expectations would be too high and he wouldn't have the stamina to do it. But he was wonderful at shaking hands. He carried it off well."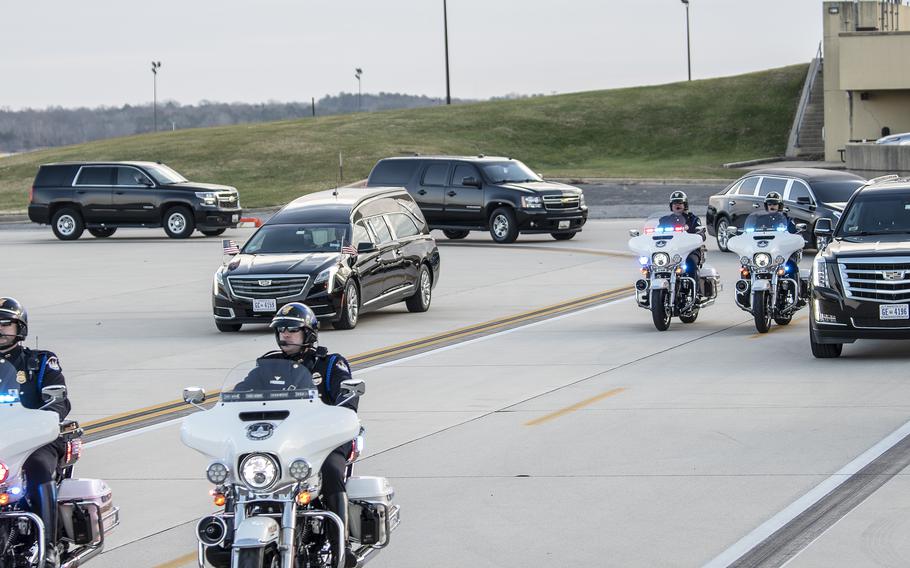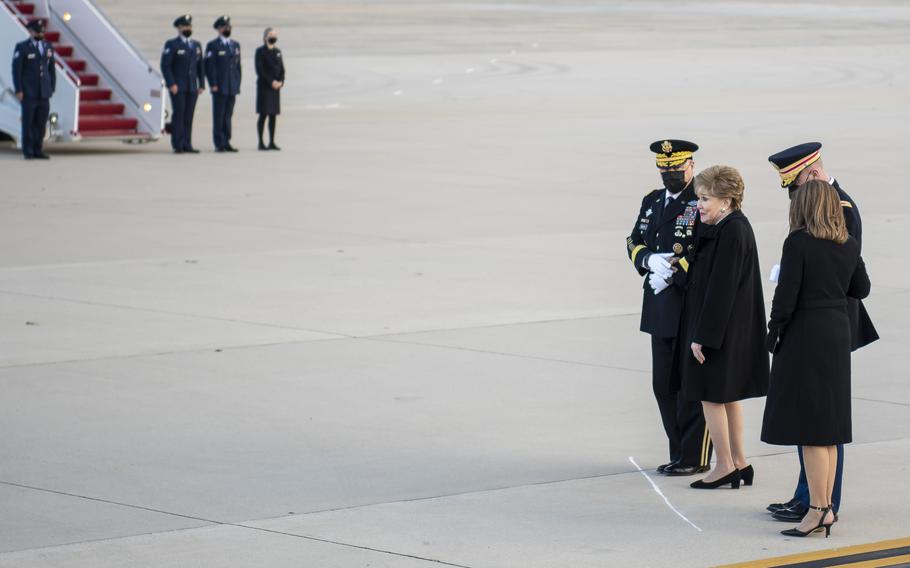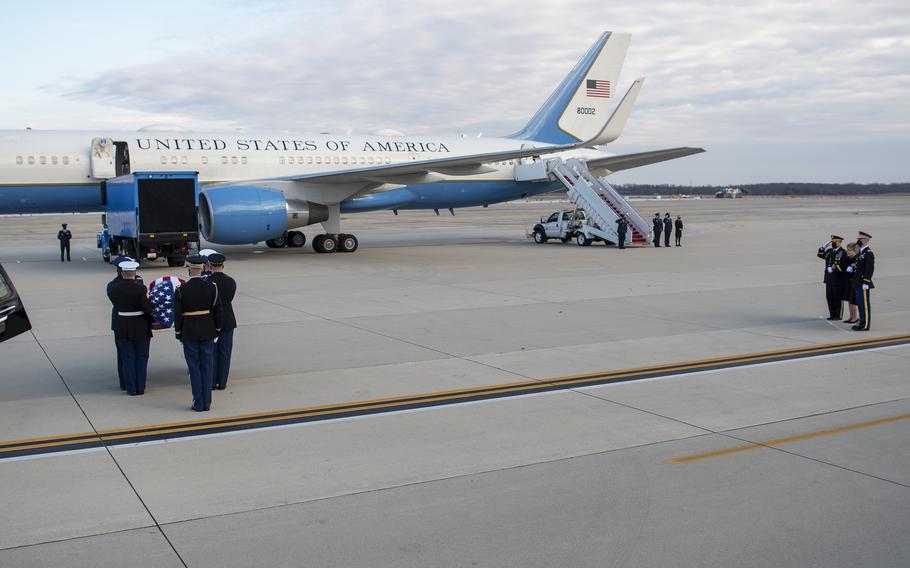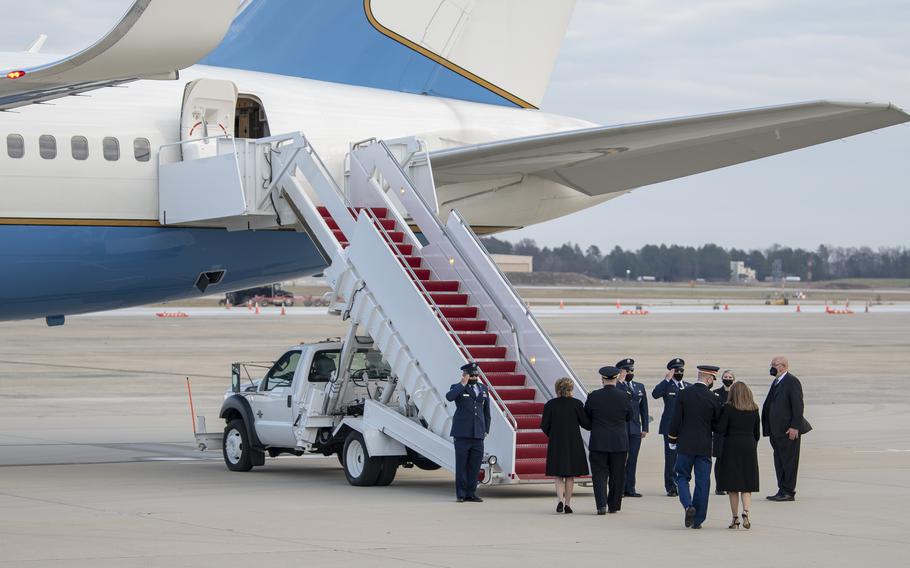 The hearse carrying Dole's casket and a motorcade of escort vehicles arrived at Joint Base Andrews in Maryland where a short departure ceremony was held as Dole's casket was loaded onto an Air Force transport plane, which was to travel to Kansas.
---
---
---
---