Four senators argue military justice reforms included in NDAA fall short of true justice for victims of sex crimes
by
Rose L. Thayer
Stars and Stripes
December 8, 2021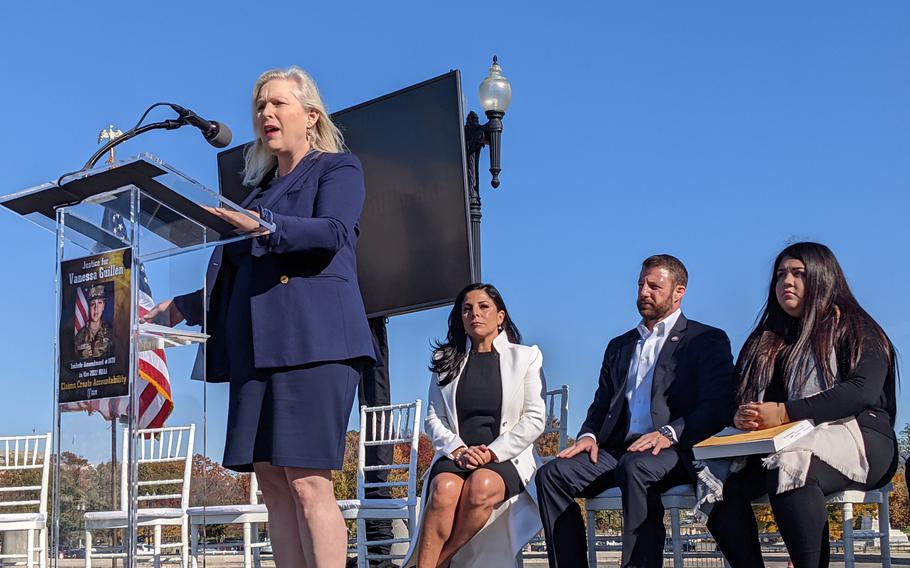 Military justice reforms included in the final draft of the annual defense bill do not go far enough to provide justice for victims of sex crimes, a group of senators said Wednesday calling for a Senate vote on legislation that expands the battle against the problem.
"This bill does not reform the military justice system in a way that will truly help survivors get justice," said Sen. Kirsten Gillibrand, D-N.Y., who has pushed reform for eight years.
On Tuesday, top Democrats and Republicans on the Senate and House armed services committees unveiled a compromise 2022 National Defense Authorizations Act that they said they hoped can be passed quickly by both chambers of Congress. The House passed the $768 billion NDAA bill later that night.
That version of the bill includes major changes to how the military prosecutes 11 crimes, removing military commanders from prosecution decisions for cases including rape, sexual assault, murder, manslaughter and kidnapping. It would create within each military service a new Office of Special Trial, independent of the chain of command to oversee such cases. It would also criminalize sexual harassment under the Uniform Code of Military Justice, allegations of which would be required to be probed by investigators independent of commanders.
But Gillibrand, along with three other senators, spoke Wednesday from the Senate TV and Radio Gallery, demanding a standalone floor vote to pass in the full Military Justice Improvement and Prevention Act, which calls for commanders to be removed from decisions on 38 crimes that are not unique to the military.
One sticking point is the NDAA keeps the commander as the convening authority of courts-martial, giving that person oversight on jury selection, witnesses and approval over immunity requests and hiring of consultants or expert witnesses, Gillibrand said. The commander also continues to hold the power to allow service members accused of crimes the option to separate from service in lieu of a court-martial.
"When the commander is so deeply involved in a case, there's no independence for the prosecutor, and there's no perception of independence for the accused or the accuser," Gillibrand said.
She and Sen. Richard Blumenthal, D-Conn., also said splitting the process between the commander and prosecutor will create a more burdensome, time-consuming process.
"Military commanders, I think, will ask for a better system, and we're going to give it to them. We need a standalone vote, and we need to continue the job, get it done and make sure that our military as well as our justice system are well served," he said.
Two-thirds of senators voted to include the full Military Justice Improvement and Prevention Act in the upper chamber's version of the NDAA, and it has 220 supporters in the House, Gillibrand said. More than a dozen veteran service organizations also have thrown support behind the reforms.
Instead, the House and Senate negotiated version of the NDAA, which sets policy and priorities for the Defense Department and includes some funding for the Department of Energy, pulls more from a House version of military justice reform that focused more specifically on sex crimes. The Senate bill attempts to also alleviate other forms of discrimination in the justice system.
"We really have made some progress taking steps forward, that I do support," said Sen. Joni Ernst, R-Iowa, an Army veteran who has spoken openly of being sexually assaulted during her military service. "I am disappointed that we did not get every aspect of our bill included."
The Senate is expected to vote on the NDAA this week and then the bill will head to President Joe Biden to be signed into law.
Gillibrand said she will vote no on the NDAA because of the treatment of military justice reform.
Gillibrand, Ernst, Blumenthal and Sen. Charles Grassley, R-Iowa, said they believe the Military Justice Improvement and Prevention Act failed to pass in full this year because of the hasty process taken to pass the NDAA. Grassley said it was the "power structure" of the Senate interfering with the goals of two-thirds of its members.
"We should have been on this bill much, much earlier, so that we could have a robust debate about the extremely important issues, especially the one of sexual assault and military justice reform," Ernst said. "We should have a standalone vote."
The NDAA also includes reforms for sentencing at courts-martial, enhancing victims' rights and requires the Pentagon track retaliation. The bill also improves prevention efforts and increases the physical security of military bases.
Retired Air Force Col. Don Christensen, a former chief prosecutor for the service who has been advocating for justice reforms as president of the nonprofit Protect our Defenders, said the reforms included in the pending NDAA should be considered a victory, even if they are incomplete.
"Protect Our Defenders will keep fighting for our service members to make sure their voices are heard, reforms are implemented properly and pushing for the remaining changes that are needed to create a truly independent justice system," he said in a statement.
---
---
---
---