Steve Bannon trial set for July as defense promises legal brawl
by
Spencer S. Hsu
The Washington Post
December 7, 2021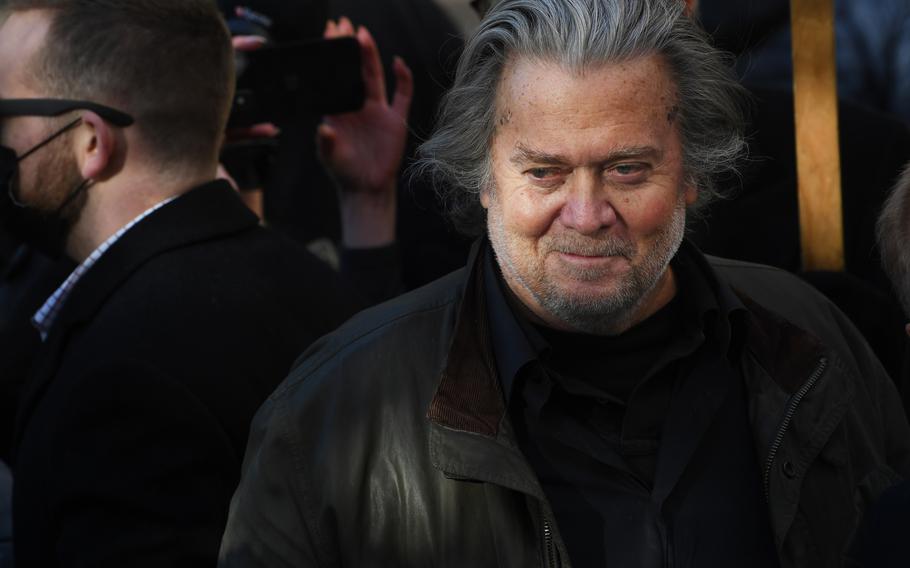 A federal judge on Tuesday set a July trial date for Steve Bannon, the former Trump White House adviser indicted last month for refusing to testify before the Jan. 6 congressional committee.
In scheduling the trial for July 18, U.S. District Judge Carl Nichols settled one early legal battle. But he deferred ruling on whether Bannon can make documents turned over by the Justice Department in his case public even if they are not relevant to his litigation — a move supported by news organizations citing First Amendment grounds.
At a combative hour-long hearing, Nichols refereed a case the former Trump aide has vowed to turn into a legal brawl, pledging after he was charged to make it "the misdemeanor from hell" for President Joe Biden, his administration and top Democrats.
In a joint filing before Tuesday's hearing, for example, the sides laid out diverging visions of how swiftly the case should move.
Prosecutors proposed a one-day trial in April to answer what they suggested was an open-and-shut question of whether Bannon, 67, was guilty of two counts of contempt of Congress — each punishable by at least 30 days and up to a year in jail if convicted - for refusing to testify and turn over documents after receiving a Sept. 23 congressional subpoena.
The bipartisan House panel is investigating what role, if any, Donald Trump and top aides played in the storming of the U.S. Capitol by a pro-Trump mob trying to stop the certification of Biden's electoral college win, an attack that contributed to five deaths and led to assaults on more than 100 police officers. Bannon has said he decided not to appear before the select committee to invoke executive privilege on specific questions on advice of legal counsel.
"What's critical to the government is that the public's right to a speedy trial . . . is respected in this case . . . particularly since this defendant is charged with defiance of a constitutional authority of a branch of government," Assistant U.S. Attorney Amanda Vaughn argued before Nichols.
Bannon's defense countered by asking Nichols for a 10-day trial in October — beginning just before next year's midterm congressional elections. They predicted filing a blizzard of pretrial motions in July to dismiss the case and dig out internal communications from the House, White House and Justice Department to expose what they called a political vendetta behind the "unprecedented" decision to criminally charge an adviser to a former president who had invoked executive privilege.
While reluctant to say he was splitting the difference, Nichols called an October trial "too slow" and an April date unrealistic, noting that whether the defense arguments "have merit or not, they still have to be decided."
"Seven or eight months is still a long time in the arc of a criminal case," Nichols said, but appropriate given how many pandemic-backlogged trials and Jan. 6 Capitol riot defendants are ahead of Bannon on the judge's calendar.
The fight over media disclosures is another battlefront. Bannon has objected to prosecutors' initial proposal to keep case documents under wraps — including more than 1,000 pages of witness testimony, grand-jury proceedings and other information generated as part of the investigation.
After attorneys for a coalition of news organizations, including The Washington Post, opposed such a sweeping secrecy order, the Justice Department changed tack, narrowing the proposal to bar only the public release of witness interview reports and internal House committee communications that are not used in litigation, in keeping with attorneys' good-faith obligation to present only relevant material in court.
Revealing such information otherwise would expose witnesses and congressional staff to public attack and could influence witnesses' trial testimony by letting them know what others planned to say, Vaughn said.
"This case should be decided in the courtroom through this litigation, not in the media," Vaughn said.
Asked by Nichols if the defense opposed such a "modest" restriction, Bannon attorney M. Evan Corcoran said, "It's actually a very stringent restriction."
The defense wants "the public to have the ability to see how the decisions were made in this case" involving "important and complex constitutional issues ... between the legislative and the executive branch."
The House committee has subpoenaed at least 20 Trump aides, including former White House chief of staff Mark Meadows, whose lawyer said Tuesday that he would no longer fully cooperate with the committee.
The committee seeks to question Bannon about activities at the Willard hotel the night before the riot, when Trump supporters sought to persuade Republican lawmakers to block certification of the 2020 election results. The subpoena noted that Bannon predicted "hell is going to break loose" on Jan. 6, and the committee's report recommending he be found in contempt said the comments indicated he "had some foreknowledge about extreme events that would occur the next day."
Bannon left the Trump administration in 2017 but remained in contact with the president throughout his term, including in the days leading up to Jan. 6, records have shown.
---
---
---
---