House, Senate armed services leaders strike deal on annual defense bill that includes 2.7% raise for troops
by
Corey Dickstein
Stars and Stripes
December 7, 2021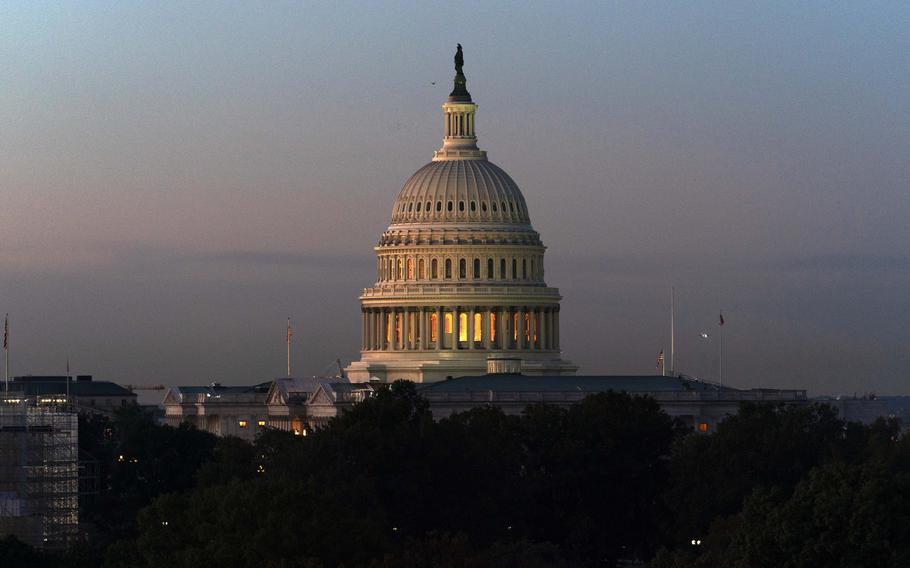 The top Democrats and Republicans on the Senate and House armed services committees on Tuesday unveiled a compromise bill for Pentagon policy and spending that they hope can be passed quickly by both chambers of Congress.
The latest version of the 2022 National Defense Authorizations Act combines many measures that had been included in the House version of the bill passed in September and the Senate version, which stalled last week over political issues without a vote, the lawmakers said in a statement issued Tuesday. The new, compromised $740 billion version of the annual NDAA must be passed now by both chambers and signed into law by President Joe Biden.
"We are pleased to announce we've come to a bipartisan, bicameral agreement on this year's National Defense Authorization Act," according to a statement from Rep. Adam Smith, D-Wash., the chairman of the House Armed Services Committee, Rep. Mike Rogers, R-Ala., the ranking member of the House Armed Services Committee, Sen. Jack Reed, D-R.I., the chairman of the Senate Armed Services Committee, and Sen. Jim Inhofe, R-Okla., the ranking member of the Senate Armed Services Committee. "This year's agreement continues the armed services committees' 61-year tradition of working together to support our troops and strengthen national security. We urge Congress to pass the NDAA quickly and the president to sign it when it reaches his desk."
The bill's $740 billion Pentagon budget would be about $24 billion more than Biden's administration requested. That includes an unprecedented $117.8 billion investment in Pentagon research, development, testing and evaluation in new technologies, a boost of about $5.8 billion over Biden's request. Much of that money is focused on technology that officials have deemed critical in a high-end fight against power competitors such as China and Russia, including artificial intelligence, hypersonic weapons, microelectronics, and space and cyber technologies.
The compromise bill would also fund a scheduled 2.7% pay raise that service members are expected to receive in January, would authorize the defense secretary to pay a "basic needs allowance" to service members whose incomes are not high enough to support their families and would create a new, independent board to review the entire 20-year U.S. war effort in Afghanistan.
It includes major changes to how the military prosecutes certain crimes, removing military commanders from prosecution decisions for cases including rape, sexual assault, murder, manslaughter and kidnapping. It would create within each military service a new Office of Special Trial, independent of the chain of command to oversee such cases. It would also criminalize sexual harassment under the Uniform Code of Military Justice, allegations of which would be required to be probed by investigators independent of commanders.
The bill also includes $300 million for the Ukraine Security Assistance Initiative, about $50 million more support and assistance for the Ukrainian military than initially requested by the Pentagon. It would also provide about $4 billion for the European Deterrence Initiative, the U.S.-led efforts in Europe to deter Russian aggression, which includes major training exercises and troop rotations in Eastern Europe.
The new bill would also provide a major boost for the Pacific Deterrence Initiative, a similar effort to the EDI which Congress first authorized last year to check China's growing power and influence in the Indo-Pacific region. The NDAA would provide about $7.1 billion to that effort, up from about $2.2 billion last year.
If passed, the NDAA would increase the so-called "cooling off period" for retired senior military officers to serve in top Pentagon positions, after lawmakers twice in recent years waived the statute to allow former four-star generals Jim Mattis and Lloyd Austin to become defense secretaries before they had been retired for seven years. The new bill would require retired generals and admirals to wait 10 years before becoming defense secretary.
The new version would not require eligible women to register with the Selective Service in the case of a military draft, a measure that had been included in the NDAA version initially passed by the House.
It was not immediately clear Tuesday when either chamber would vote on the compromise NDAA, but each committee's leaders urged its quick passage, saying it is "critical" that the bill is passed before the end of the year.
"The final text of the bill promotes resilience, innovation, and the right tools for U.S. success in strategic competition," the leaders said in the joint statement. "And [it] provides vital quality of life improvements for the backbone of America's fighting force: Our service members and their families."
---
---
---
---