Austin: Stopgap funding for a full year would limit Pentagon's China-focused programs, harm troops
by
Corey Dickstein
Stars and Stripes
December 6, 2021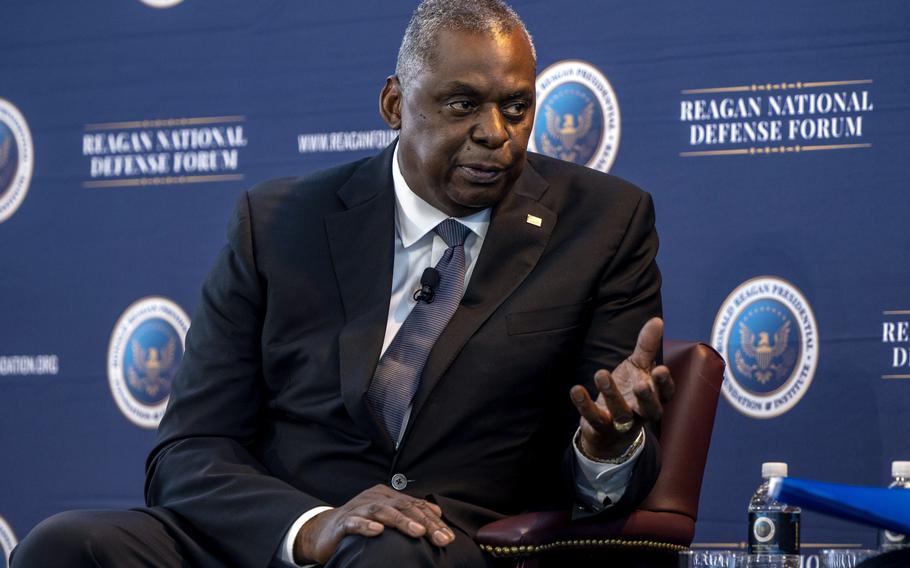 A full-year stopgap spending measure to fund the federal government — including the military — for fiscal 2022 could irreparably harm Pentagon efforts to check a rising Chinese military and halt planned moves for troops, the top U.S. defense official warned Monday.
"I strongly urge Congress to seize this opportunity to sustain American competitiveness, advance American leadership, and enable our forces by immediately reaching a bipartisan, bicameral agreement on full-year 2022 appropriations," Defense Secretary Lloyd Austin wrote in a statement issued Monday, more than two months since the beginning of the fiscal year. "It's not only the right thing to do, it's the best thing they can do for our nation's defense."
Austin's statement came just days after President Joe Biden on Friday signed into law the second stopgap spending measure — known as a continuing resolution — passed by Congress to fund the federal government in fiscal 2022, which began Oct. 1. The latest continuing resolution passed in the absence of a fiscal 2022 budget allows federal institutions to continue operating through Feb. 18.
Neither chamber of Congress has yet passed a fiscal 2022 defense appropriations bill, and lawmakers have indicated they are not yet close to voting on the critical measures. The Senate's version of the bill would provide the Pentagon about $725.8 billion, and the House version — in line with Biden's budget request — would provide $705.9 billion. Congress also has yet to pass a 2022 National Defense Authorization Act, a separate bill which sets policy priorities and directions how the Pentagon spends the funds that it is provided in the annual appropriations bill.
Some Capitol Hill lawmakers have floated the possibility of passing a full-year continuing resolution to cover all of 2022, which ends Sept. 30. Sen. Richard Shelby, R-Ala., who is the vice chairman of the Senate Appropriations Committee, said last week at least "a handful" of his Republican colleagues would be on board with such a move, but he also said he would prefer to pass an appropriations bill. The White House and others have opposed further continuing resolutions, which fund the federal government at fiscal year 2021 amounts.
In Austin's statement on Monday, he noted the Pentagon would be unable to begin new programs, including some aimed at keeping pace with Chinese advancements under a continuing resolution. He said a CR would also continue funding some programs that the Pentagon has planned to eliminate this year.
More so, the defense secretary said, a full-year CR would represent a "significant" budget cut to the Pentagon, considering high levels of inflation this year.
New programs aimed at boosting the Pentagon's efforts in critical areas such as hypersonic weapons, artificial intelligence and cyber operations would all be impacted without a full-year appropriation, Austin said. Meanwhile, adversaries such as China and Russia will continue investing in those areas.
"At a time when our adversaries are advancing their concepts and capabilities to erode our strategic advantages, and as we begin to knit together a truly groundbreaking vision of integrated deterrence, our hands will be tied," Austin wrote. "We will be forced to spend money on things we don't need and stop spending money on investments we desperately do need."
John Kirby, the Pentagon's top spokesman, said Monday that Austin was particularly concerned the military without a new budget would not be able to move forward with its largest-ever plans for science and technology research and development this year.
"Not being able to start these initiatives will definitely have an impact, not just on hypersonics — and I understand the interest in hypersonics — but it goes beyond that," Kirby told reporters at the Pentagon. "You've heard the secretary talk about integrated deterrence and making sure we have … the technology in place to better defend this nation against threats, such as the kinds of threats that could emanate from places like Russia and China. When you can't start new programs, when you don't have money to spend on that sort of investment, it absolutely impacts your abilities, your capabilities going forward."
Austin warned an unprecedented full-year continuing resolution would "cause enormous, if not irreparable, damage for a wide range of bipartisan priorities — from defense readiness and modernization, to research and development, to public health."
A full-year CR would also halt more than 100 military construction projects, including barracks and family housing, he noted.
Austin said some troops likely would not be able to move to new duty stations in long-planned permanent changes of station because funds for the moves would instead need to be used to offset the 2.7% pay raise service members are due to receive Jan. 1. The increase in troops pay could also limit how many new recruits the military services can afford to ship to boot camp in fiscal 2022, Austin said.
"And it would result in over $5 billion in cuts to our operating accounts, too, hurting the readiness of our troops and curtailing our ability to cover the health care needs of military families," the defense secretary wrote.
Stars and Stripes reporter Caitlin Doornbos contributed to this report.
---
---
---
---