Afghan siblings who left behind parents are starting new life in New York
by
Elizabeth Doran
syracuse.com
December 7, 2021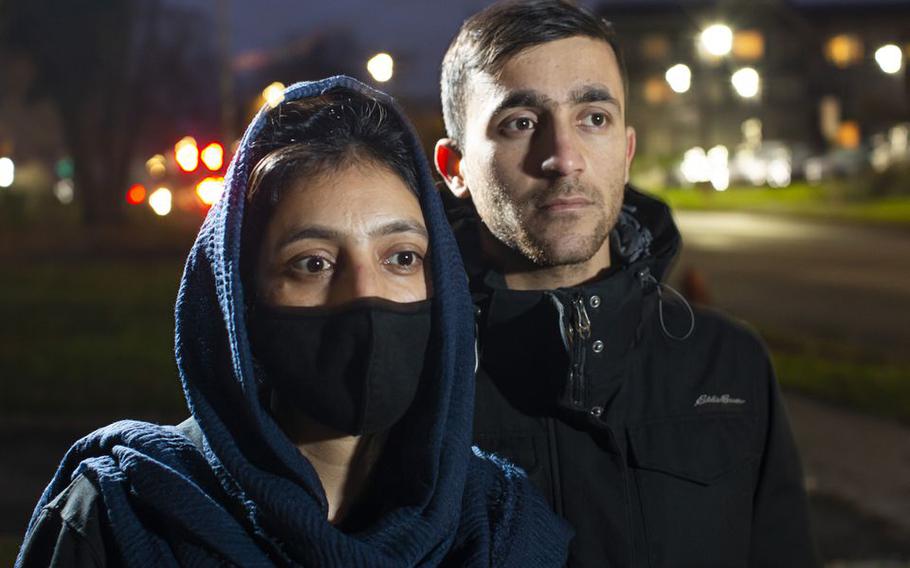 SYRACUSE, N.Y. (Tribune News Service) — In their last hours in their home country, Khudadad Mohammadi and his sister, Haseena, walked several miles from their home to unfolding horror at Kabul International Airport.
The siblings made it through several checkpoints in Afghanistan before waiting 14 hours at the final one. At the airport, they say they saw other Afghan civilians, who were attempting to show their passports, shot and killed by the Taliban. At one point, someone pointed a gun at them.
Khudadad, a 29-year-old law student, and Haseena, a 24-year-old school teacher, fled Afghanistan as the Taliban was taking over in August. They made the difficult decision to leave their parents behind. It was a long and risky journey, but one they felt compelled to make, in large part so Haseena could have a better life.
After they finally boarded a U.S. military plane, they traveled to several stops in various countries over the next few days before finally arriving at a military base in Virginia. They waited there a month before learning they would be resettled in Syracuse.
"We were the happiest people,'' Haseena told syracuse.com | The Post-Standard, with the help of an interpreter. "Everyone there is facing the worst days of their lives."
The siblings are the first refugees who fled Afghanistan this summer to be received in Syracuse by the agency InterFaith Works of Central New York. They are among nearly 400 Afghan refugees expected to be resettled in the Syracuse area. Some are already here, and many more are on their way, agency officials say.
As the Taliban was taking control in Afghanistan, many like the Mohammadi siblings wanted to leave. They had heard horror stories of the Taliban when they first controlled the country in the mid-1990s. At least half a million people have fled Afghanistan this year, according to the United Nations Refugee Agency.
"Everyone wanted to get out of the country,'' Haseena said.
Three local groups are helping people like the Mohammadis resettle in the Syracuse area. InterFaith Works is helping the siblings, along with another 50 who are here already. Four or five more were expected to arrive last week. Overall, they are expecting a total of 120.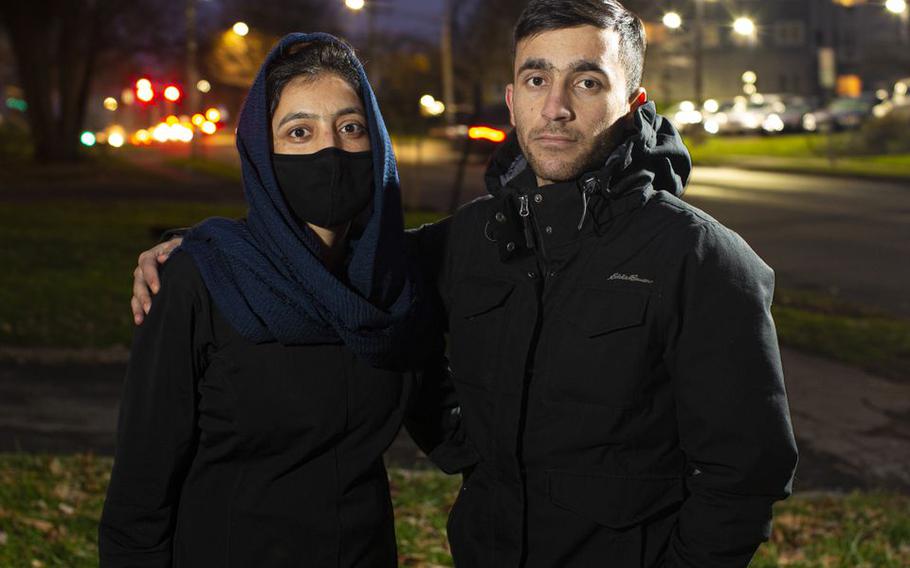 RISE, which stands for Refugee and Immigrant Self-Empowerment, also is sponsoring refugees from Afghanistan and so far has resettled about half a dozen people. Altogether, about 50 are expected. Catholic Charities in Syracuse also has begun resettling more than 200 Afghan refugees.
The Mohammadi siblings were among those desperate to leave. They said their parents, who were not able to make the journey due to their age, encouraged them to escape Afghanistan. Their parents knew life would be difficult for their children, and this was their chance to get out.
As the Taliban came into power, they would beat Afghanistan civilians, hitting them with a shovel and post, if they got in their way, Haseena said.
The siblings worried the Taliban would take away all their freedom. They also heard the Taliban would take the younger girls and force them to be their wives. Women wouldn't be allowed out of the home unless in the company of a male, and women wouldn't be allowed to work.
Khudadad said the Taliban would force the men to have long beards and cut their hair, and would take away all privacy and choice.
Khudadad was in college studying law and Haseena taught first through third grades at a local school before the Taliban seized power. Since they took control, the schools have not resumed and there aren't any jobs for people, the two said.
Fearing those changes was enough motivation to say goodbye to their parents in August and make their way to Kabul International Airport.
They walked several miles, stopping in at several checkpoints along the way. At the last checkpoint, they waited 14 hours for a bus to take them to the airport.
When they got to the airport entrance, the U.S. military would call people forward so they could check their passports. At the same time, Taliban soldiers would point guns at the people, warning them not to step forward.
The siblings remember the horror of having a gun pointed at them, and witnessing the Taliban shooting and killing some of the would-be passengers.
"They didn't shoot everybody. Everyone was rushing forward,'' Haseena said.
The pair safely boarded a U.S. military jet to evacuate them, but they say they will never forget the nightmare scene at the airport.
On the military jet, the siblings sat on carpeting on the floor of the plane with about 300 or 400 other lucky passengers.
They had no idea where they were going, but they didn't care. They flew to Dubai, then to Germany, Washington, D.C., and then to a military base in Virginia.
They learned there they would be resettling in Syracuse. It wasn't a choice. Because they have no family in this country, they were assigned a location.
The hardest part of their journey? Leaving their parents behind, the pair said. They hope to someday get their parents here with them, but until then they know they are better off here.
"We have no freedom under the Taliban,'' Haseena said. "They take it all away."
In Syracuse, they were met by InterFaith Works staff and have been helped by their caseworker and interpreter Baz Noori. The couple speak Farsi and Dari, and can speak some English. They spoke to the Post Standard | Syracuse.com with Noori's help.
They were placed in an apartment on the North Side. They are taking English lessons and awaiting job placement. Staff members take them shopping, and they have food and clothing and a chance to see other refugees like themselves.
The cold weather in Syracuse is an adjustment, Haseena said. But it's a small price to pay for a new life.
"Tomorrow is better than today, and the day after that should be even better,'' Haseena said.
The pair worry the Taliban will learn that they left and retaliate, taking it out on their parents. Still, they are in contact with their parents nearly every day.
Someday, Haseena hopes she can teach again, but for now they will fill whatever jobs are available to them.
Eventually, they say they want to support themselves and be self-sufficient. The siblings said they want to become U.S. citizens. "We are very happy here,'' Khudadad said.
Their biggest regret is being unable to have their parents join them. They are asking U.S. citizens, the U.S. government and the United Nations to help those still living in Afghanistan.
"We feel very safe here, but we fear for our parents and the others left there,'' Haseena said. "We are calling on people to take care of those still there and come up with a rescue plan."
©2021 Advance Local Media LLC.
Visit syracuse.com.
Distributed by Tribune Content Agency, LLC.
---
---
---
---