More bid protests delay effort to streamline shipments of military household goods
by
Wyatt Olson
Stars and Stripes
December 1, 2021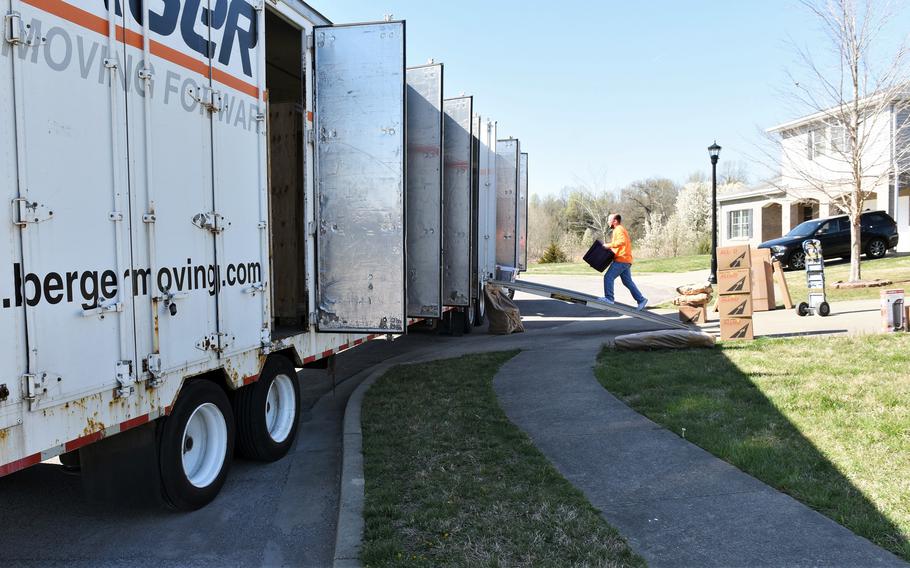 The Defense Department's effort to streamline the global system of transferring household goods for service members and federal employees is delayed again by protests from firms competing for the $6.2 billion contract.
U.S. Transportation Command announced in early November that the Houston-based HomeSafe Alliance LLC had been awarded the contract to provide "complete door-to-door" transportation of household goods for the military and Coast Guard.
HomeSafe won the contract after disputing the original April 2020 award to American Roll-On Roll-Off Carrier Group. HomeSafe and another bidder, Connected Global Solutions LLC, appealed to the Government Accountability Office, which sustained their protest in October 2020.
Last week, American Roll-On and Connected Global Solutions filed protests with the GAO against HomeSafe's selection.
"The government's decision to choose a new company formed for the bid with a very limited staff and no household goods related moving assets is difficult to understand," American Roll-On said in a statement emailed Tuesday to Stars and Stripes.
The contract with HomeSafe was slated to begin Wednesday and run to Aug. 31, 2025.
Movement of household goods was to continue under the current system during a transition period that would have been completed in late 2022. The new protest voids that timetable.
"Start of the transition phase of the contract will be delayed until the GAO protest decisions are issued," U.S. Transportation Command said in a statement emailed to Stars and Stripes on Monday.
The GAO has until March 3 to issue a decision.
HomeSafe CEO Al Thompson expressed frustration with the protests in a Friday news release.
"After a comprehensive review process during which the prior awardee's significant problems came to light, we are disappointed that protests may delay getting to the work of supporting our servicemembers and their families," Thompson said.
The selection of a single company to handle movement of all goods is intended to streamline a system that uses more than 900 commercial entities for the roughly 325,000 annual shipments of household goods, according to U.S. Transportation Command.
The change is driven by longtime complaints from military families about delays in pickups and deliveries of goods and damage to items during transportation.
The switch to a single manager for shipments is a key part of the command's reforms aimed at improving military relocations.
In October 2020, the GAO overturned the American Roll On Roll Off contract after concluding that U.S. Transportation Command had "conducted misleading discussions with HomeSafe" and had inadequately evaluated the technical capabilities of the bidding firms, among other shortcomings in the bid evaluation process.
---
---
---
---