'QAnon Shaman' Jacob Chansley asks court for sentence below federal guidelines range
by
Jasmine Hilton
The Washington Post 
November 10, 2021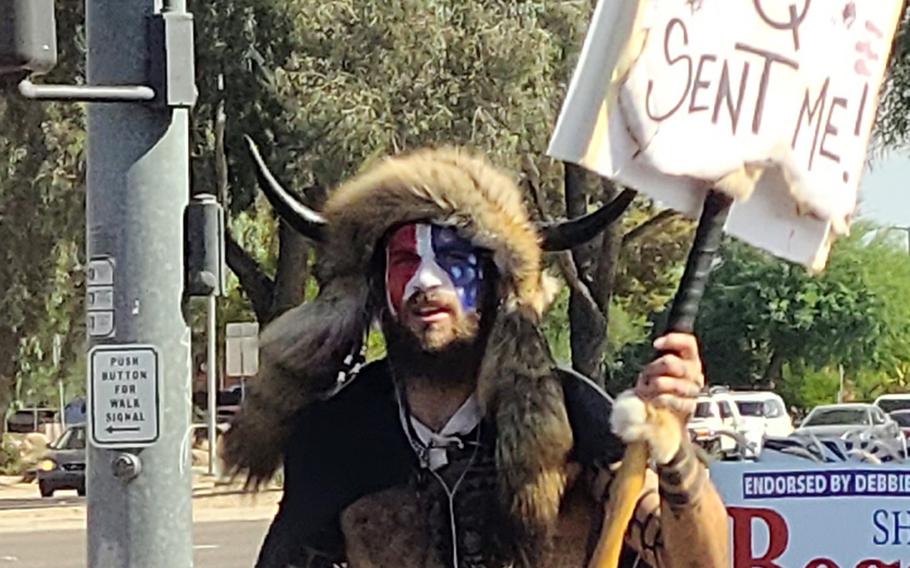 Jacob Chansley, whose photo showing him dressed in horns and face paint — and his self-proclaimed title "QAnon Shaman" — made him one of the most recognized defendants in the Jan. 6 Capitol riot, is asking for a sentence "significantly below" the recommended range under federal guidelines.
Chansley, 34, pleaded guilty to felony obstruction of Congress in early September and faces a minimum of three years in prison.
In a sentencing memorandum filed Tuesday with the U.S. District Court for the District of Columbia, which began with a quote from the movie "Forrest Gump," Chansley's attorney, Albert Watkins, cited his client's mental health issues throughout his life, which led up to his participation in the riot, his cooperation with authorities afterward and "sincere remorse for his conduct" as reasons for a sentence below federal guidelines of an estimated 41 to 51 months in federal prison.
"He seeks not to be seen as a political prisoner. He seeks not to blame a former president for his actions. He seeks not to justify his actions with any explanation. He seeks solely to be held accountable," the memorandum says.
Watkins said Chansley will have served 317 days in solitary confinement because of coronavirus protocols, as of the date of sentencing. He wants to be credited with time served, according to the memorandum.
Chansley admitted in the memorandum that he entered the U.S. Capitol Building "sporting his Shaman attire, replete with face paint, a tattoo-covered, naked upper torso, and a fur pelt." The memorandum says Chansley cooperated with authorities upon his return to his home in Phoenix and acknowledged he was "the man who had been photographed in the Capitol adorned by horns in a fashion consistent with his Shaman faith."
Watkins said his appearance indicated his "mental health vulnerabilities" on the day of the Capitol riot.
"On January 6, 2021, the images of Mr. Chansley spontaneously and globally became iconic images inextricably linked to and commanding immediate association with the events at the Capitol. They have become to January 6 what the Swoosh is to Nike," Watkins said in the memorandum. "These initial, emotion-driven impressions of Mr. Chansley should have been tempered by what in hindsight were obvious indicia of mental health vulnerabilities."
Watkins compared Chansley's actions at the Capitol as "apparent Forest (sic) Gump-like obliviousness" resulting from trauma and abuse stemmed from his childhood.
According to the memorandum, Chansley was named an "oddball" by classmates and bullied throughout his schooling. During his time in the U.S. Navy from 2006-2007, Chansley consulted the ship's medical doctor on whether he was "crazy," and following consultations he was diagnosed with "Schizotypal Personality Disorder," the memorandum says. Watkins said, however, that his client was not given proper treatment after this diagnosis or told of the diagnosis.
Chansley continued on his own spiritual path as a "loner" until he became involved with social media following President Donald Trump's run for reelection in 2020, which Watkins said created a "powerful socio stressor" that triggered his undisclosed disorder that led to his actions in the Capitol riot.
Watkins did not respond to a request for comment Tuesday.
Chansley asked for a sentence that would allow him to continue with his "pursuit of his mental and physical health prioritized," the memorandum says.
He faces sentencing on Nov. 17.