Pentagon steps up efforts to help personnel get family members out of Afghanistan
by
Caitlin Doornbos 
Stars and Stripes
November 8, 2021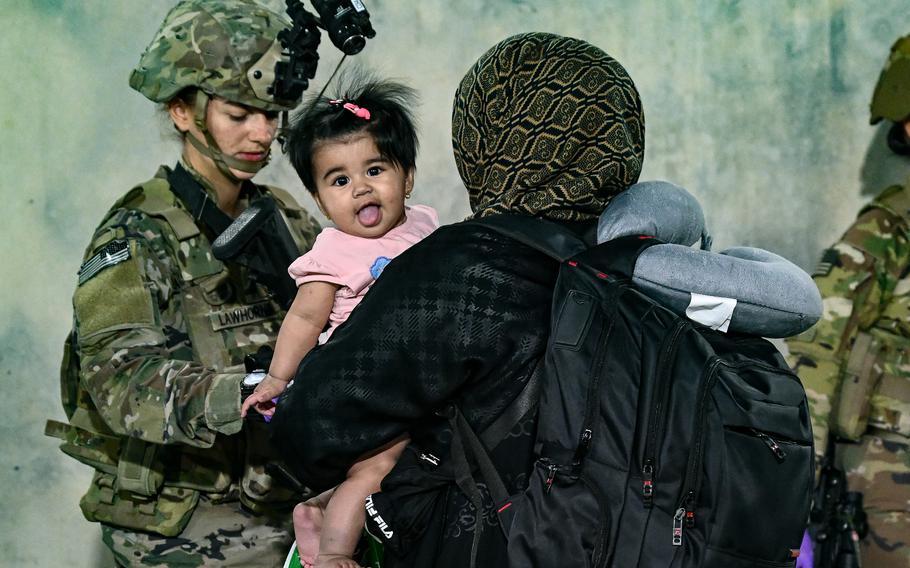 WASHINGTON — The Defense Department is taking steps to help its personnel get their immediate family members in Afghanistan out of the country, chief Pentagon spokesman John Kirby said Monday.
The Pentagon is asking its personnel with spouses or unmarried children younger than 21 who want to leave Afghanistan to contact the office of the comptroller's office for assistance, according to a Defense Department memorandum issued Thursday.
Troops and civilian employees are asked to provide their family members' names, contact information, location, passport information and national identification card to a DOD Afghan referrals email address so the Pentagon can work with the State Department to "facilitate departures" from Afghanistan, according to the memo.
Kirby said the Defense Department issued the memo "to make it clear that we would facilitate passing that information on to the State Department action group that's working this — their care team — so that we can nestle that into an integrated interagency effort to help these people get out of the country."
"I think it's safe to say that we would expect dozens of service members would have concerns over family members," Kirby told reporters at the Pentagon. "If they have family members that they believe qualify, we want them to come forward, let us know who they are, give us as much information as [they] can."
The Defense Department "places a high priority on facilitating the departure of Afghan nationals who are immediate family members of U.S. civilian or military personnel," according to the memo. However, extended family members are not eligible for the special assistance.
"DOD recognizes that these extended family members also have a connection to the United States," the Pentagon said in its memo. "We will continue to assist [the State Department] as they develop mechanisms that may facilitate the safe departures for such individuals from Afghanistan in the future."
The memo did not explain how the government would help "facilitate" the family members' departure from Afghanistan. The military ceased its on-the-ground evacuation efforts from Afghanistan on Aug. 31.
Despite the stop on military evacuations, about 85 U.S. citizens and 79 legal permanent U.S. residents left Afghanistan between Aug. 31 and Sept. 27 "with the assistance of [the State Department] and private groups that have chartered their own aircraft," according to the DOD Inspector General's Overseas Contingency Operations report published Monday.
The Pentagon announcement comes as the Department of Homeland Security on Monday said it would waive application and processing fees for the approximately 70,000 Afghans who came to the U.S. after July 30 to await visa processing. Waived fees include those required to apply for employment authorization and to register for permanent residence.
"By providing these evacuees with access to streamlined processing and fee exemptions, we will open doors of opportunity for our Afghan allies and help them begin to rebuild their lives in communities across our country more quickly," Homeland Security Secretary Alejandro N. Mayorkas said in a statement Monday.
About 53,000 Afghans remained at military bases in the United States awaiting visa processing as of Oct. 26. The military has been housing Afghan evacuees at eight installations in the U.S. since late July when evacuations began in the final weeks of the U.S. involvement in Afghanistan.